Video: Kay Felder dances on Richard Jefferson's Snap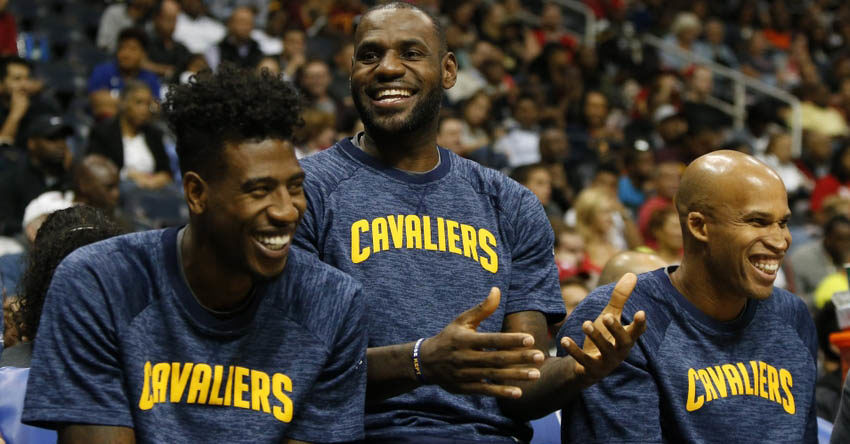 There are not many teams that have more fun in each other's company than the champion Cleveland Cavaliers, and Cavs swingman/Snapchat superstar Richard Jefferson was at it again, this time poking fun at rookie, Kay Felder.
The Cavaliers took on the Indiana Pacers on Wednesday night, and Felder had one more task as rookie to complete before the All-Star break. Felder had to dress up as an Oompa Loompa from the famous movie "Charlie and the Chocolate Factory" and enter The Q in the entire outfit.
Jefferson then called Felder the "world's tallest Oompa Loompa", before Felder endorsed him for the shorty awards which Jefferson is nominated for as best Snapchat user.
Why does RJ deserve a @shortyawards?
Because he's the Snapchat 🐐 and knows the World's Tallest Oompa Loompa.
VOTE: https://t.co/OJ5QjWRAN2 pic.twitter.com/AUH67gozBS

— Cleveland Cavaliers (@cavs) February 15, 2017
If that wasn't enough, Jefferson then proceeded to film new recruit Kyle Korver when he first saw Felder, and the sharpshooter could not handle himself.
Kyle Korver's like omg what team am I on 😂😂😂 pic.twitter.com/QfbOxjwhNu

— Alysha Tsuji (@AlyshaTsuji) February 15, 2017
Jefferson has given fans direct access to the team, which has increased the connection between players the fans.
Props to Felder for running with it and being a good sport throughout the whole hilarious ordeal as a rookie.