John Wall views LeBron James as a friend and mentor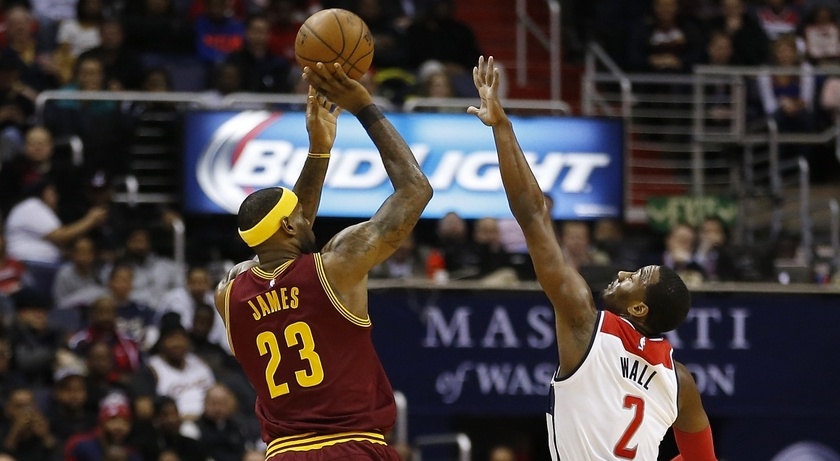 John Wall, the star point guard for the Washington Wizards, is unquestionably one of the best ball-handlers playing in the NBA today. The four-time All-Star and former University of Kentucky standout is leading his team straight into this year's playoff picture. Currently, the Wizards are holding the third seed in the Eastern Conference standings with a 43-28 record, just three-and-a-half games back from the conference-leading Cleveland Cavaliers (46-24).
Wall and Cavaliers superstar small forward LeBron James have developed a close relationship over the years. In fact, "The King," as James is justly known, has left an impression on several aspiring athletes over the course of his illustrious career.
Wall recently spoke with Chris Fedor of Cleveland.com about the impact James has had in his life.
"He's had a big impact," Wall said. "He's kind of just been a mentor to me and talking to me and me just getting opportunity to pick his brain about certain things. He's been in a lot of positions I've been in and I don't think nobody had the type of hype he's had ever coming into the league, but he's been in basically every situation or circumstance you can think of and when I feel like I need help in a situation and it's something he's been through I call and talk to him."
Wall, now a member of the Klutch Sports team, has known James since high school. Though they are foes on the court, Wall says there are many things he has learned from James over the years.
"Just how to be a true professional," Wall said of what he has learned from James. "Just how to deal with all the pressure and the hype. Don't get overwhelmed with it, play your game and do what you think is best for you. When media gives you the praise or doesn't give you the praise don't let it kill your confidence and take you down. Just keep being yourself."
James, a well-known basketball historian, always gives credit to those who paved the path before him. It's nice to see that he is honoring that NBA tradition by setting a great example for his peers.