Jeff Van Gundy says there's only one way Cavs can beat Warriors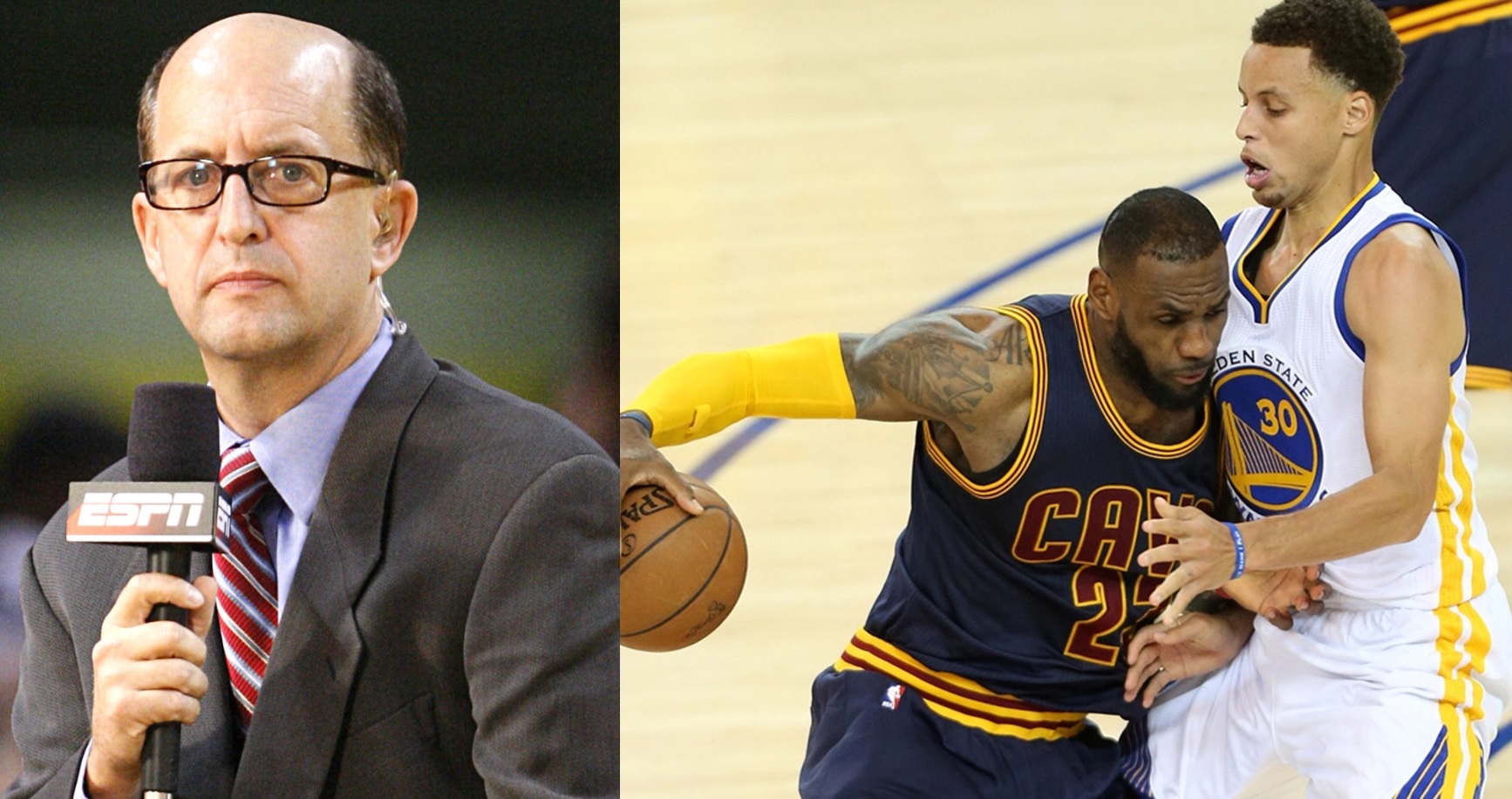 The Cleveland Cavaliers and Golden State Warriors are on a collision course for their third straight NBA Finals meeting, after both teams swept their first two rounds in convincing fashion. It would be the first time in NBA history that two teams have met three consecutive times on the NBA's biggest stage, and the trilogy looks more than likely at this point.
The Cavs are patiently waiting in the wings to find out who they are playing next between the Boston Celtics and Washington Wizards, whereas the Warriors have taken care of the San Antonio Spurs in Game 1 of the Western Conference Finals after Spurs' superstar Kawhi Leonard left the game with an ankle injury and the Warriors came back from 25 points down to draw first blood.
With the highly-anticipated showdown perhaps fast approaching, NBA personalities have begun speculating who has the edge and who will ultimately win the series. One of those personalities is popular NBA ex-coach and current ABC/ESPN broadcaster Jeff Van Gundy, who was asked about the potential match-up between the Cavs and Warriors on the Lowe Post Podcast.
Van Gundy was firm in his prediction that he felt the Warriors would have far too much for any opponent, and he couldn't see anyone getting close to the Dubs.
Despite not choosing the Cavs to beat the Warriors, Van Gundy was asked if there was any way the Cavs could gain an advantage in the series, and his response boasted something the Wine and Gold might look to exploit.
"I think that would be the only chance Cleveland would have — is play James (LeBron) these extraordinary minutes, make up points when Durant and Curry sit out and try to hold your own in the other minutes," Van Gundy explained. "Because if they (the Warriors) then match and put Durant at 40 minutes, and Curry at 40 minutes, I'm not sure where you have a chance to win a game."
The lineup Van Gundy is referring to is minus -2 as of right now in the playoffs, and with the Cavs boasting superior depth, it could be an area where they can exploit the Warriors. Due to the Warriors lesser depth, it will force the starters to play significantly more minutes than they're accustomed to, which is could hinder the Warriors stamina and is something Van Gundy eluded to as well.
Van Gundy is entitled to his opinion, but others involved in the NBA have come out and stated they believe the Cavs hold the upper hand. We'll never know for sure until the two teams meet and the stage is set.
Until then, the Cavs will be looking to take care of their Eastern Conference Finals opponents on their quest to defend their crown.