Iman Shumpert says Cavaliers 'grabbed him out of hell' in 2015 trade for him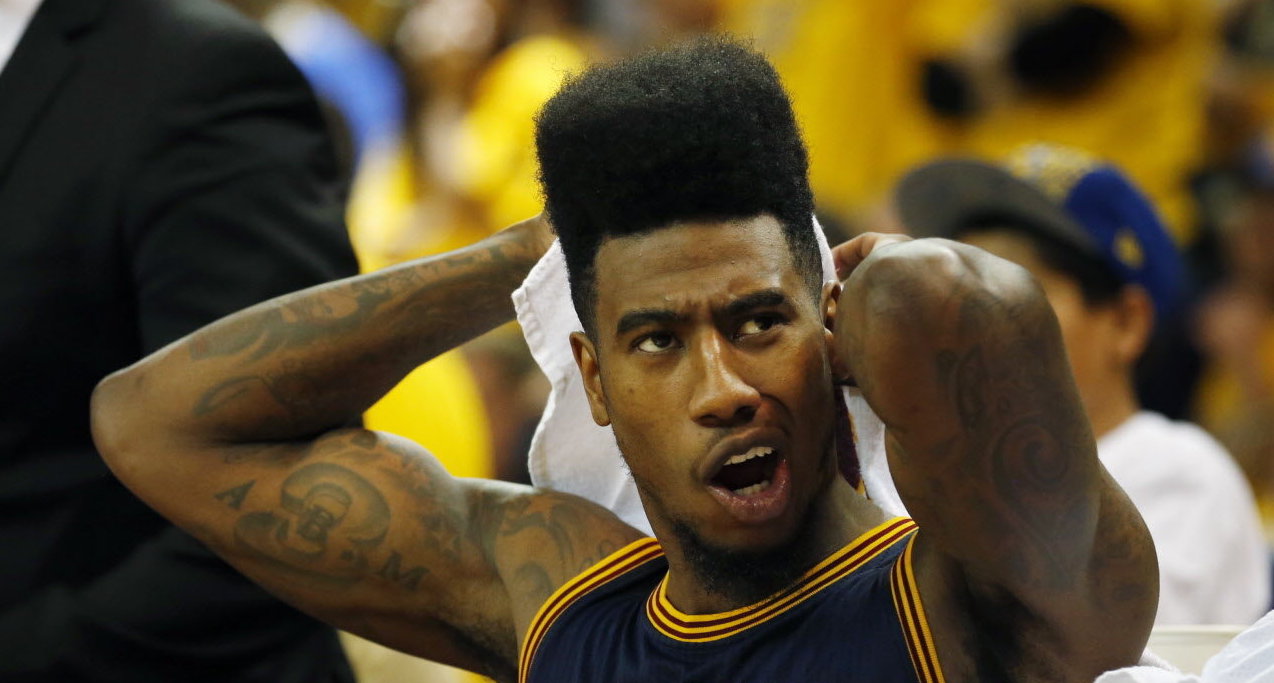 When the defending champion Cleveland Cavaliers brought Iman Shumpert and J.R. Smith to Northeast Ohio from the New York Knicks during the 2014-15 NBA season, few fans of the team knew what their true impact would be.
Initially, the two former Knicks were put off by the deal. Now, one drought-ending championship later, both Shumpert and Smith are flourishing in their respective roles.
Shumpert recently sat down for an interview with HoopsHype to take a look at some of the trades that have been made over the years across the association. As mentioned before, Shumpert was not pleased about being traded at first. However, he later reveals that being sent to the Cavaliers completely changed his life. Remember, the Knicks won just 17 games that season.
"I was never the new kid in school or anything, so this was the closest thing for me to changing schools and going through that," Shumpert said. "For me, it would've been cool if (things ended differently with the Knicks). I was hurt when I got traded, so it would've been cool for me if I had at least gotten to play my last games with them. I was sitting out for like a month and by the time I got traded, it was a deflating feeling, especially with that season that we were having. I felt like I didn't get a chance to help get us out of the hole, you know what I mean? (winces) I just felt bad and felt like we had dropped a bunch of games. I felt bitter that I had to leave on such a bad note. I just remember the feeling (sucked). It was like, 'Ah, I'm hurt, we've lost a bunch of games in a row and then I'm traded.' Then, shortly after we walk in and we get to playing with the Cavs, we go on a long winning streak. I kept thinking back to my old teammates like, 'Damn, I was hurt and we were losing. Now I come here and I'm playing well and the energy is great.' I just felt like they kind of grabbed me out of hell. And every game was being showcased on TV and we're winning. It was just crazy. I was happy, but I felt bad too."
Players in the NBA know they can be dealt in the blink of an eye. Being traded midway through the season can be difficult, no question. These guys often have families and children who get caught up in the shifting sands. Shumpert chimed in on some of the obstacles he faced when he first arrived in Cleveland.
"Off the court, you're staying in a hotel and then have to find somewhere to live and then you have to start learning your way around a new city. If you have a family, you have to get your family set up. Some players have, like, a chef and then those things change. I remember when I first got here (to Cleveland), there were some times when I was trying so hard to stick to my normal pre-game routine, but it's hard. The time it takes to get to the arena is different from what I was used to in New York, so I'm trying my best not to be late to anything. You're getting everywhere just barely on time because you (have to factor in) that you may have trouble finding the place. The good thing about coming here was that the guys sort of made light of it because they know what it's like and know it's hard to adjust. Fortunately, I had a lot of the guys on the team that I already knew, too. Me and Kyrie (Irving) have always been close. To relax, I could go to his house instead of being in my hotel room all the time. It was nice going to an actual house; it helped and things slowed down and I felt more normal."
Coming to a new team means learning new plays and systems; often a difficult task. On some teams, players are limited to just one role. However, Shumpert stated that some fans never see the additional on-court talents those role players have to offer.
"Basketball-wise, it takes a while to just adjust and understand what role your new team needs you to play and how they want to use you," Shumpert said. "You have to know what they want you to do when you're on the court. A lot of fans don't know how many (additional) things a lot of players around the league can do because they've only seen them in whatever role their team needs them to play. Sometimes, you get to see a lot more from a guy; you see what they can really do if they're put in the right position to be successful. I think that's the biggest thing with coming over to a new team – how they evaluate you and how they feel they can use you based on the make-up of the team. That determines a lot. Your new team may have a different make-up or have a different structure or things like that, and you just have to see how they're going to implement you into their system."
All things considered, Shumpert and Smith have fit into Cleveland's system like a glove, but they haven't done it alone. Veteran members of the team, such as LeBron James and Irving, have made the reacclimating process a bit easier. HoopsHype asked Shumpert to weigh in on the veteran leadership in the Cavaliers' locker room.
"Yeah, having so many veterans helped, especially with the professionalism," Shumpert said. "Each guy knew their body, knew that they had to come in and get certain work done. There's really no in-between times or joking around or room for errors. Everyone pretty much has their head on straight and (is focused). Then, after practice, guys have to go home to their families. When guys come in, it's to get their work done and there's a level of seriousness. I was definitely ready to win, I was ready for that (kind of atmosphere). You can do that with a younger team too – I'm not saying you have to have an older team (to be focused and win) – but there was definitely a difference in the culture when I came here. And understandably so, with all of the veterans we had in locker room."