Iman Shumpert and J.R. Smith comment on LeBron James' conditioning regiment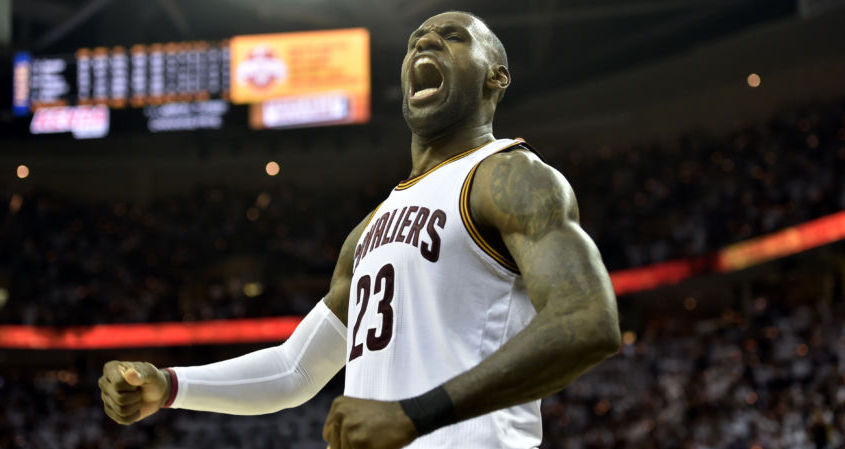 There are few professional athletes who take preparation and conditioning more seriously than Cleveland Cavaliers superstar LeBron James.
"I'm feeling pretty good," James told Joe Vardon of Cleveland.com after posting 39 points in last night's 125-103 win over the Toronto Raptors. "My teammates do a great job of putting me in position, my coaching staff do a great job of putting me in position to be successful. And, I put a lot of work in on my craft and I live with the results. So, just blessed I'm able to make a few plays tonight to help us win another game."
James, now 32 years of age, is showing no signs of slowing down. In fact, The King finished with career-highs in dunks, assists (8.7), and rebounds (8.6) in the 2016-17 regular season. There are some who argue that he is playing too many minutes per game (37.8 in the regular season). However, James says all of his preparation and conditioning keeps him fresh.
Cavaliers swingman Iman Shumpert chimed in on James' conditioning regiment after last night's game.
"The part everybody else doesn't get to see is the next day to come in and him be the first one there," Shumpert said of James. "Everybody's getting treatment and doing all this stuff and then he pops out of the hyperbaric chamber and nobody knew he was there. He does a tremendous job of taking care of his body."

"He comes out and plays 40 minutes, he plays 48 minutes, double overtime, triple overtime or whatever and then the next day we walk into the place and he's dunking after each possession," Shumpert continued. "When you've got a guy like that that headlines your team, it's hard for other guys to take a day off."
The chamber that Shumpert spoke of in his post-game press conference is an important tool in muscle recovery. It's used to help drive oxygen throughout the body in a pressurized environment. The following video from Uninterrupted has more details.
Making every minute count, @KingJames heals his body before Game 2 using hyperbaric oxygen therapy. #NBAPlayoffs pic.twitter.com/BtCmkyqBJ8

— UNINTERRUPTED (@uninterrupted) May 3, 2017
When J.R. Smith was asked of James' preparation routine after last night's game, the Cavaliers marksman offered a simple reply:
"He's amazing."