With rumors (whether founded or otherwise) swirling that LeBron James is interested in bringing Russell Westbrook to the Cleveland Cavaliers, it's time to take a look at how the Cavs would change if Westbrook joined the team.
In order to know how the Cavs would look with Westbrook, we need to break down how they are constructed without him. Currently, LeBron James is the primary ballhandler, and is given almost the sole responsibility of playmaking.
James averaged 9.1 assists per game, and the next-closest Cavalier was George Hill with 2.8. This was especially apparent in the NBA Finals, when James' scoring numbers dropped as he focused on creating opportunities for his teammates.  Through the first two games of the Finals, James racked up 21 assists, but shots were missed on 29 other passes.
The rest of Cleveland's starting lineup consists of Hill, a solid defender and three-point shooter at point guard; J.R. Smith, a 3-and-D shooting guard; Kevin Love, a stretch-four rebounding machine; and Tristan Thompson, an energetic rebounder and defensive enforcer.
The bench includes Jordan Clarkson, a shoot-first slasher; Rodney Hood, a dynamic scoring guard; Jeff Green, a versatile two-way wing; Larry Nance Jr., an athletic defensive center; and Kyle Korver, a sharpshooter.
The roster around James ideally is filled with good defenders who can space the floor and knock down open three-point shots. On paper, that's exactly what the Cavs are, but in the NBA Finals, that's not what happened. Defense was the least of the Cavaliers' concerns. Aside from James, Cleveland shot 30-of-104, or 29 percent, from beyond the arc. Many of those shots were open or flat-out uncontested.
But an even bigger issue was that James was really the only player on the Cavs who was capable of both scoring and playmaking with the ball in his hands. Kevin Love is far and away the second-best player on the team, but his lack of consistency and ability to take over a game limits his effectiveness in the highest-pressure moments.
When Kyrie Irving was still on the team, Cleveland had a completely different offensive dynamic, because James was not the only player defenses had to stop.
And that's where Russell Westbrook would have the largest impact. He is one of the most dangerous scorers in the game, with the ability to beat any player off the dribble, but he is also a fantastic passer. It is no small feat to average a triple-double in a season, much less two in a row, and one while playing with two other stars in Paul George and Carmelo Anthony. Westbrook had experience playing with other ball dominant players before, when he was teammates with Kevin Durant in Oklahoma City.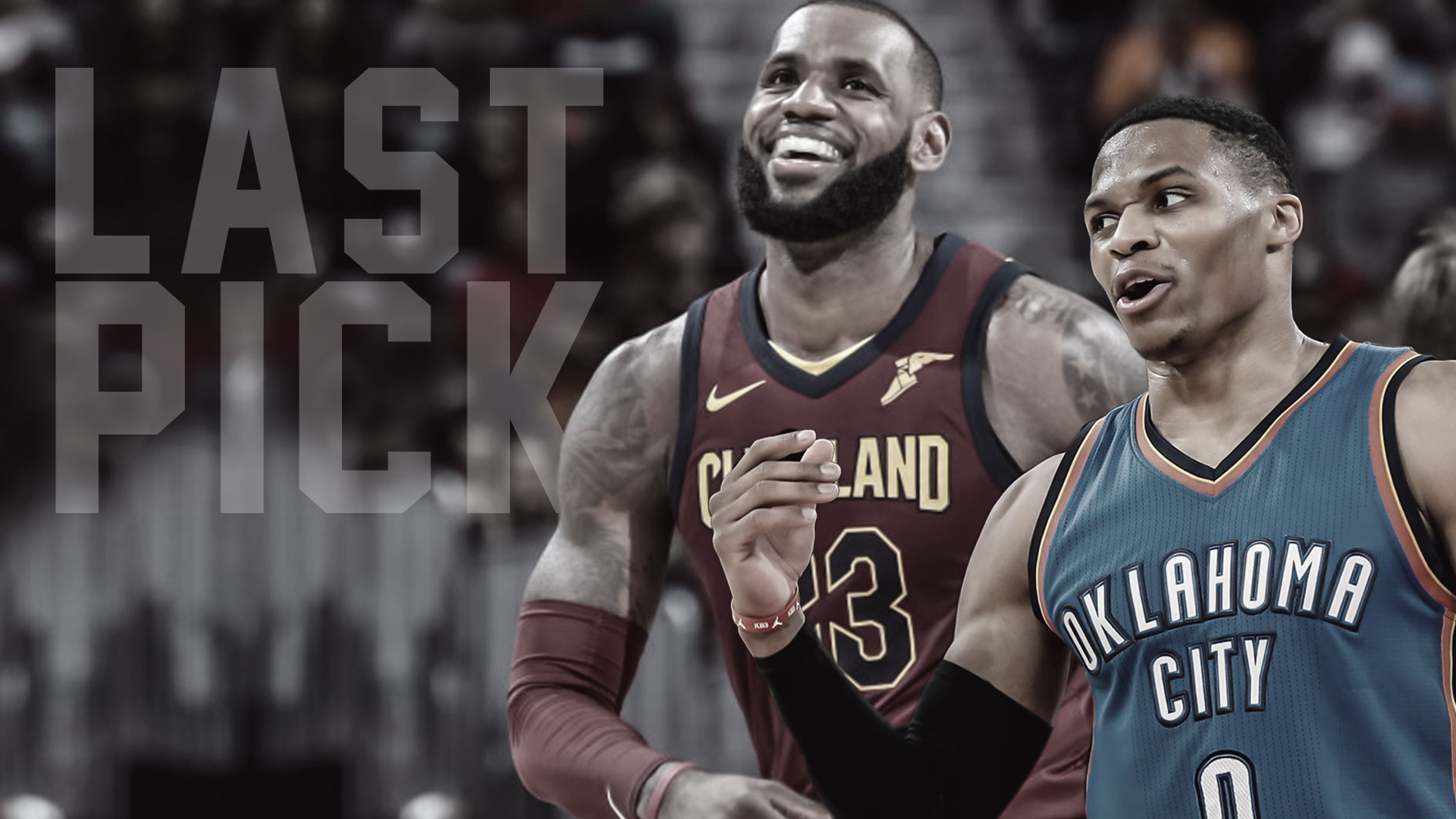 Westbrook is also a good defender and a great rebounder. His strength and athleticism allows him to match up with nearly any guard in the league and play them well. Westbrook is also one of the league's fiercest competitors, and if he and James teamed up, they would both have an axe to grind with the Golden State Warriors. Motivation would not be a problem for this team.
As a player, Westbrook is a master at getting to the rim, and is a great finisher. The closest player the Cavaliers have (aside from James) to Westbrook is Jordan Clarkson, who is not nearly as athletic or strong, and is a much worse finisher.
Westbrook and James would both be able to handle the ball, score in the paint at will, and create plays for others. Westbrook averaged 10.3 assists last season, and averages 8.2 per game for his career.
However, Westbrook is not a perfect player by any means. He is not an efficient scorer, as evidenced by his 45 percent shooting clip. That number drops to just 30 percent from beyond the arc. Westbrook's lack of a consistent three-point shot would reduce his effectiveness with the Cavs, as they are built on the triple.
However, that is not to say that he would be bad in Cleveland. Westbrook's dynamic scoring ability would be a great fit next to James' all-around greatness.
James would be forced to make the largest adjustment next to Westbrook, as he is used to being ball-dominant. Wetbrook would need the ball in his hands even more than Kyrie Irving ever did as a Cavalier. James would have to yield to Westbrook at certain times throughout the game, and as both players are famous for their late-game heroics, it would take some time to decide whose hands the ball is in during crunch time.
If Love is not given up in a trade with the Thunder, a Big 3 of Westbrook, James, and Love would be very difficult to stop. Would it be enough to top the Golden State Warriors? We may never know the answer to that question.