Just Imagine: Bringing Kevin Durant To Cleveland Next Summer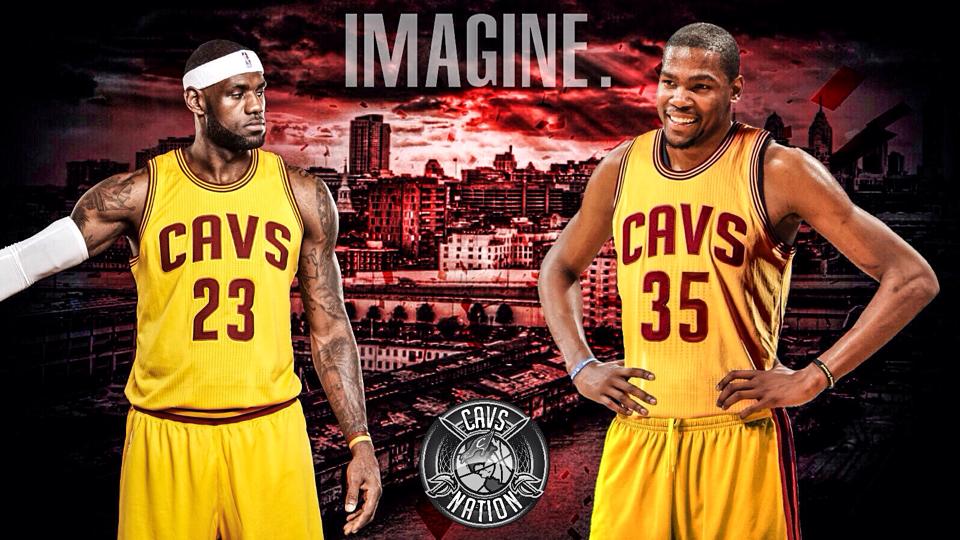 The All Star small forward for the Oklahoma City Thunder, Kevin Durant, is entering the final year of his 5 year, $89 million contract he signed back in 2010. Despite Durant's very public desire to stay with the Oklahoma City Thunder, there have been reports of him going to his hometown Washington Wizards or the Los Angeles Lakers. There will definitely be other teams that will wine and dine Durant come July 1st, 2016, and one of those teams COULD be the Cleveland Cavaliers.
Before we dive into this possibility, it should be reminded that this is all simply speculation and that there has been no indication yet that Durant would want to come to the Cavaliers, nor has there been any indication that he would not want to come to the Cavs.
RELATED: 12 Free Agents The Cavs Should Go After This Offseason
Durant burst onto the NBA scene after getting drafted #2 overall to the Seattle Supersonics (now OKC) in the 2007 NBA Draft. He helped lead the franchise in the relocation, and was a key component in leading the Thunder to the 2012 NBA Finals, where they lost to the LeBron-led Miami Heat. Despite being the unofficial #2 in the league to only LBJ, he has had trouble reaching the Finals. The West is a difficult conference to play in, with powerhouses such as the San Antonio Spurs, LA Clippers, and Houston Rockets to name a few. Oh, and the champion Golden State Warriors. It is clear that this has frustrated Durant, as he will be entering his ninth year in the league come Fall 2015. Despite being injured for a good part of the 2014-2015 season, he still managed to put up 25.4 points, 6.6 rebounds, and 4.1 assists in the 27 games he played. He is hoping for a bounce-back campaign in 2015, leading into his free agency. He will be tempted to leave the Thunder to chase a ring, as LeBron did back in 2010. He could potentially join the Cavs.