The holes at point guard and center the Cavs have to fill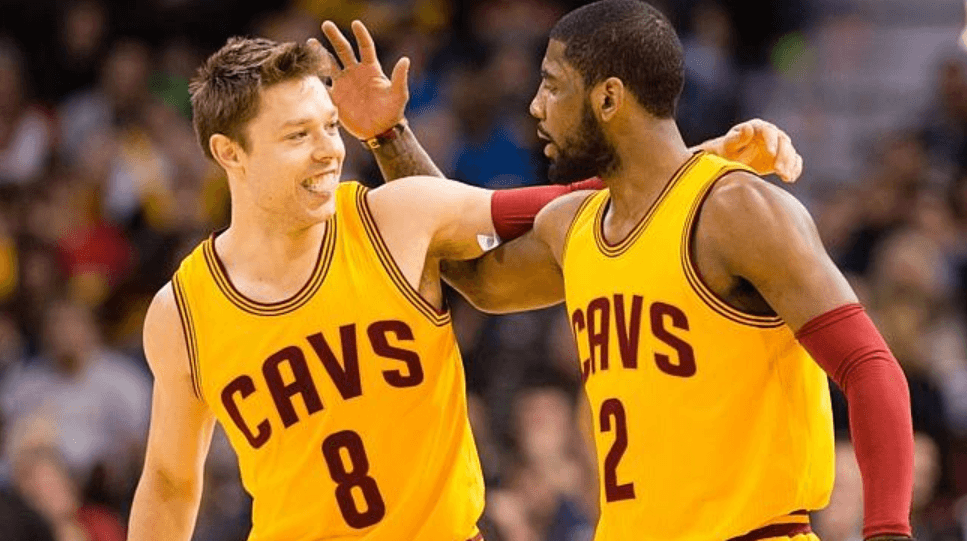 LeBron's 30 Million dollars on the books this year, and the expected 10-15 million JR Smith will be awarded for his services will push Cleveland over the luxury tax cap, something that is looking to be essential for teams wishing to compete for the chip this year. While obviously LeBron is worth this amount of money, and JR is likely worth around his contract amount as well, pushing over the luxury tax does create some problems with filling roster needs. Limited to just offering veteran minimums (as their Taxpayer MLE was partially used to sign Kay Felder to his rookie contract), Cleveland's free agency options are limited, and with the departure of several key members of the line-up as well as improvement in other league favourites, Cleveland just might need to upgrade their already stellar line-up.
As long as JR Smith resigns, Cleveland has no need to tamper with their starting five. The Deadly combo of Kyrie, JR, LeBron, Love and Thompson work excellently together. Richard Jefferson, Channing Frye and Iman Shumpert all positioned themselves to be the potential sixth man on the roster, and the rotation as a whole is looking solid, however there are some specific skill sets that Cleveland is missing, and this team just feels somewhat less than last year's championship calibre roster. Never fear however, Cleveland has several options open to them if they wish to solidify an already top three roster in the NBA.
Back-up Point Guard
The loss of Matthew Dellavedova was expected, but still is not exactly an easy pill to swallow. Delly was one of the best three-D guys in the NBA and complimented LeBron well as a spot up shooter. That being said, Delly is a bearable loss that is likely fixable. With all due respect to Delly, while he was on the field, this was the LeBron show. Kyrie shared ball handling duties with LeBron when he was on the floor, and often Delly wouldn't even take the ball up, none the less run the offense. Working without a secondary ball distributor is very much possible within the system that Cleveland has set up.
Why backup point guard has become a need instead falls on two fold; the most effective line-ups that LeBron played in this season, last season, and almost all of his career are ones that played with him and four shooters around him. LeBron is a freight train, if he wants to get to the rim he will. Defenders recognize this, but what often goes unnoticed is LeBron's ability to seamlessly transition from a drive to a no-look kickout pass. By having four three point shooters on the outside, LeBron is able to have versatile options in all directions, each of whom he can score off of, or use as an alternate to scoring. Kay Felder isn't a fantastic shooter, and Mo Williams is inconsistent, neither of which feels as if they can be the first option off the bench. On the defensive end the second issue arises. Delly was a lock down defender, one of the best in the league, and without him Cleveland's defense just seems to have one more hole poked in it. With Iman Shumpert and JR Smith, Cleveland can cover a majority of their backcourt needs, but another consistent defender who doesn't have a history of injury would be useful.
Cleveland doesn't have a ton of options on the free agent market. I recommended earlier that Cleveland bring back former point guard Jarret Jack as during his tenure, but he was snatched up by Atlanta. Cleveland is more likely to look at trades to upgrade their core members. While normally I am opposed to a rental (trading for a 1 year contract), there are several options at backup point guard that both could look good for Cleveland, as well as provide them leverage to resign in the near future. One such option is Patrick Beverly, Point Guard for the Houston Rockets. The Rockets signed Eric Gordon of the New Orleans Pelicans this offseason, likely to pair him as a point guard with James Harden (Gordon is a combo guard). Because of this Beverley has lost his starter status, and may actually be open for trades. It was rumoured that the rockets were shopping him and Ariza at the draft, nothing has confirmed that they haven't stopped yet either. Another, more solid rental option would be Kings backup point guard Darren Collison. Collison is the model of consistency, something that Steve Aschburner of NBA.com praised when naming him the best backup point guard in the league. While Beverly is easy to trade for as he currently is signed on a minimum contract, Collison is a bit trickery, however his awkward salary numbers may actually provide Cleveland an opportunity. Cleveland's stacked at the Shooting Guard position with JR Smith, Iman Shumpert, Mike Dunleavy, Jordan McRae and DeAndre Liggins, and likely would use one of those individuals in a trade. Shumpert is Cleveland's most likely option, as his contract is healthy, and has been associated with trade talk in the past. Pairing Collison with previous Cavs Target Ben McElmore would be a fantastic option, though Cleveland may have to toss in a pick or two to make this trade work, but Cleveland could bolster its future as well as its now with a trade like this.
Shot Blocker
Shot blocker does not equal true center. Let me repeat that for those in the comments section advocating for a Love/DMC swap. SHOT BLOCKER DOES NOT EQUAL TRUE CENTER. Beyond the plethora of floor spacing problems that DeMarcus Cousins brings to Cleveland's offense, the skill set he brings as a center is someone who takes up space, not the shot blocking defensive anchor that Cleveland needs (interesting to note that DMC's Olympic teammate, DeAndre Jordan does fit the profile).
Cleveland has an excellent center in Tristan Thompson, he is a top three rebounding center, and has the ability to switch onto guards, that being said he really does not have the ability to play full starters minutes, and even if he could, a solid replacement would be necessisary to run the 10-15 minutes a game he would be sitting and wouldn't play. Chris "The Birdman" Anderson is a possibility, however at his age there may be a better solution.
From a free agent perspective, two major players stand out. On the veteran side, signing a player like Emeka Okafor, who while being removed from the NBA for the past three years has been cleared for play and has been eyeing an NBA comeback, makes sense. Adding another veteran voice to the locker room, as well as a previously experienced PF/Center who during his prime averaged a high double double, would work fantastically for a Cleveland squad looking to make a splash.
Another Free agent option, seemingly first suggested by Aaron Ferguson of King James Gospel, would be former Brooklyn Nets big man Andray Blatche. Currently Blatche plays in China, on one of their organizations largest contracts, sitting at $7.5 million. If at the end of the Chinese season Cleveland is still starved at the shot blocking big man position they could make a run at the effective big man in his prime, that is, if China wants to sell.
Finally, I have sketchy at best NBA rumors from an un-credible source stating that Cleveland has started negotiations with Philadelphia for a deal to send Philly big man Nerlens Noel to Cleveland, which means I am jumping all over this and we can officially declare
NERLENS NOEL WATCH 2016 IS NOW IN FULL SESSION!!!!!