Gilbert Arenas goes off defending LeBron James on Instagram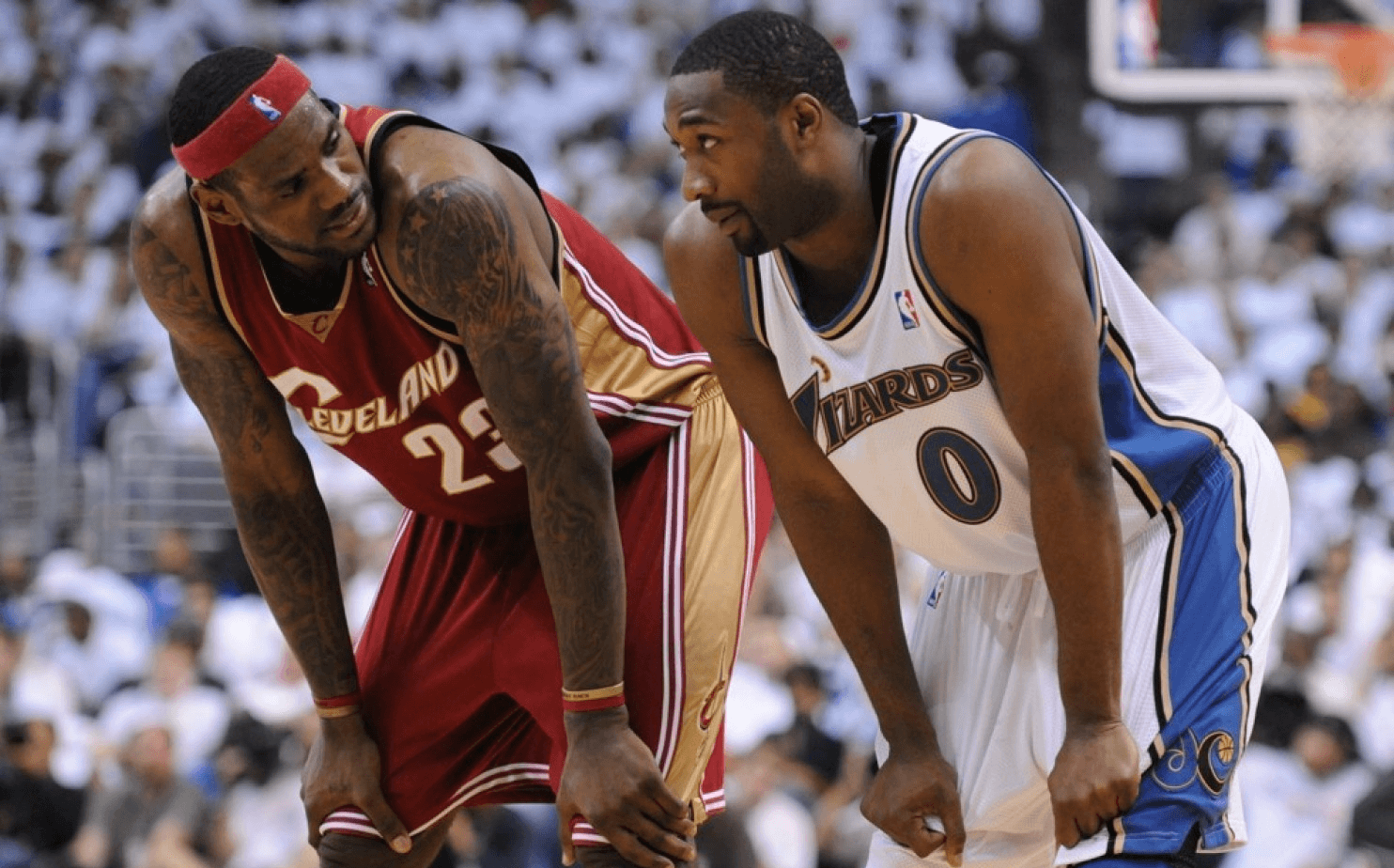 Since Kevin Durant made his move from the Oklahoma City Thunder, who were a win away from the NBA Finals in 2016, to the Golden State Warriors in 2017, many criticized the move and a special few compared it to LeBron James' move from the Cleveland Cavaliers to the Miami Heat in 2010.
Both moves have resulted in NBA Championships for the respective players, which was the main reason for the move anyways. While there are a few comparisons, there are a lot of differences in the two moves. Don't take my word for it, take it from one of the guys who played at a high level against both players for years in the NBA before seeing his career go down the drain following the major locker room gun situation back in 2009.
Former Washington Wizards sniper Gilbert Arenas (no pun intended), also known as 'Agent Zero,' has been known to get real with his fans and followers on his Instagram account, and he chimed in on the comparison of free agent moves by James and Durant.
In case it isn't loading up for you, here's what Arenas had to say about the super team claims between James and Durant:
"A real analyst would agree with this statement LEBRON has never had a super team smdh his years in miami, him and dwade were the only (ALL NBA) players them years, last time bosh was on that all NBA team was #07 so you have 2.5 stars…ray allen came for the second championship, pls ppl he was 37 yrs old and came off the bench #NoStar..NOW this cavs team also has 2.5 stars Kevin love has not been a star since joining the cavs #noshade …GS here's why your a super team, your the first team in history I think that all 4 players are actually ALL NBA at the same time….2014-15 klay and curry (All NBA) green (first team all defense)and they win a championship 2015-16 (curry,klay,green) were ALL NBA players and green first team all defense this type of power put you guys at 73-9 beating the bulls record 💯 the only reason U lost the chip was green missing a game and the momentum was lost….so U have a back 2 back MVP,second team all NBA/first team all D..and 3rd all NBA team ON the same team and then you add the best natural scorer in the NBA on your team 👀😬 if u can't visualize this #example spurs won the title in 2005 and then again in 07 what if they added Kobe after the 2006 season 🔥🔥 GS is so good that Klay Thompson had a bad season and he avg 22 😂😂 and scored 60 f***ing points in 29 mins…u know how good u have to be to pull this shit off with 3 MVP titles and 5 NBA scorers titles on the same floor 💯 then u take they 4th option green, (if) they had to trade one person it would be green and he is the heart and soul of this team….the 4th option leads the team in (Asst,rebounds,blocks,steals) for 3 yrs str8 👌🏾without KD cavs would have had a hard time beating them this year..KD was just the f*** u player they added 👍🏾this ain't Boston when 3 players that's in they mid 30's getting together or LAkers when Malone and GP got there these 4 players are 29 and under…all in the best part of they careers..the only thing that will stop them is that (1 billion dollar luxury tax) the owner will have to pay in 2019 ORRR cavs getting PG and AD added with kyrie,LBJ now we talking…really cavs had to play all 4 games like game 4 to beat them smdh"
Arenas clearly felt that strongly about the situation and wanted to voice his opinion on the matter. One thing I never thought I'd see is Arenas siding with James following their battles from 2005-2008. James and Gilbert went head-to-head 19 times in the regular season, with LeBron winning just seven of them, but he did take seven of 10 postseason matchups and three straight first-round victories over Arenas and his Wizards.