GIF: Kyrie Irving's NBA Finals game-winner vs. game-winner vs. Wizards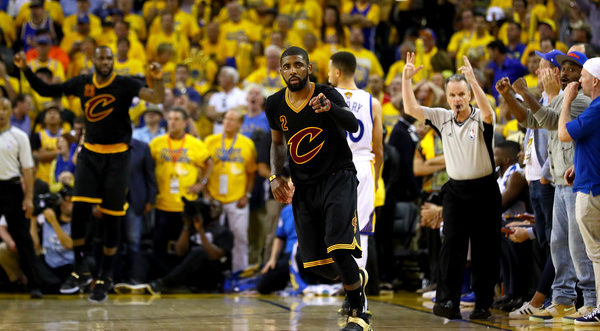 Monday nights contest involving the Cleveland Cavaliers and Washington Wizards was a crazy one, the final score ending in a wine and gold winner, 140-135. LeBron James sent the game to overtime with an impossible fadeaway jumper from deep, but fouled out of the overtime period with over four minutes to play in the game.
Enter, Kyrie Irving.
Kyrie took the game into his own hands, scoring 11 of his own points in overtime, the second most by any player in an OT period this season (Russell Westbrook – 14 on Nov. 30 also vs Wizards).
Although this game will be remembered for LeBron James' 4th quarter saver, Kyrie Irving hit an incredible shot of his own deep in overtime. With Bradley Beal draped all over him, Irving drained a step back triple to give the Cavs a three point lead with 35 seconds left in the contest.
Every Golden State Warriors fan watching the game must have felt a little skip of the heart, as it almost perfectly replicated Kyrie's famous Game 7 shot.
Kyrie Irving's clutch 3 tonight looked just like his NBA Finals game-winnerhttps://t.co/G2vtKhbimC pic.twitter.com/oxvY7OBsQG

— SB Nation NBA (@SBNationNBA) February 7, 2017
Picture perfect and as close to a duplicate as you'll ever see.
Although it didn't win the Cavaliers a championship (man that still feels good to write), it put to bed a couple of impressive winning streaks for the Wiz. Washington were winners of their past seven games in a row, winning their last 17 at home at the Verizon Center.