Cleveland Cavaliers vs Golden State Warriors
2017 NBA Finals – Game Three
---
UPCOMING MILESTONES:  With eight more free throws, LeBron James passes Michael Jordan for the most in NBA playoff history. In addition, with 41 points, James (1,135) will pass Sam Jones (1,143), Bill Russell (1,151), Elgin Baylor (1,161) and Michael Jordan (1,176) all at once in career Finals scoring – claiming third most. Finally, with one three-pointer, Iman Shumpert will have made the 7th most in Cavaliers franchise history – passing Mo Williams.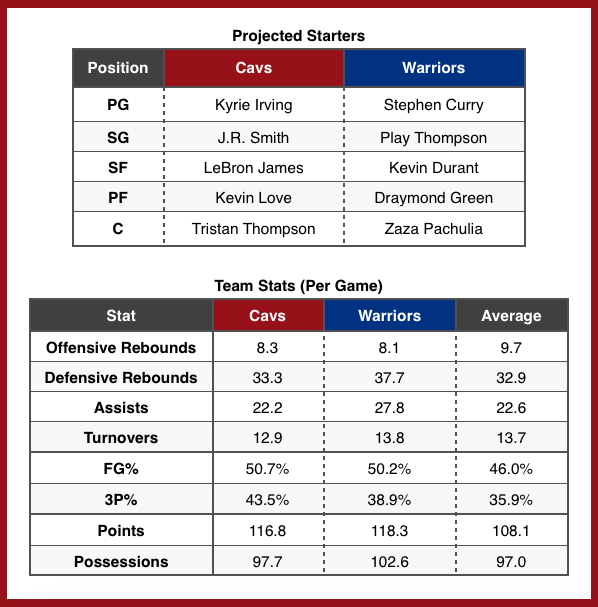 Two games in, and the Cleveland Cavaliers once again find themselves down 0-2 to the Golden State Warriors. Game Three will be critical. Being down 1-2 is vastly different than being down 0-3, where just one additional loss ends all dreams of hoisting the Larry O'Brien Trophy this year. In Game Three last year, the Wine-and-Gold rocketed ahead to a 120-90 victory at home after falling 77-110 the game before.
In Game Three, the Cavaliers finally managed to outscore the Warriors in a quarter for the first time this year, as they scored 30 to Golden State's 27 in the second quarter to bring the score within three at the half. Unfortunately, the Warriors led the rest of the quarters by five or more, with the biggest collapse coming in the 24 to 35 third quarter. Just like Game One, not a single Cavaliers had a positive plus/minus, though this time, four Warriors were in the negatives. Out of these, one player actually played 19:08 minutes, and was outscored by 10 points while on the court, despite him adding 10 points on 57.1% shooting – Shaun Livingston. Tristan Thompson's woes continued in Game two as he only pulled down 4 rebounds and as the Cavaliers were outscored by 18 while he was on the court – tied for worst on the team with JR Smith, who netted 0 points and 4 fouls in the 13:59 minutes he played.
After they only turning the ball over four times in Game One, Golden State had 20 turnovers in Game Two as the Cavaliers defense tied a franchise record with their 15 steals. With 87 touches and 51 passes, Stephen Curry led both stats on his team, and was second only to LeBron James (89 touches and 61 passes) for offensive engagement. Notably, when Curry had his shot contested, he only shot 16.7% (1/6) compared to the 54.5% (6/11) when his shot was left uncontested. After outrebounding the Warriors in Game One, the Cavaliers lost on the glass in Game Two – bringing down 41 rebounds compared to Golden State's 53.
Three keys for Game Three will be: (1) Play stronger off the glass. Through rebounds alone, Golden State netted 12 extra possessions in Game Two, although their turnovers evened out the advantage somewhat. This specifically goes for Tristan Thompson, who only had four rebounds in each of Games One and Two. (2) Continue to take the ball inside the paint, and play better interior defense. The Cavaliers outscored the Warriors 60-40 inside the paint, and shot 57.8% within 5 feet of the basket. However, even though they only took 20 shots within 5 feet of the hoop, the Warriors managed to shoot 85.0% there, so stronger play on the defense end is a must as well.  (3) Continue to pressure the ball on defense. Cleveland forced Golden State to commit 20 turnovers – in the regular season and playoffs combined, the Cavaliers have only done this three other times, with all three resulting in wins. If the Cavaliers are able to continue the same defense edge and net the same possession advantage – they took 11 more shots – it puts them at a better place to begin to focus on the other facets of their game they are currently lacking.
Key players to watch for on the Warriors will be Stephen Curry (averaging 28.8 points, 5.9 rebounds, and 6.3 assists per playoff game), Kevin Durant (averaging 26.9 points, 8.3 rebounds, and 4.3 assists per playoff game), and Draymond Green (averaging 13.4 points, 8.6 rebounds, and 6.7 assists per playoff game).
Tipoff is set for 9:00 EST and will be broadcast on ABC.