ESPN reports tension growing between LeBron James and Dan Gilbert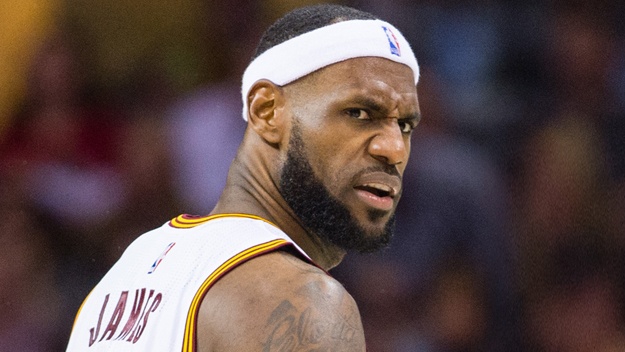 The NBA's defending champion Cleveland Cavaliers have lost six of their last eight games, and tensions are on the rise.
Yes, the Cavaliers are still holding serve atop the Eastern Conference standings, but several factors have played into their recent slump, including injuries, illness, flight delays, long road trips, and acclimating new players into the lineup.
LeBron James, Cavaliers superstar small forward, has recently expressed his opinions on the current status of the team, saying:
We're not better than last year, from a personnel standpoint," James said after Monday's loss to the New Orleans Pelicans. "We're a top-heavy team. We top-heavy as shit. I just hope we're not satisfied as an organization."
James has also previously stated that the Cavs need to aquire a backup floor orchestrator, bluntly saying, "We need a backup point guard."
On Tuesday, The King sent out a series of tweets to clear the air with regards to his angry rant, saying:
I'm not mad or upset at management cause Griff (David Griffin) and staff have done a great job. I just feel we still need to improve in order to repeat…if that's what we wanna do."
I not mad or upset at management cause Griff and staff have done a great job, I just feel we still need to improve in order to repeat…

— LeBron James (@KingJames) January 24, 2017
if that's what we wanna do.

— LeBron James (@KingJames) January 24, 2017
On Wednesday, prior to their road game against the New Orleans Pelicans, Cavs GM David Griffin spoke to members of the media with regards to James' comments. ESPN's Dave McMenamin recants Griffin's quote in his recent article.
The comment about the organization being complacent I think is really misguided," Griffin said. "Organizationally, there is absolutely no lack of clarity on what our goal set is. We are here to win championships, and there is no other solution, there is no other outcome that is acceptable, and there never has been. But in terms of the on-the-court complacency, I've seen a lot of that."
The Cavs (30-14), who are slated to pay $127.6 million in salaries and $27 million in luxury taxes this season, have spent more than any other NBA team over the last three years. According to ESPN's Brian Windhorst, a certain amount of tension is growing between James and Cavaliers management. Sources tell Windhorst that the differences are centered around payroll spending.
Windhorst reports that James and Cavs owner Dan Gilbert have different views on the spending issue. Sources told ESPN that the disagreement has been straining their relationship. The matter has obviously been exacerbated by the team's recent struggles on the court.
Sources also tell Windhorst that James' remarks, which were seen by some as a reference to further spending, angered Gilbert because they appeared to imply it was an organizational choice whether to improve or not.
Cavs Head Coach Tyronn Lue weighed in on the situation, saying:
We gotta focus on basketball, getting back to winning. …We're a great team. We're the champs, so we just got to get back to playing championship basketball. That's it."
Griffin has said bringing in another player remains an option, but made it clear he didn't feel the team needs to spend.
We can absolutely increase payroll if it's the right piece at the right time. I've never once been given a mandate of any kind, relative to money," Griffin said. "We're not going to do something where we go ask for more money unless we believe it makes us appreciably better. …As we have all along, ownership will do what needs to be done."
James has also hinted at his displeasure of some of the ways the tail end of the Cavaliers' roster was assembled. On Monday, James mentioned that veterans like Raymond Felton and Michael Beasley signed contracts for the league minimum with other teams in the offseason. He also referenced veteran Dahntay Jones, who, as James says, "Is sitting at home right now."
The Cavs have several young players on their roster, including rookie point guard Kay Felder, DeAndre Liggins and Jordan McRae.
No disrespect to DeAndre and to Kay: You think we can rely on them to help us win a playoff game right now?" James said. "And it's no disrespect to them. But it's like, it's not fair to them."
Griffin responded with a different view – one that doesn't necessarily involve adding a more experienced player right away.
We believe in this team at a deep level, and we need to get better from within and play better, quite frankly," Griffin said. "We need to have a greater sense of urgency and start to develop a championship identity. I think it's clear we have not been doing that."
Tristan Thompson, Cavs big man, was asked if any of this was a distraction. The seasoned iron man probably summed it up better than anyone could.
No, ain't no distraction. Ain't no distraction. At the end of the day, it's basketball," Thompson said. "Go out there and play. It's simple. Coach gives you the game plan, do your job or sit the f— down. It's simple."