Dwyane Wade says some teams obsess on beating LeBron James and the Cavaliers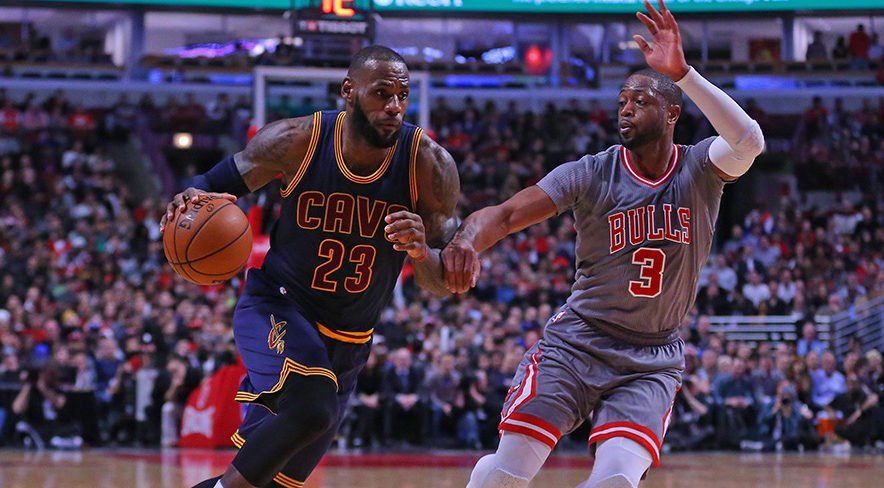 By most accounts, LeBron James is considered to be the greatest basketball player on Earth — or flat Earth, if you like. Supreme court vision, rim-rocking dunks, chase-down blocks, and team leadership are just a few elements of The King's game. And let's not forget that he's been to six straight NBA Finals, three of which resulted in championship ring ceremonies.
James, 32 years of age and in his 14th season in the association, is showing no signs of slowing down. Through the end of this regular season, The Akron Hammer averaged 26.4 points, 8.7 assists (career-high), 8.6 rebounds (career-high), and 1.2 steals in 37.8 minutes per game.
Dwyane Wade, a long-time friend and former teammate of James with the Miami Heat, says the Kid from Akron is "just that great." Wade knows a thing or two about playing with (and against) a LeBron-led team. When the two were together in Miami, they made four straight NBA Finals appearances. When James decided to come home to Cleveland in 2014, the Cavaliers went on to win two Eastern Conference titles and an NBA championship. James has cemented himself as a force in this league, and as Wade says, it's going to be hard to get him out.
Via Howard Beck of Bleacher Report:
"He's that great of a player," Wade said of James. "We talked about that in Miami: Once he got in, it was like Jordan — it was going to be hard to get him out. And he's proven that."
James and the Cavaliers currently hold a 3-0 advantage in their first-round playoff matchup against the Indiana Pacers. Wade tells Bleacher Report that there are some teams around the NBA who constantly think of ways to defeat James.
"There's teams that, all they dream and sleep and eat and think about is beating LeBron and beating Cleveland," Wade said with a smile.
They want the throne #BRmag

Full story ➡️ https://t.co/8oWkggAfbo pic.twitter.com/0B7BcpoMCs

— Bleacher Report (@BleacherReport) April 21, 2017
To put James' greatness in perspective, he has defeated 11 different franchises in the Eastern Conference playoffs, including five different teams in the conference finals. According to Bleacher Report, James has altered (or ruined) the course of more careers than anyone in the NBA since the great Michael Jordan.