Draymond Green is fine with LeBron James as the GOAT but he 'can't have his ring'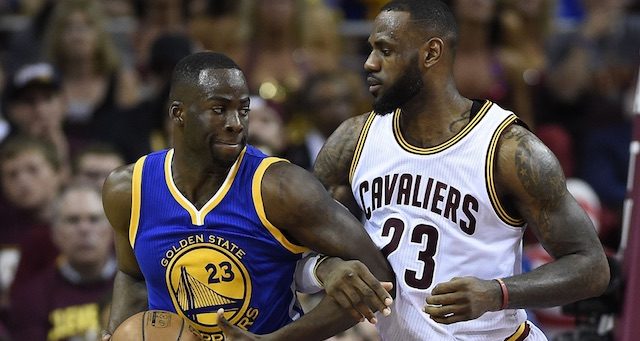 Heading into the 2017 NBA Finals, one of the prominent conversations around the league has been LeBron James' standing among the greatest players of all-time.
James is set to enter his seventh straight NBA Finals with a chance to earn his fourth championship. With that in mind, Golden State Warriors All-Star forward Draymond Green made it clear what he honestly thinks of the chatter surrounding James' legacy.
"He can have [greatest player of all-time title], he just can't have this ring!" – @Money23Green on LeBron's legacy and the 2017 #NBAFinals pic.twitter.com/G2eO0ByZAI

— Good Morning America (@GMA) May 31, 2017
"He can have that title (as the GOAT), he just can't have this ring. That's our goal. Our goal isn't to make everyone say, 'LeBron isn't the greatest player of all time.' More power to him, go ahead. At the end of the day, it's all subjective, anyway. As a peer, he has had an amazing career and is still doing amazing things. I can care less if anyone says LeBron is the greatest of all time. The only thing I care about is they can't say is the 2017 NBA champion. Beyond all that, he can have that. We want a championship and that's the goal."
Green can clearly care less about where James ranks among the greatest players to play the game. His only concern deals winning championships, particular this year to give him his second title along with redeeming last year's loss to the Cleveland Cavaliers.
That said, there is a clear respect from Green toward James with the recognition of what he has accomplished through the first 14 years of his NBA career. He has garnered numerous league records and plenty more are sure to come over the next several years of his career.
James faces another legacy-defining moment against a daunting Warriors team loaded with offensive talent featuring four All-Stars including two former league MVPs. If he can lead Cleveland to another title over Golden State, it would give him a much stronger argument in the greatest of all-time discussion.