With the Cleveland Cavaliers down 0-2 in a playoff series for the first time since 2016's incredible Finals comeback, it may be time to panic a little bit. After getting their doors blown off in Game 1 due to a putrid shooting performance, the Cavs actually shot better than the Boston Celtics in Game 2, yet still lost by 13.
While Tyronn Lue was outcoached by Brad Stevens in the series opener, the loss was not primarily his fault. In the second game, however, Lue could have done much more to put the Cavs in a better position to win.
As usual, LeBron James was fantastic. He finished the game with 42 points, 10 rebounds, and 12 assists in 38 minutes. Kevin Love also had a solid performance with 22 points and 15 rebounds. The rest of the team combined for just 34.
The Cavs had a total of seven players who scored while the Celtics had ten, and six who scored more than ten points. J.R. Smith had more flagrant fouls than points. But did Lue do anything to mitigate the damage that some players were obviously causing the team? No. This loss can be put on Lue's shoulder's, and Cleveland needs him to step up his game-planning if they hope to make this a competitive series.
In baseball, if a starting pitcher doesn't have his "stuff" and is giving up run after run, does the manager leave him in the game? No, he goes to his bullpen in the hopes that his other players will do better. Now, while your long reliever may not be as good as your starter could have been, at least he probably won't be actively harming your team to the point where they can't come back.
This is something Lue has refused to do ever since he took over as head coach of the team. He has a core rotation of (at the most) ten players, usually seven or eight. And, he will play those seven to ten players no matter the situation.
In Game 2, J.R. Smith played over 27 minutes. He took seven shots, missed all of them, and committed a flagrant-1 foul on Al Horford, which could end up being changed to a flagrant-2, which would lead to his suspension from Game 3.
But Smith was not benched, and he hurt his team when he was on the floor, both with his lack of offensive production and his terrible defensive effort. Smith's backcourt mate, George Hill, played 33 minutes and finished with three points and one assist. Jeff Green had six points and five turnovers in nearly 28 minutes. Larry Nance Jr. and Rodney Hood combined for two points in 22 minutes.
Tristan Thompson (eight points and seven rebounds) and Kyle Korver (11 points on 50% shooting) were the only Cavs besides James and Love who were effective whatsoever.
Jordan Clarkson did not play, and while he has been abysmal this postseason, the Cavs' guards weren't doing much, so putting Clarkson in for five minutes or so and seeing if he had his shot that night would not have been a bad idea. If he does, you can actually get some production out of your backcourt. If he doesn't, it's only five minutes and a few shots.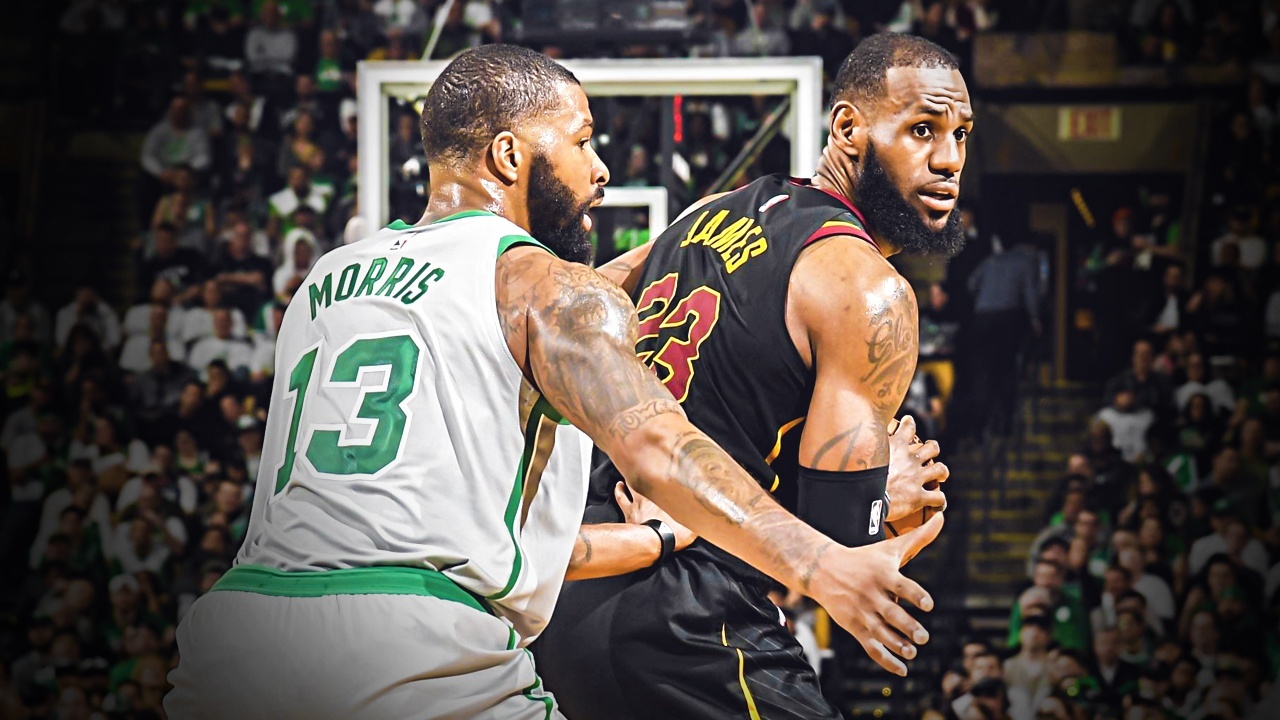 Cedi Osman and Jose Calderon were the only Cavs with positive +/- ratings, each with a +1 in 1:48 of playing time. It's clear why Calderon isn't seeing the floor, but with Hood, Smith, and Green playing badly, shouldn't Osman get a look here and there? At worst, he'll provide some defense and actual effort and enthusiasm, something this team has lacked all season long.
In Lue's defense, there's not much he can do. If the Cavs' guards aren't playing well, they're not going to win. A total of five points from your backcourt is completely unacceptable, but Lue isn't responsible for their performance. However, he can certainly do more than allow James to run isolation every single play and pray that one of the Cavs' shooters gets open and sinks a three-pointer.
Celtics head coach Brad Stevens seems to have figured out the Cavs. Boston always seems to have one of its players in a shooting groove, and the ball is spread out fairly evenly between their key players. All five starters took at least 12 shots, but none attempted more than 18. And, they're doing this without Kyrie Irving and Gordon Hayward, their two best players.
Both Jaylen Brown and Jayson Tatum are under 21; a team this young and playing without their two best players should not have a 2-0 lead over a LeBron James-led team in the Eastern Conference Finals, but that's how good of a coach Brad Stevens is.
The Cavaliers actually had a seven-point lead at halftime, but shortly before the half, the entire game changed course on one play.
LeBron James took a Jayson Tatum shoulder to the head pic.twitter.com/ocUnnSDnxO

— Def Pen Hoops (@DefPenHoops) May 16, 2018
Was James concussed? Maybe, maybe not. But head injuries are no joke, and it's likely that he at least had a bad headache for the rest of the game. James was not the only one affected by that collision.
Every member of the team was a contributing + at the time of the collision. Got outscored 71-47 thereafter and everyone was a minus and in most cases significantly so. Affected entire group, profoundly, it would seem. https://t.co/9rFVR5drxs

— David Griffin (@dg_riff) May 16, 2018
The entire team was thrown off by that, and this is a situation where two things are needed: 1) Another star player to take over the game while James is not 100%. Love did as well as he could, but this is where Kyrie Irving is missed the most by the Cavs. And 2) A coach to lead the team through a rough and emotional time in a high-stakes playoff game. Lue wasn't able to do that, and it cost the Cavs a win.
Tyronn Lue has been blamed by fans as a primary reason why the Cavs are underperforming ever since he became head coach. But, the defense has always been that he's a "great basketball mind" and that he's highly respected by other coaches, executives, and players around the league.
Well, it's time for him to prove it, and the Cavs have never needed him more than they do right now.