Derrick Rose is a bargain that will pay off for Cleveland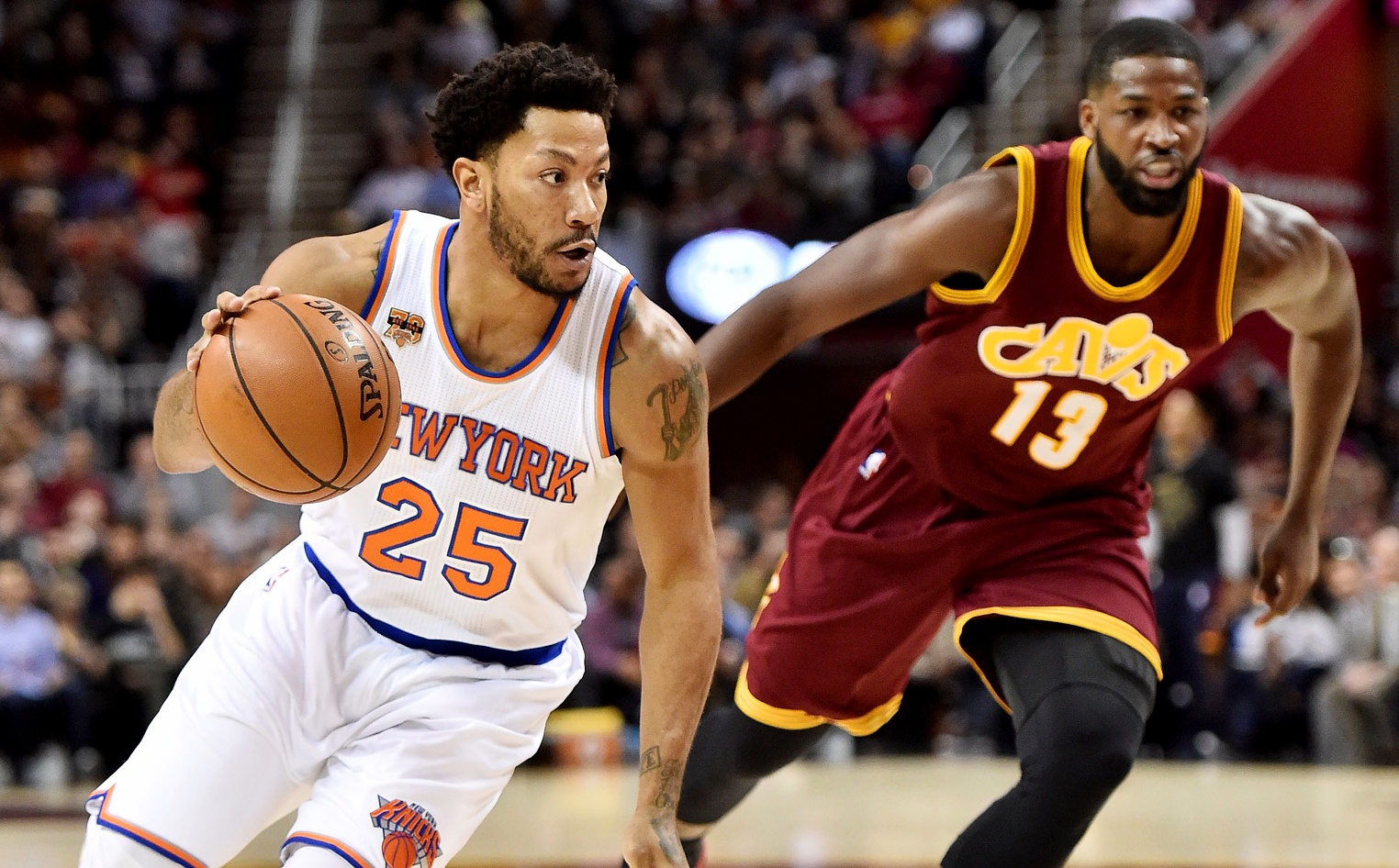 On July 24th, the Cavaliers signed PG Derrick Rose to a one year contract worth $2.1 million. After making $21.3 million last season, Rose took a gigantic pay cut to play for Cleveland. Upon signing with the team, Rose stated:
"I have a single focus and purpose of wanting to play to win. Being part of a roster and organization that shares that type of commitment and being able to play with the Cavaliers and compete for a championship is the only thing that matters for me. I am very happy to be in Cleveland and look forward to getting to work."
During last season, reports were that Rose was looking for a max contract when he entered free agency. The Cavs signed him for the veteran's minimum.

Rose wants to play for Cleveland, and the Cavaliers are very fortunate to have him, as he should be able to fill one of the team's biggest needs that not only plagued the Cavaliers last season, but has been a problem ever since LeBron James returned in 2014-2015.
They haven't had a reliable backup point guard since Matthew Dellavedova, and even when he was on the team, the Cavs' bench had issues. When Deron Williams was signed after being bought out last season, he was thought to be the solution. But despite having a solid 2nd half of the season, Williams wasn't relevant in the NBA Finals and the Cavs don't have much reason to re-sign him, opting instead to go with Jose Calderon to the dismay of many fans.
Going into the season with Calderon as the backup PG to Kyrie Irving would have been disastrous, as Calderon was statistically one of the NBA's worst players last year. But thankfully, due to the addition of Rose, fans no longer need to be worried.
Rose won NBA MVP back in 2010-2011, leading the Bulls to the No. 1 seed in the Eastern Conference, only to lose to LeBron James' Miami Heat in the conference finals. At just 22 years old, Rose was the youngest MVP winner in league history. He had a solid supporting cast around him in Chicago. He signed a five-year contract extension worth $94.8 million.  Everything was looking up for him. And then, in the first game of the 2011-2012 playoffs, with the Bulls leading the 76ers by 12 with 1:22 remaining in the fourth quarter, everything changed. Rose had torn his ACL in his left knee. He would not play in a game for more than a year. About a month after his return at the beginning of the 2013-2014 season, Rose was injured again.
This time, Rose had torn his meniscus in his right knee. He returned for the start of the 2014-2015 season, only to tear his right meniscus again. But he returned that season, and played in the playoffs, in time to sink a buzzer-beating triple to give the Bulls a 2-1 series lead over the Cavs in the first round. After the 2015-2016 season, Rose was traded to the New York Knicks. But towards the end of the season, he tore the meniscus in his left knee, and the Knicks decided not to bring him back. He is now a shell of his former self, but that's not to say he's a bad player now. Quite the opposite, in fact.
He is now a Cavalier. Eight years after refusing to recruit LeBron James to Chicago, the former rivals are now teammates. Last season, in 64 games(all starts), Rose averaged 18.0 points, 6.0 assists, and 3.7 rebounds, while shooting 47% and just 22% from 3-pt range, in 32.5 minutes per game. These numbers are not earth shattering by any means, but they provide potential for Rose as a Cavalier.
Rose is not a good shooter. He never has been, and likely never will be. The Cavs' spacing for 3-pt shooting will suffer a bit with him on the floor, but that shouldn't be too much of an issue. Rose's value is his driving ability. Although he has been stripped of much of his athleticism, he is still a threat to score every time he touches the ball. He is a fantastic finisher at the rim; reminiscent of Kyrie Irving, with less flash, but with more physicality. But Rose is also excellent at driving and then kicking the ball out to shooters on the perimeter. That is one of James' skills as well, but it's something Irving isn't built for.
Adding Rose to the bench as a sixth man immediately improves the Cavs' second unit drastically. When LeBron James sits, the Cavaliers have fallen apart over the past three seasons, even when Kyrie Irving and Kevin Love remain. With Rose, the Cavs can have a primary ball handler and score who is capable of getting his teammates involved.
As long as he stays healthy, Rose will be a legitimate Sixth Man of the Year contender. It will be interesting to see how he and LeBron James play with each other. The pending Kyrie Irving trade situation will also affect Rose's role. If Irving remains with the team, Rose would be Irving's primary backup, and at times could run the point with Kyrie playing more of a SG role. If Irving is traded, then perhaps Rose would be the Cavaliers' starting PG. This would not be ideal, as Rose is injury prone and really shouldn't be playing starter minutes, so he can contribute during the playoffs.
In the best case, the Cavs flip Irving for an established PG who can score, distribute, and defend(someone like Eric Bledsoe), along with a scorer to replace Irving's contribution and improve the Cavs' depth(Carmelo Anthony is still a good option), as well as either a young player with potential, or a draft pick.
Signing Derrick Rose was a fantastic move for the Cavs. As long as he remains healthy, he will be able to contribute in many different ways, and provide stability to a bench unit desperately lacking leadership.