Deron Williams on why he chose Cleveland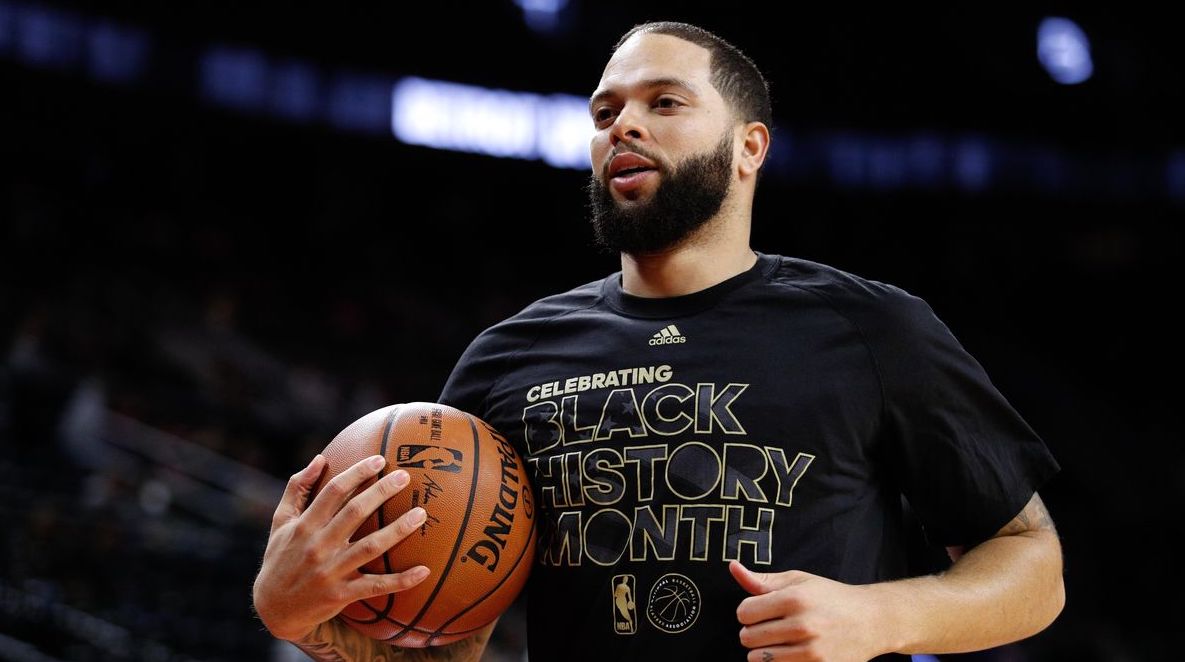 The Cleveland Cavaliers and LeBron James finally have their playmaker. In what seemed like an endless search for the right fit, it was well worth the wait as the Cavs landed three-time All-Star Deron Williams as he cleared waivers today.
With the Cavs needing someone to anchor their second unit and give them options moving forward, Williams' high basketball IQ as well as Olympic and playoff experience gives the Wine and Gold numerous options moving forward.
Williams, who was at Quicken Loans Arena tonight to see the Cavs defeat the Bucks, received a rousing ovation as he was officially welcomed to the Cavs faithful via the big screen.
The crowd knows Williams can be the man to take them to the next level and continue to fill some of their weaknesses moving forward.
As you can imagine, there was a media frenzy for Williams as his future teammates were battling Giannis Antetokounmpo and company, and Williams opened up as to why he chose the Cavaliers via Chris Fedor of Cleveland.com.
"The Cavs were the first team that jumped out at me," Williams said Monday night, moments before Cleveland hosted the Milwaukee Bucks. "A lot of times you overthink things. I kind of went with my first thought.

"I just felt like this was the best fit for me. I just feel like I'll be comfortable here. I'll have a significant role here, with the need for a backup for Kyrie (Irving) and also being able to play with Kyrie. We get a chance to play together and of course competing for a championship is something that I haven't had a chance to do."
Despite Williams being a Dallas native, he went on to state there are no hard feelings between himself and his now former franchise.
"There's no hard feelings," he said. "I had a great time in Dallas. It's my home and I was enjoying playing in front of my friends and family and things like that, but it's a business, they made a business decision, I respect that and it allowed me to come and join the Cavs."
It was revealed the Cavs had explored options in order to bring Williams to Northeast Ohio in 2015 after they lost to the Golden State Warriors with a depleted squad, but nothing eventuated. The Cavs then showed interest in him again this off-season as Australian Matthew Dellavedova departed for Milwaukee, but again a deal was not drawn up. Finally, the Cavs have landed their man, and Williams is comfortable whatever situation he's put into.
"Not sure exactly how many minutes I'm going to get a game or anything like that," Williams admitted. "But like I said, I can have a significant role and I can help this team win basketball games."
Williams already has connections with some Cavs players. Sharing a locker room with James at the Olympics isn't just the only relationship he has had, but he was also a close teammate with new recruit Kyle Korver. Korver turned into a big factor for Williams choosing Cleveland over another contender.
"He's a big reason why I'm here and just talking to him and him helping me be comfortable," Williams said. "I talked to him a little bit right after the trade and he said he was having a great time. He said all the guys are great and playing with LeBron (James) is great."
Williams fondly remembers his time with four-time MVP James, and is looking forward to much more than just a sample size he received during their time together with Team USA.
"Seeing him work every day and lead every day, it was definitely someone that I wanted to team up and play with," Williams said. "He just brings so much to the table, not just on the court. He's obviously the best player in the game, but his leadership and his intensity he brings every night and just his passion for the game is contagious."
It's a fresh start for Williams, and he has chosen to take on an old high school number to represent his new beginning.
"Eight was taken, five was taken, which was my college number and high school number my last two years," Williams said. "My first high school number was 31. I wanted a single number but all of them were pretty much taken, so I went with 31."
This is a huge coup for the Cavaliers, who continue to fine tune their roster ahead of a big playoff campaign approaching. They have gone ways to fix their back-up point guard position, and they might not be done yet. Williams touched on the potential of his former teammate Andrew Bogut joining him at the world champions.
"We've been in contact," Williams said. "Any team that has LeBron James is going to be relevant. And you have Kyrie, who is one of the best point guards in the game. When Kevin (Love) is healthy this team is loaded from top to bottom, really deep, has a lot of shooters, a lot of weapons. Obviously a lot of championship experience.

"That's all the things you need to make a run in the playoffs, definitely poised to try to repeat."
Bogut is set to meet with other championship contenders once he clears waivers, but sources close to him stated his preferred destination is Cleveland.
The Cavs could wind up having a roster that boasts arguably the most depth in the league, as well as two productive pieces in every position in the not-so-distant future.
The Cavs are putting everyone on notice, and Williams could prove a game changing move in the hopes of repeating as champions.