David Griffin Already Knows What To Do With Kevin Love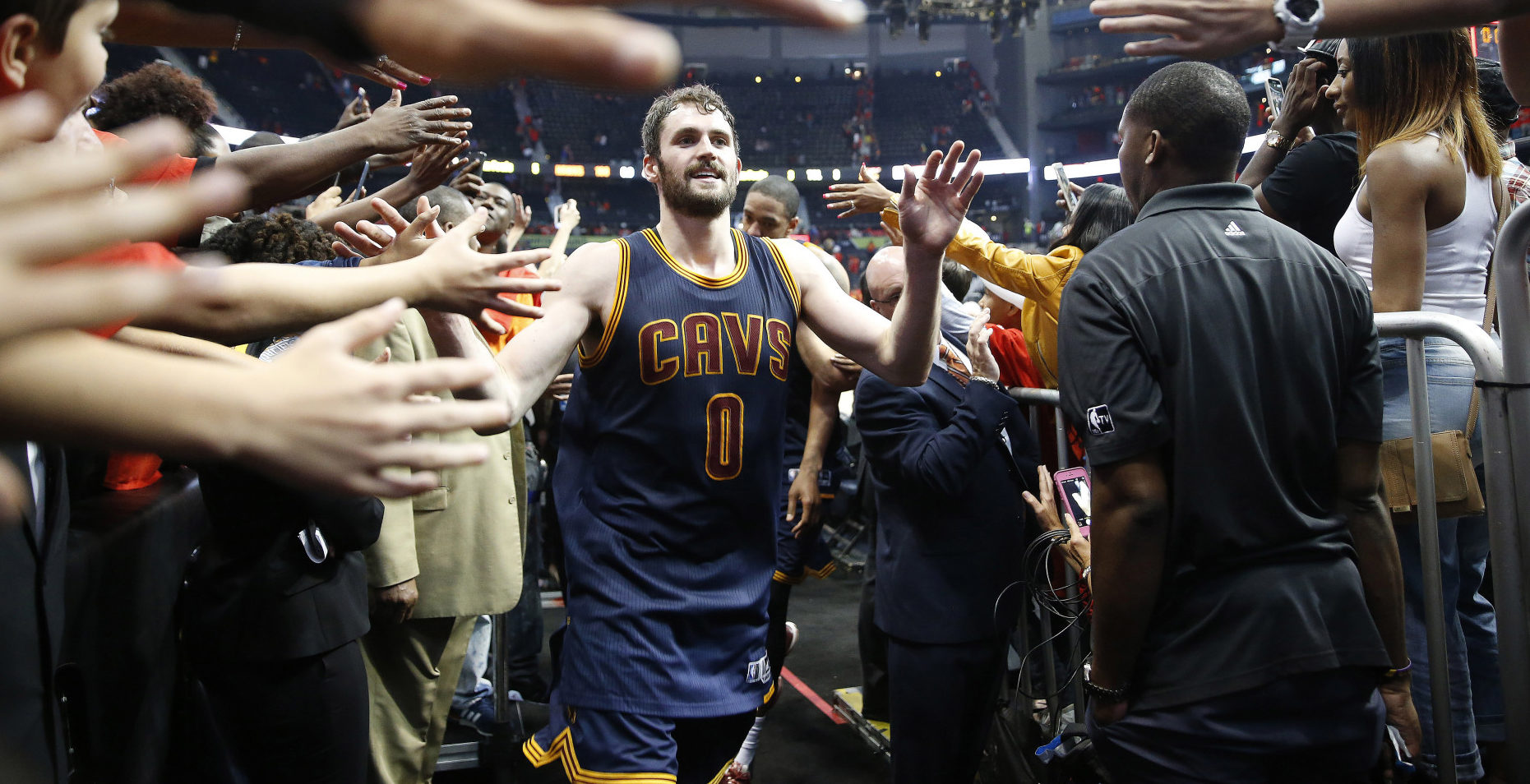 From zero to hero. That sums up Kevin Love's trajectory since becoming a member of the Cleveland Cavaliers.
For the past two years, Love has seen himself at the center of trade rumors. They say that he is underutilized, costs too much for a spot-up shooter, and he doesn't defend. An excellent run in the East playoffs did not help his cause either as he was eventually grossly exposed by Steve Kerr's offensive schemes in the finals.
RELATED: LeBron James Proud Of Big Three, Owners Of Three Biggest Plays In Cavs History
To boost the case for trading him, the Cavs won their first match of the series, in a big way, in Game 3 which Love sat out due to a concussion.
Cleveland.com's Terry Pluto shared in his recent write up an impromptu conversation he had with Cavs General Manager David Griffin in which the latter quickly touched the topic of possibly trading Kevin Love in the summer.
Early in The Finals, I ran into Cavs general manager David Griffin. We had a casual discussion, not for a story. But before I even asked about Love, Griffin mentioned how Love "is very valuable" to the Cavs — and there is no intent to trade him.
In the first three rounds of the postseason, Kevin Love was an absolute stud, and his effort was among the main reasons why the Cavs went to the finals unscathed. Sure, the team may have still won the East sans Love, but his presence took a lot pressure off LeBron James and Kyrie Irving, allowing them to save some gas for the finals.
Despite struggling in the first six games against Golden State, Love found his niche against the Warriors at the right time. In Game 7, Love was just excellent. His numbers don't jump out of the window, but he played within the boundaries of what the matchup allowed him, and it resulted in him having the highest plus/minus rating among all Cavaliers at +19.
RELATED: VIDEO: LeBron James Showers Kevin With Love, Clowns Steph Curry In Cavs Parade
He dominated the glass, sealed his defenders well, and most important of all, he orchestrated a masterful defensive stance against none other than Stephen Curry in crunch time. Love made his imprint on history because of "The Stop".
It should be remembered that just recently, ESPN's Brian Windhorst suggested that the Cavs will be lending an ear to teams that will ask about Kevin Love, but in this case, Griffin's word seems to bear more weight.