Collin Sexton, the point guard drafted by the Cavs eighth overall in the 2018 NBA Draft, has been somewhat of a polarizing case since he's entered into the league and began playing for the Cavs. The decision to draft him was reflective of a new identity the Cavs chose to embrace.
An identity that embraced defense, hustle, and playing hard. Collin Sexton in college was the epitome of all of these things, and the Cavs needed a point guard, so Sexton made the most amount of sense. The infamous three vs. five performance he had against the Minnesota Golden Gophers as a freshman in college really displayed his will and what it meant to him to be the "Young Bull."
However, not all was well with Sexton in the beginning. He didn't hit the ground running in the regular season and through the first 10 games he played, he averaged 10.5 points, 2.3 rebounds, and 2.2 assists for the Cavs on 41% FG, 30% 3pt FG, and 91.4% FT. His efficiency was uninspiring at best. After the ninth game of the season where the Cavs record was 1-8, Joe Vardon of The Athletic published a piece regarding Cavs veterans implying Collin Sexton "didn't know how to play" and didn't know his role on the team, among other things.
It's no secret overall that the Cavs have had some issues to begin the season. The Cavs are pretty solidly looking at the lottery ball machine for the next draft and it looks like a full scale rebuild happening before our eyes, especially with Kevin Love's long-term injury early into the season.
Knowing this, the important thing for the Cavs this year is no longer "How many games can we win" or "Can we make it to the playoffs?" but instead, are "Are our young players improving and learning to play in the NBA?" and "Is there a clear future core for this team that could someday be attractive for a free agent?"
Collin Sexton is one of the pieces that will be important going forward, and this article will cover some of the things to like about what he's displayed in his game early into the season, and what he can iron out or improve upon.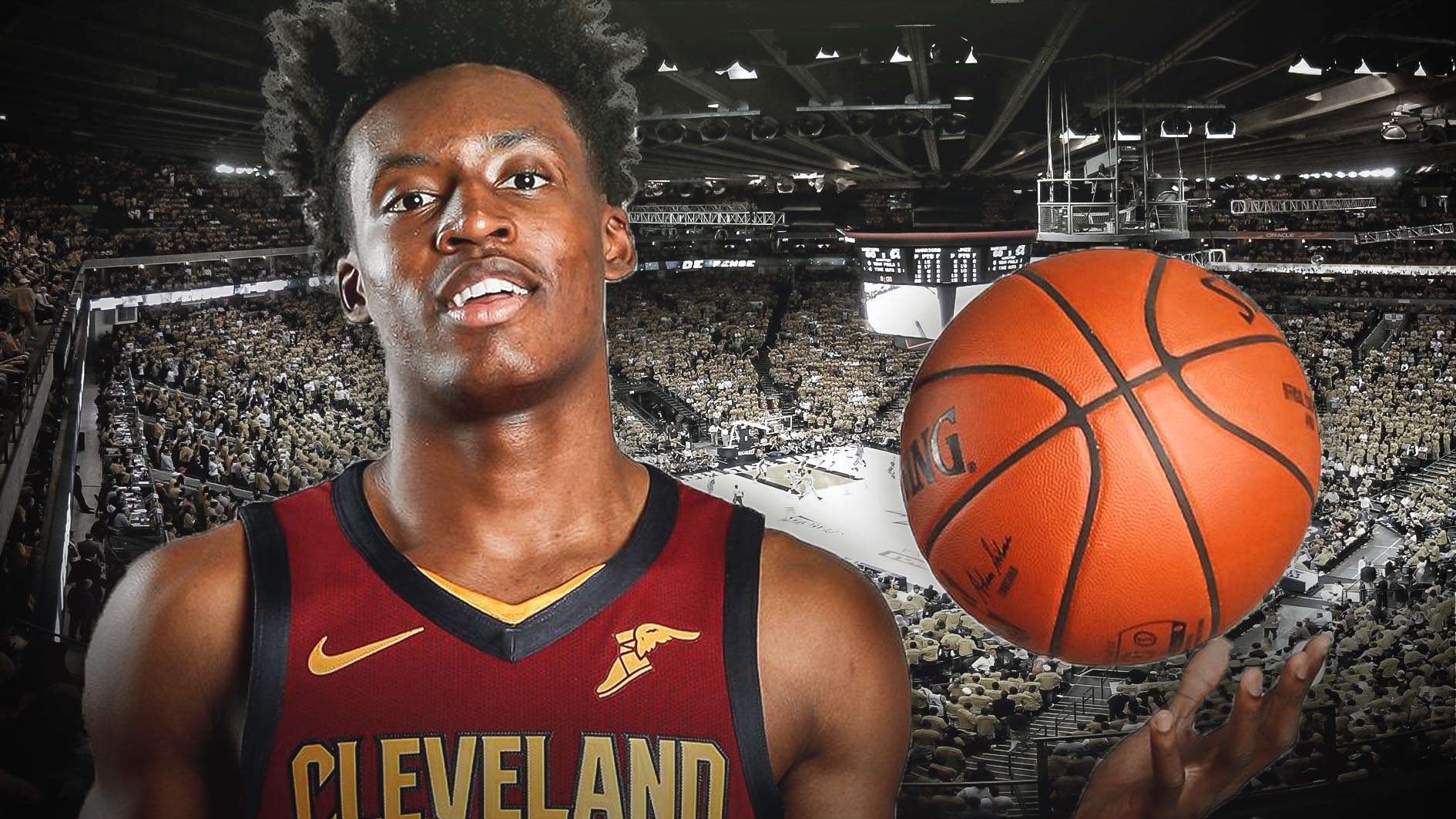 Things to like so far
Sexton's speed is amazing. The guy is fast. Really fast. He's a personified version of hustle and playing hard. Any player can hustle and play as hard as they want but not everyone is capable of just zipping across the court like Sexton. At just 19-years-old, Sexton's on some pretty fresh legs. And man, does he use them. He has John Wall type speed to him and can outrun even some more physically gifted players with longer legs. In this clip, he just about outruns the whole Sixers starting lineup to finish at the rim. That's nice to see from a guy as young as he is.
Superb separation
Sexton also uses this speed to create separation, which is great to see in a young player. He has a nice first step that will get him past defenders especially if it's a big man switched onto him. In this clip, he freezes Sixers center Joel Embiid and gets right past him for a layup. I'm absolutely looking forward to what else Sexton can do to beat defenders off the dribble as he learns to utilize his awesome first step and exceptional quickness. As he figures out more moves to utilize and gains experience as a player he'll be quite the player to watch going forward.
One more thing to point out with Sexton is that his scoring chops are real. He knows how to break defenders down off the dribble though his handle isn't truly elite yet. He gives himself a bit of leeway with truly breaking defenders down since he's already one of the faster players in the league and can usually blow by his man. This lets him go to the rim where he's finishing at about 52% in that area, per Basketball Reference. This is something he can improve on for sure, but it's a fine place to start for a rookie. Next up, a short discussion about his midrange shot.
That midrange!
Collin Sexton's midrange shot was something that a lot of people didn't expect from him coming into the NBA. The way he's able to get it off and his accuracy with it are incredible. The numbers back this up too. From 10 feet out to the three point line, Collin Sexton is currently shooting just about 40% on these shots – a number that was higher earlier into the season, still fairly good. He put on a clinic vs. the Rockets in a win, which you can see here:
His form looks super fluid and Sexton consistently has the confidence to take what he's given by the defense, which is great to see in a young player. For all of the buzz about shooting threes and advocating against long twos, Sexton isn't afraid to stick to his guns and it's great that the coaching staff is letting him go for what he's comfortable with instead of forcing him to take a bunch of contested threes.
What could use some work
Collin Sexton is having an awesome rookie year so far and there's clearly a lot to build on with what he's got currently. However, there are some points he can certainly improve on to become the point guard that Cleveland was looking for when they drafted him.
Efficiency for him is a bit of an issue. Earlier in the season, in four losses to Minnesota, Oklahoma City, Boston, and Toronto, Collin Sexton shot only 36.2% from the field on 17.2 field goal attempts per game. He attempted 7 total 3s and made one, to go with 5.8 rebounds and 3.3 assists, with 3 turnovers per game. Of course most players' stats will be worse when the team is losing, but typically it's nice to see things to be encouraged by in losses. The 5.8 rebounds maybe? On the year he's currently only averaging 3.3 rebounds per game. Could he characterize himself as a rebounding point guard? Which brings me into my next point of contention:
Being more than a scorer
The Cavs drafted Collin Sexton to be a point guard for them, not a shooting guard. Point guards come in many different breeds these days – scoring point guards, pass first guards, defensive point guards, 3-point specialists… Most great point guards in the league fall into a couple of the aforementioned categories. Right now, Collin Sexton seems to be branding himself as simply a scoring point guard when he's still having efficiency issues that scorers typically are better with. Sexton must either improve his efficiency to be consistently above average or learn to be great in another one of the categories.
The three
Lastly, Sexton's three ball could use a bit of fine tuning. In an era where almost every great point guard shoots threes at a decent rate, Sexton must learn if he wants to join the club. His shooting form is great and works very well for his midrange shots. Therefore, there's at least something to build on there and stretch out to 3 point territory more consistently. He might consider taking even more of them since he essentially has the green light at this point – as long as he's not chucking and gets up good shots. If he's not going to be DeMar DeRozan from midrange, he should be shooting a lot more 3s.
Through all of this criticism, let's not forget that Sexton is a rookie and he's going to have his ups and downs. Likely more downs than ups. The Cavs are doing the right thing by allowing him to run and learn in the best way possible – going out there and gaining experience playing against other great players in the league.
Conclusion
Collin Sexton is going to be an exciting guy to watch going forward. It's going to be a lot of fun to watch him improve on his game and use his physical gifts and that "Young Bull" fire to become the player the Cavs were hoping for when they drafted him. He does a lot of things well already, but has a long way to go for sure. There's a journey ahead for him, but it'll be an exciting one for him and fans alike.