ClutchFeed: LeBron James and Cavs trying to make something of March against Bulls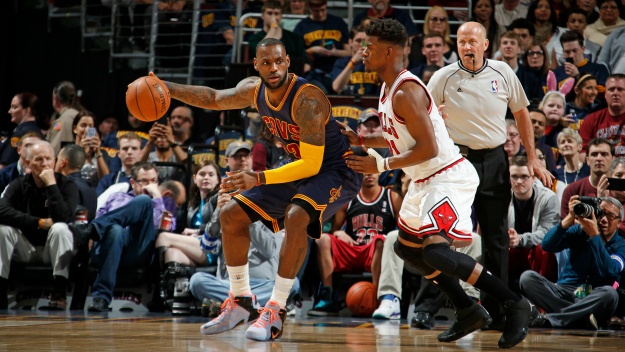 ---
Game Preview:
UPCOMING MILESTONES:  LeBron James needs 24 more points to score the 7th most in NBA history – passing Shaquille O'Neal. With a single basket, Kyrie Irving will have made the 8th most in Cavaliers history – passing Larry Nance. In addition, Irving needs four steals for 500 over his career, and two defensive rebounds for a total of 1,000. Iman Shumpert will have made 1,000 baskets in his career with just two more. Tristan Thompson can reach 4,000 career rebounds with 10 more. Finally, with two steals, Kevin Love reaches 400 total.
After a humiliating 74-103 loss to the San Antonio Spurs where they put up the fewest points in three season, the Cavaliers currently have a two game losing streak, and have lost five of their last ten games. In looking to end this streak, they head off to Chicago to take on the Bulls. The Bulls enter tonight's contest winning three of their last five games, including wins against the Milwaukee Bucks and the Utah Jazz, and an overtime loss to the Toronto Raptors. Most recently, on Sunday, they routed the Milwaukee Bucks in a 109-94 victory spurred on by Nikola Mirotic's 28 points on 78.6% shooting.
Tonight marks the final regular season game between these two teams, with the Bulls winning all three prior games. On December 2nd, despite LeBron James' 27 points and 13 assists, the Bulls pulled ahead to a 111-105 win behind Jimmy Butlers' 26 points and 8 rebounds, with Rajon Rondo also posting a 15 point, 10 rebound, 12 assist triple double – his only of the season. In the next match, on January 4th, the Cavaliers fell 94-106 without both Kevin Love and Kyrie Irving, as LeBron James dropped 31 points to match Jimmy Butlers' team-high 20 points. Most recently, without LeBron James on February 25th, Kyrie Irving's 34 points and 9 rebounds were matched with 20 points, 9 rebounds, and 10 assists from Dwyane Wade and 18 points, 10 rebounds, and 10 assists from Jimmy Butler in a 99-117 contest. Looking further back, the Cavaliers have won just one out of the last seven games against the Bulls in the regular season.
As a team, the Bulls are able to find efficiency through their rebounding – they average a third-best 45.9 rebounds per game. As a result, they score a league-high 15.3 second chance points per game, so stopping them on the offensive glass should be a strong focus down low. Offensively, they score 61.0% of their points off of two point shots – second most in the NBA. As a result, they shoot the second fewest three point shots, while also having the fourth worst three point percentage – 33.1%. Interestingly, in the last two games against the Cavaliers, they have actually shot better from three than the Cavaliers (43.3% [13-30] on January 4th and 50.0% [15-30] on February 25th). Defensively, the Bulls play slightly reserved, netting the second fewest fouls per game. While guarding threes, they hold their opponents to 0.3% less than their season averages.
Key players to watch for on the Bulls will be Jimmy Butler (averaging 23.5 points, 6.2 rebounds, and 5.5 assists per game) and Robin Lopez (averaging 11.6 points and 6.9 rebounds per game).
Tipoff is set for 8:00 EST and will be broadcast on TNT.