Cleveland's Center of choice: Larry Sanders or Andrew Bogut?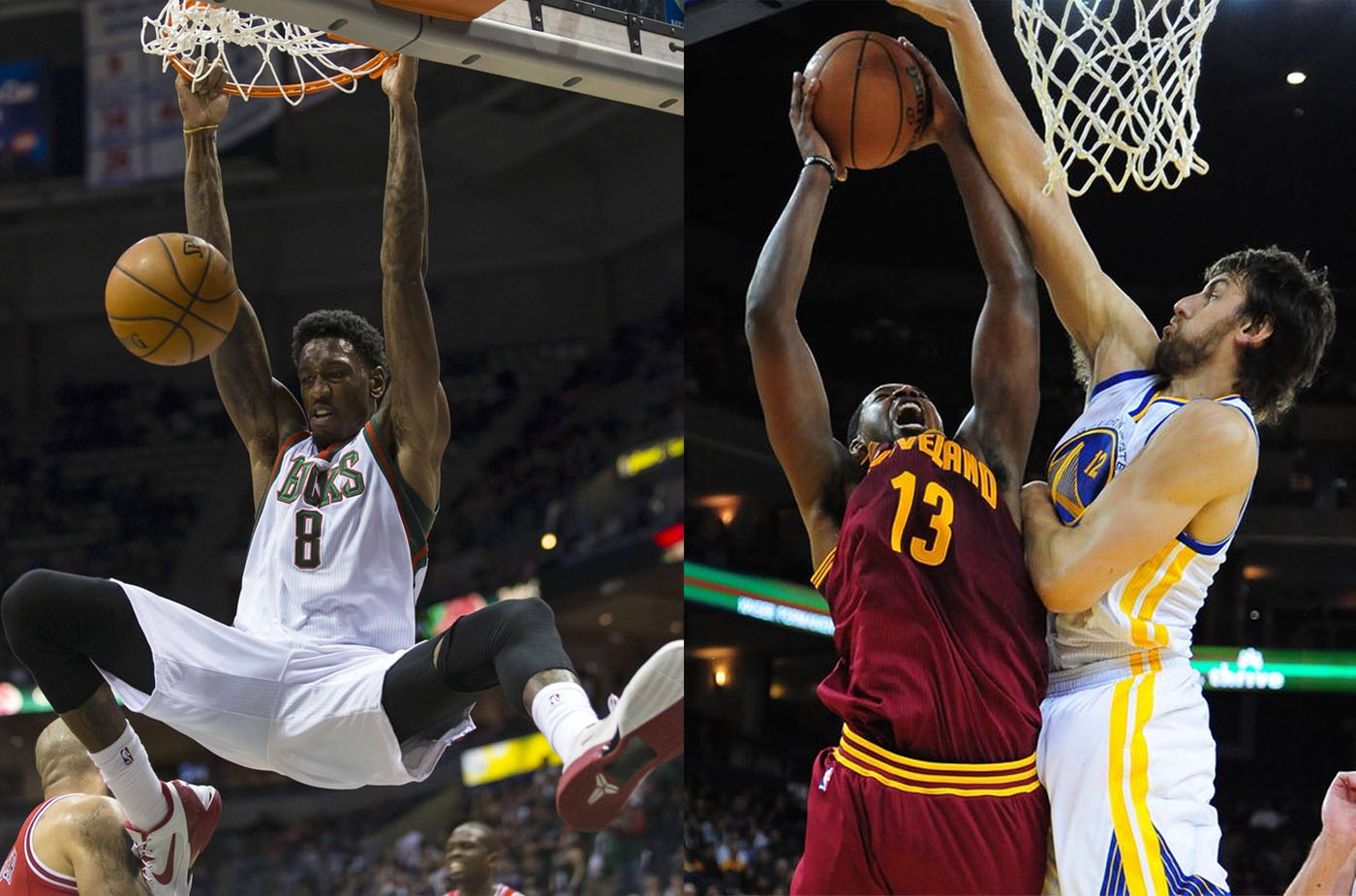 With the trade deadline now passed, and the playoff eligibility waiver deadline fast approaching (March 1st – the last date that players can be waived by their current teams and still be eligible to play in the playoffs with their new team), the current free agents (and the players currently in buyout discussions) are just about all the Cavaliers have to work with. In addition, with the news that veteran point guard Deron Williams plans to sign with the Cavs on Monday, the "playmaker" position that LeBron James requested is filled. So what's left for the Cavaliers to set themselves up for playoffs?
With the season-ending injury to Chris "Birdman" Andersen, the Cavaliers have few "true centers" left. In fact, their main center, Tristan Thompson, has only played 27% of his career at the C position, according to basketball-reference.com (although this season, he's spent an estimated 87% at center). Channing Frye, while having more experience at center, has only played an estimated 54% of his career at the position. So it's only natural that the Cavaliers look to sign a big man who can hold the paint and play quality minutes with the bench. In their search, two players have stood out: Larry Sanders and Andrew Bogut.
---
Andrew Bogut:
Of the two most probable options, Andrew Bogut, who is currently engaged in buyout talks with the Philadelphia 76ers, appears to be the safest bet. On his career, Bogut has averaged 10.0 points, 8.9 rebounds, and 1.6 blocks per game. He's played in 58 playoffs games, and has  NBA championship experience. One major flaw has been his ability to stay healthy – he's missed at least 12 games in every season expect two. In addition, while he is a very solid defensive player (he's had a personal Defensive Rating – measurement of points allowed per 100 possessions – better than the current 2016-17  Cavaliers' 106.6 in 10 of his 12 season in the league), he averaged just 4.9 points per 36 minutes this season – the lowest of any player who has played 10 minutes per game in at least 10 games in the last four seasons.
But ultimately, the Cavaliers aren't looking for offense – they're looking for defense. The Cavaliers are third-best in the league in points per game, but 20th in terms of points allowed per game. This season, using the same qualifications as his points per 36 minutes, he has had the best Defensive Box Plus-Minus in the NBA. This type of defense around the rim could do wonders for the Cavaliers. In addition, he is able to set solid, if not questionably legal, screens – averaging the 20th most in the NBA. Some minor issue may come up with Bogut's past history with the Cavaliers though, including when he pushed LeBron James into a cameraman in Game Four of the 2015 Finals – causing a laceration to James' head – and then claimed LeBron "jumped into the cameraman".
---
Larry Sanders:
Larry Sanders certainly has great potential, but presents a huge risk. While only 28 years old – four years younger than Bogut – Sanders hasn't played since December 23rd, 2014. At this time, he was made inactive by the Milwaukee Bucks due to "personal reasons" and then suspended due to marijuana use in February of 2015, at which point he was waived. As he began a stint in a hospital program for anxiety, depression, and mood disorders, he put his NBA career on hold. As of recent, he has looked to make an NBA comeback, and has met with a number of different teams, including the Cavaliers. In fact, after his tryout, Coach Tyronn Lue talked highly of his basketball ability. The only question is his dedication to the game.
At his peak, he was one of the most fearsome defenders down low, and has averaged 1.8 blocks per game in his career. In the 2012-13 season, he averaged an incredible 4.3 blocks per 36 minutes – the fifth most since the 2001-02 season of players playing more than 10 minutes per game. In addition, his individual Defensive Rating has been better than the Cavaliers current season average in each of his five seasons. Just like Bogut, his offensive game is lacking – he averaged just 7.3 points per game in his career – but his defensive upside combined with the Cavaliers' offensive prowess makes him an interesting target,.
---
If the Cavaliers go for either of these two options, their bench defense would certainly improve around the rim. All that's left is for the Cavaliers' front office to decide if they want a consistent veteran in Andrew Bogut or a high risk – high reward player in Larry Sanders. If Bogut gets hurt, his value is the same as if Sanders fails to buy into the bigger picture. However, consistency beats ceilings when a team already has championship capabilities, making Bogut Cleveland's likely target if they can't get over Sanders' apathy.
While there is the possibility that the Cavaliers stay put and keep Jordan McRae on the team (who would most likely be waived to make room for Bogut or Sanders) or that the Cavaliers go for an unknown third player, it seems highly likely that one of these two players are signed by the Cavs in the following weeks.