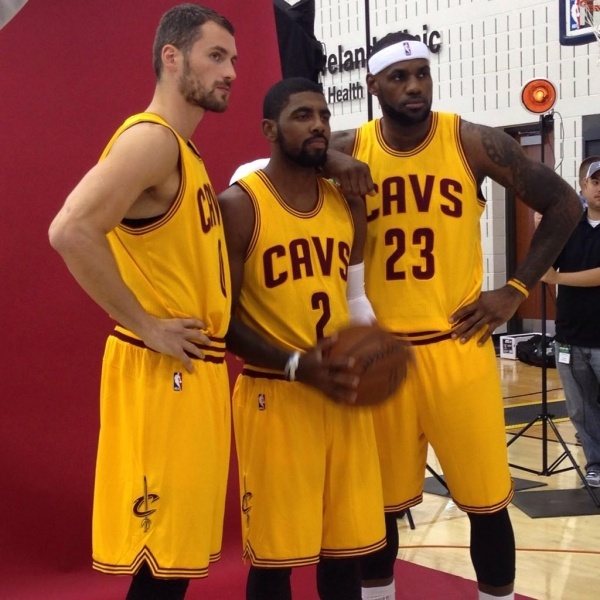 Zzzzz, Zzzzz, Zzzzz
Kevin is sleeping soundly in bed, dreaming of the future when he hears the worst noise in the world, the sound of his alarm going off.
BEEP. BEEP. BEEP.
He wakes up, sighs and smacks the alarm to stop the obnoxious beeping.
Kevin tosses the covers off and remembers that today is a big deal, it's the first day at a new school. New friends and new experiences are on the horizon and Kevin cannot stop thinking of them as he gets into the old family car and heads to the facility.
While dodging the traffic and construction barrels on the high way Kevin begins to think to himself.
"Will I fit in with the other new guys and the ones who have been here for a while?"
"I have met these guys a few times and have been ok with them in small doses but how will I like dealing with them all the time?"
And the biggest question,
"Will I live up to the expectations put forth by my teammates and the media?"
This will be the scenario and questions all the kids at the Cleveland Clinic Courts High School will be thinking as they walk in on September 27 for the first day of Cleveland Cavaliers training camp. The highlight is that all the players including Kevin have the same schedule.
First Period- Chemistry

(Lisa DeJong/The Plain Dealer)
Team chemistry is one of the many things that held the Cavs back last season. The team seemed like it never gelled under Mike Brown, even allegedly coming to fisticuffs. Former General Manager Chris Grant even tried to bring in one of the best locker room guys in the league in Luol Deng and that didn't even seem to help anything. Who knows what caused this discourse, it could have been all the losing, it could have been Mike Brown's patented clogged toilet offense, it could have even been the lack of scoring and defense night in and night out. I am sure we will find out when the tell all book comes out in 10 years but for now I am going to assume it's a little bit of everything.
The highlight is Mike Brown is gone and in comes David Blatt.
Blatts' number one priority will not be what his offense looks like but more what his locker room and team chemistry will be like. There are a lot of different personalities in this room, who have been called out at one point or another for how they are as teammates. Now whether you think this a because-he-demanded-a-trade smear campaign or a this-team-bites-so-the-star-takes-the-blame slam fest it still was floating around during and after the NBA season.
The highlight is neither one of these guys are going to be asked to be the leader of the locker room.
That's someone else's responsibility and his name is LeBron James.
(Continue onto Periods 2, 3, 4, & 5 on the next pages!)
Second Period- Psychology
There are three guys on this season's Cavs team that have been the superstar on an NBA team at one point in their career. Kevin Love was the alpha dog on a perpetually .500 Timberwolves team and Kyrie Irving was the alpha dog on a perpetually sub-.500 Cavs team while LeBron James was the alpha dog on a two time world championship Miami Heat team (that he brought half of to Cleveland with him).
I will go out on a limb and say LeBron is the head of that locker room.

(Lisa DeJong/The Plain Dealer)
For the select few people out there who are still trashing LeBron for various things he has done in his past, this paragraph is for you. LeBron came into the league as an 18 year old who was told he was fantastic his whole life because he could put a ball in a hoop. He treated people like trash and thought he was untouchable in the public eye because he was really good at putting a ball in a hoop. His ego was so out of control that he did something that no other athlete in the world has ever done before, he publically televised his decision to leave Cleveland for the sandy beaches of Miami.
Then something happened, people started treating him like garbage, throwing replicas of his jerseys into the trash and lighting them on fire. He was booed like the villain in a silent movie not just in Cleveland but all across the country and he was cast in a role that never truly fit him, as the heel of the NBA. The boo birds echoing through the rafter of every NBA arena acted as a wake-up call that he can do wrong and could be called out for it, like everyone else. He was ridiculed for things he said and did on and off the court in the national media. He stayed in Miami for 4 years and in that time he went from villain to national icon. He started giving money to kids that needed it, organizing a charity of his own, doing charity events and even starting a family of his own all of this together proving that he grew up. He is no longer LeBron James the basketball god, he is now LeBron James, the family man, philanthropist and basketball god. So let's wipe the slate clean when it comes to LeBron, he has wiped his slate clean when it comes to Cleveland.
Now LeBron is back in Cleveland and he has one goal, to win a championship and get a statue at the corner Ontario and East 4th.
(Continue onto Periods 3, 4, & 5 on the next pages!)
Third Period- Geometry
The idea of court geometry is an interesting concept that has not been explored outside of NBA circles. It's the idea that every side of the court has someone who feels good about shooting from that area. Everyone can not shoot from the same side of the hoop, you need to use both the left and right side of the floor along with close to the basket, the baseline, the midrange elbow game and the 3-point line. As Kirk Goldsberry's chart shows, there is a dead zone on the right side from the Cavs three stars.

(Grantland)
Someone is going to need to learn to shoot from the right side of the hoop or there could be a major traffic jam on the left. That's the calling card of guys like Mike Miller and to a certain extent Shawn Marion. The midrange game is a little concerning as well with these three but if the summer league is any indication of the offense the Cavs will run it may not matter. The Cavs ran a very wide open offense that focused on screen and rolls and passing on good shots to get great shots. The drive and kick aspect of the offense was on display multiple times in the summer. It was very San Antonio Spurs like, which makes sense since David Blatt is a disciple of the Princeton offense just like Coach Popovich in San Antonio. It makes sense that Blatt would want to run a drive and kick oriented offense with this squad because of the driving and passing abilities of both Irving and James and to a lesser extent Dion Waiters.
The other concern is going to be the catch and shoot abilities of Kevin Love and Kyrie Irving. Love and Irving are seen as rhythm jump shooters, guys who are more accustomed to pulling up for a jump shot with the ball in their hands.
With the addition of LeBron James, Irving and Love will have to become more of the catch and shoot type players then they are accustomed too. LeBron's greatest asset as a player is his court vision and ability to set his teammates up for wide open looks, meaning taking the ball out of his hands would be a hindrance to his team in the same regard as telling Babe Ruth to hit more singles or telling Will Ferrell to only play serious roles. To exploit LeBron's talent as a passer, Irving and Love will have to become more dependent on running around screens and catch and shoot scenarios.
Dion Waiters becomes the wild card of this team. He talked with LeBron in the off season and received the advice to watch footage of Dwyane Wade and emulate him in the offense. Meaning, LeBron wants waiters to become more of a midrange jump shooter who can play dueling drive and kick with LeBron. If this comes to fruition with Waiters then this offense will put up an insane number of points.
(Continue onto Periods 4 & 5 on the next pages!)
RECOMMENDED
Fourth Period- Philosophy
More specifically defensive philosophy. On paper the Cavs have one above average defender in LeBron, a hustle guy in Anderson Varajo, a gambler in Kyrie Irving, the odd poor defender and shot blocker but terrific rebounder in Kevin Love, a former 4 position elite defender in Shawn Marion, an undersized scrapper in Matthew Dellavedova and a lot of guys who frequently look lost on the defensive end.
This team has one shot blocking threat and it's LeBron James.
Let me repeat that just in case you fell asleep reading this.
THIS TEAM HAS ONE SHOT BLOCKING THREAT AND IT'S LEBRON!!
This is a problem for many reasons, the main reason is if there is a shot blocking threat in the middle of the paint, it can force the offensive player to become more of a jump shooter to avoid getting his shot detoured by the big in the lane. The rim protecting big also gives the poor wing defenders a little more leeway to gamble on steals because they know there is help behind them if they swing and miss.
What is David Blatt going to do about the defense?
There are rumors about Timofey Mozgov coming to Cleveland in a trade but those rumors seemed to have cooled off for now. Mozgov is a 7-foot shot blocking center for the Denver Nuggets, who is familiar with Coach Blatt's system when Blatt coached the Russian National Team. If they go into the season with the mindset that LeBron's love of defense will transfer to the other members of this team through osmosis, then the Cavs could end up giving up over 100 points a game and leading the league in opponents having non contested lay-ups and dunks.

The lack of centers and power forwards on this team may be the most concerning thing going into the season. Behind Love and Varejao are an extremely over the hill Brendan Haywood, an undersized and working his way over the hill Shawn Marion, and draft bust Tristin Thompson. If Varejao gets hurt (happens every year) or is in foul trouble (happens more often than you think) then Coach Blatt has a serious issue. The best option turns into Love at the 5 and LeBron at the 4 and hoping the lack of size doesn't kill them on the defensive end.
(Continue onto Period 5 on the next page!)
Fifth Period- History
This team wants to make history. LeBron wants to be known as the guy that broke the 50 year drought and he has called in a bunch of favors to guarantee that this will happen. He has brought his friends and talked Kevin Love into making Cleveland his home even though Los Angeles is warmer and his home town. He has built, with help from David Griffin, a young core that he can be the head of for a while and pass the baton too when the time is right.
There is a dirty secret that no one has brought up yet that is more concerning then anything. LeBron James has more than 40,000 minutes under his belt and has never had a major injury. Now there are rumors floating around that he has a bad back and the trouble with a bad back is there is no surgery that can improve it and leave the person able to play basketball for 36 minutes a night. He is due for a run of injuries at some point and Kyrie Irving and Kevin Love have not been the bench marks for perfect attendance either. If one of them goes down it will be interesting to see what happens with this squad and who steps up in their absence.

The final bell rings and Kevin Love begins to look around at his classmates and smiles.
He is smiling because he knows if he works hard, checks his ego at the door and buys into what David Blatt is saying then the 2014 class ring will be his.
And history will be made.