The Andre Drummond era is officially over in Cleveland. After sitting out Sunday's loss to the Los Angeles Clippers due to "rest", reports suggest that Drummond has played his final game with the Cleveland Cavaliers. The Cavs are actively searching for a trade partner, and while that process continues, Drummond will not be active.
Cavaliers general manager Koby Altman discussed the move with Drummond and his agent, Jeff Schwartz of Excel Sports, and decided together that Drummond would remain with the team, but would no longer be active for games, sources said. https://t.co/MTBjXh8fvP

— Adrian Wojnarowski (@wojespn) February 15, 2021
Shams Charania of The Athletic reports that the Cavs are engaged in trade talks with the Toronto Raptors, while Woj claims that there are not serious discussions at the moment.
The Raptors and Cavaliers are engaged in active talks on potential Andre Drummond deal to Toronto/Tampa, per sources.

Details about that and more on Inside Pass at @TheAthletic: https://t.co/TkABHOgrFp

— Shams Charania (@ShamsCharania) February 15, 2021
Cleveland is starting to gauge the market on Andre Drummond, but there are no serious, ongoing trade discussions with any team now, sources tell ESPN.

— Adrian Wojnarowski (@wojespn) February 15, 2021
For conversation's sake, let's assume that Charania is correct, and that the Raptors are interested in Drummond. What could a possible deal look like?
The raw stats look good: 17.5 points, 13.5 rebounds, 2.6 assists, 1.6 steals, and 1.2 blocks in 28.9 minutes per game, along with the league's sixth-best defensive rating. But it's abundantly clear that the Cavs play better without Drummond.
He's a black hole on offense, even when he's passed the ball outside of the paint. Fans likely won't miss his Point Drummond stretches, nor his career-low 47.4% field goal rate. He's shooting just 54.3% at the rim, compared to Jarrett Allen who is hitting 78.9% of those attempts. Drummond's effort and attitude have also not been great:
Multiple sources told The Athletic that Drummond was pulled from the lineup also in part due to his "attitude and play" recently, and sources say Cavaliers coach JB Bickerstaff has had multiple sit-down conversations with the big man. https://t.co/VqmCOFaVkp

— Evan Dammarell (@AmNotEvan) February 15, 2021
Drummond was never going to be re-signed by the Cavs, because his game doesn't fit the modern NBA. Allen, on the other hand, is a much more efficient scorer, a better defender both in the paint and on the perimeter, a better free-throw shooter, and overall a much more efficient player who makes an impact without the ball in his hands.
Even if the Cavs hadn't stolen Allen in the James Harden trade, Drummond wouldn't be a long-term option for this team. Cleveland gave up basically nothing for him at last season's deadline; the expiring contracts of Brandon Knight and John Henson (neither of whom are currently on an NBA roster) along with a 2023 second-round pick. It's unlikely that the Cavaliers will receive much more than that for Drummond in a trade this year.
He can still provide rebounding and some post scoring for a playoff contender, and given the situation the Raptors are in (currently the Eastern Conference's eighth seed), it could make sense for them to add a more formidable big than Aron Baynes.
The trouble comes from Drummond's contract, which carries a $28.7 million cap hit this season. It does expire after this year, which will open up a very large amount of space for its receiving team, but that team must be able to absorb it first. Toronto's three highest-paid players are Pascal Siakam, Kyle Lowry, and Fred VanVlett, none of whom are on the table in a Drummond deal. Norman Powell is next at $10.8 million this year, but he plays 28 quality minutes off the bench for the Raptors.
It doesn't make sense for them to trade away their top reserve for half a season of Drummond. Chris Boucher and OG Anunoby are also likely off-limits, but pretty much everyone else should be in the discussion.
This leaves a big problem. The only way for the Raptors to make salary match without giving up any of the aforementioned key players is to send Baynes, Stanley Johnson, DeAndre' Bembry, Patrick McCaw, Paul Watson, Terence Davis, Matt Thomas, and Malachi Flynn to Cleveland. That would leave Toronto with seven players on their roster, meaning they would have to fill the remaining eight slots with free agents and G-Leaguers.
That's not an ideal situation for a playoff team, and while Johnson, McCaw, and Davis are all on expiring deals anyway, this trade would absolutely destroy any semblance of depth or young talent the Raptors currently have.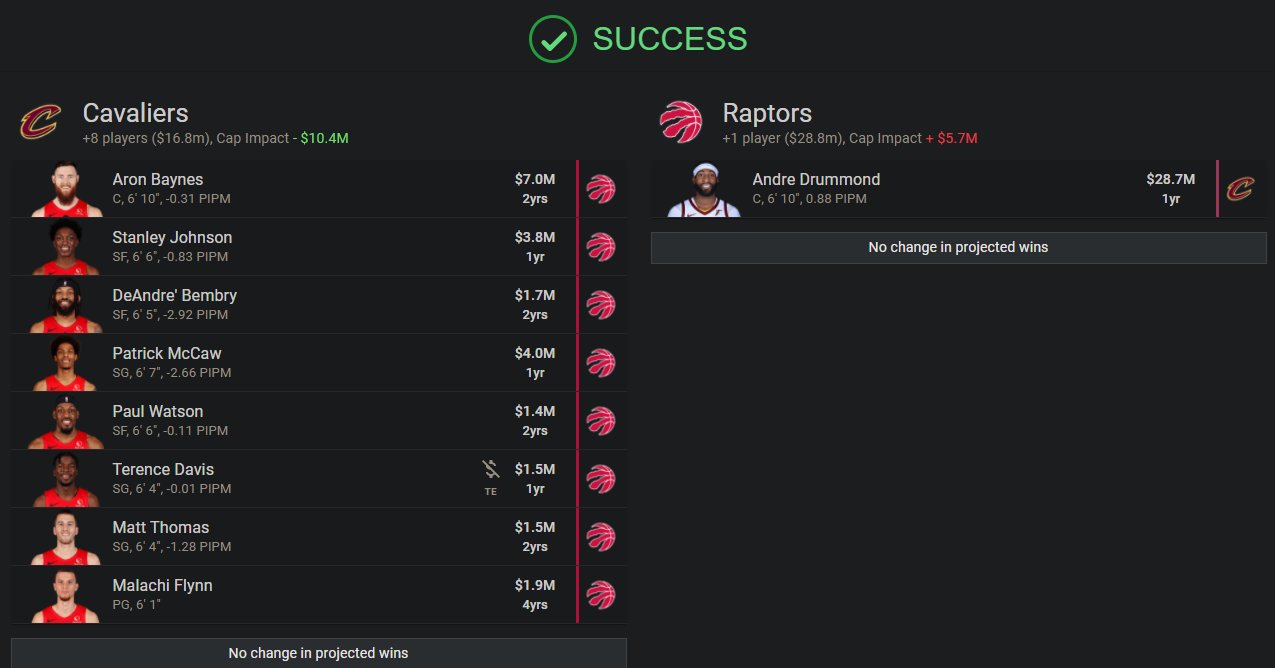 Perhaps if the Cavaliers were to add some positive assets to the deal, Toronto would be willing to part with someone like Boucher, but that seems unlikely. If this is the best offer that the Cavs receive for Drummond, they might be better off just buying him out and collecting the nearly $30 million in cap space for themselves. They probably won't be using it on a high-priced free agent, but Collin Sexton will be due for an extension soon, and it's best to prepare for that.
If the Raptors wanted to get really weird, they could send Kyle Lowry and his $30 million salary to a third team and take on Drummond with no issue, but Lowry is a much better player than Drummond, so it's hard to see the point of a move like that, even if it would give Fred VanVleet and even larger role.
Toronto may be interested in Andre Drummond, but it's very difficult to see a clear path to a deal without the Raptors making major roster changes, which may not be justified for a player of Drummond's caliber.