For the second straight year, the NBA Finals will pit the two best forwards in the league against each other, when Cleveland's LeBron James and Golden State's Kevin Durant go head-to-head. The two players are evenly matched, but how does the entire position group look for both teams?
Cavs: LeBron James
At 33 years old, James continues to defy father time, posting some of the best numbers of his career this season.
His dominance has continued throughout the playoffs, as he has single-handedly kept his team in series and won them games. He is averaging 34 points on on 54% shooting, 9.2 rebounds, and 8.8 assists in 41 minutes.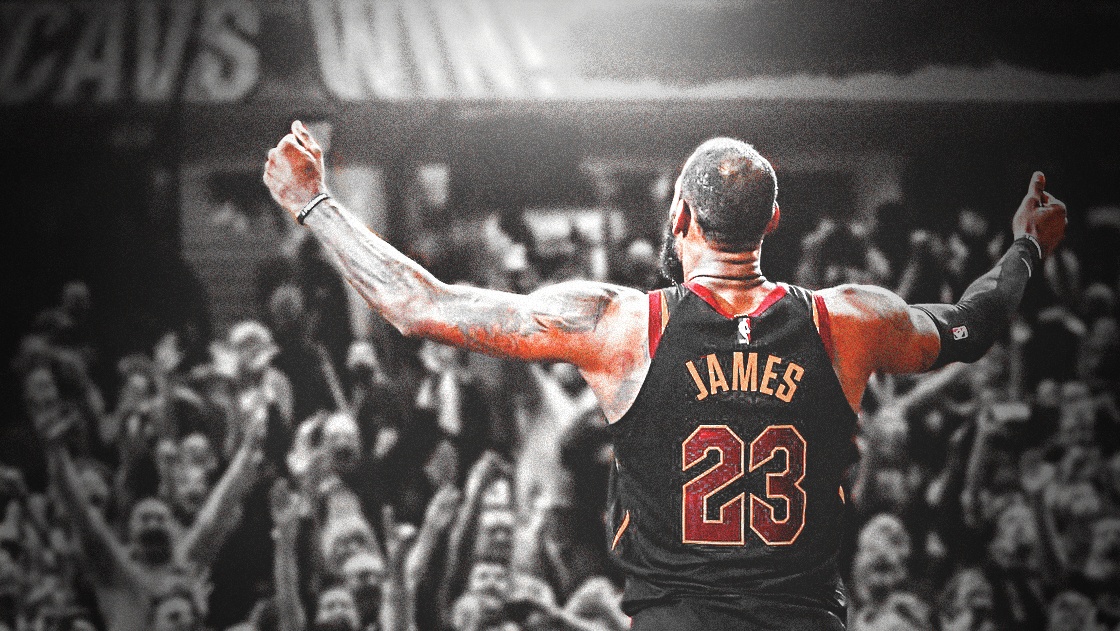 His play this postseason has been legendary, and the accomplishment of leading this Cavaliers team to the Finals is just another feather in his cap. It's easy to take his performance for granted, as we're so used to it, but this may be the last time Cleveland fans are able to witness James leading the Cavs to the Finals. But putting his impending free agency aside, the Cavs have the best player in the world, so they have a chance at winning.
Cavs bench
Much like their guards, the Cavaliers actually have a depth advantage here. And that's without playing Cedi Osman, who was very good in the regular season for a rookie. Lue just doesn't seem to trust him enough to give him serious minutes in the postseason, but maybe that will change in the Finals.
Former Miami Heat swingman Okaro White has been with Cleveland since the trade deadline, but has not been active for one game. That will continue for this series.
Osman averaged 3.9 points on 48% shooting and 37% from beyond the arc to go along with two rebounds in 11 minutes of play during the campaign, but his playing time has been almost nonexistent, as he has only played more than five minutes in a single game during blowouts.
Still, he is a weapon that Lue has at his disposal, and Osman's shooting touch, defensive ability, and energy make him a solid option if his number is ever called. If LeBron James and Jeff Green both need a breather, Osman could play for a few minutes at a time during this series.
Jeff Green is one of the last two remaining Seattle Supersonic players in the NBA, with the other ironically being Kevin Durant. Green signed with Cleveland for the veteran's minimum at the beginning of the season, and although Jae Crowder was expected to be the primary backup to LeBron James, Green quickly outperformed him and his playing time began to increase throughout the season.
Once the playoffs began, Green became one of the most important Cavaliers, and was crucial to Cleveland's narrow series win over the Boston Celtics in the Eastern Conference Finals. This postseason, Green is averaging 8.3 points in 23.7 minutes. In the Boston series, however, he had 33 points and 11 rebounds in 73 minutes in the Cavs' final two victories.
Green has not shot the three-pointer well, but his slashing and scoring ability opens things up for other players, and he is one of the Cavs' best screen-setters. His defense has been fantastic, and that's where he could have the biggest impact in the Finals.
It's extremely tiring to defend Durant, and that's what James had to do nearly every possession last year, unless Richard Jefferson was in (and when that happened, Durant almost always scored on Jefferson). This drained his energy quicker and reduced his effectiveness on offense.
But now, Green can take some of that stress off of James. He won't be able to lock down Durant (not even James or Kawhi Leonard can do that), but he can at least provide some energy and intensity when James is not able to. With James defending Klay Thompson or Draymond Green instead, Golden State will have one fewer option to score.
Green is one of the Cavaliers' x-factors, and if Cleveland is somehow able to pull off the improbable upset, Green will almost certainly be a main reason why.
Warriors: Kevin Durant
There aren't many who can challenge James for title of NBA's best player, but Durant is one of those few. While he lead the Warriors in scoring during the regular season with 26.4 points per game, his role early on in the playoffs was increased due to Stephen Curry's injury, and he has averaged 29 points this postseason.
If there is such a thing as an unarguable player, it's Durant. With a nearly seven-foot frame, exceptional athleticism, and a sweet shooting touch, he can score from anywhere on the court almost at will. And he's no slouch on defense either, as he uses his incredible length to his advantage, both in one-on-one situations and while helping teammates.
Durant is the type of player who can turn a close game into a blowout in a matter of minutes, and the Cavs will have to come up with a plan to at least try to slow him down a little. But that will come at the expense of allowing other Warriors more space.
It's a game of give and take, and it's up to head coach Ty Lue to decide where to best pull his punches.
Warriors bench
Golden State's most important reserve is Andre Igoudala. The 2014-2015 Finals MVP gives the team great defense and leadership. But Igoudala is 34, and his body is breaking down. He played in just 64 games during the regular season, and missed the final four games of the Western Conference Finals because of a bone bruise in his left leg.
That injury will keep him out of the at least the first game of the Finals, which is a huge loss for the Warriors, as he guards LeBron James when in the game.
If he does return, Igoudala will improve Golden State's defense, but won't provide much offensively, and the Cavs would do well to force him into taking shots, especially from beyond the arc, as he shot just 28% on three-pointers this season.
Nick Young was a praised free agent signing last offseason, and had a solid 2017-2018 regular season with the Warriors, averaging 7.3 points in 17.4 minutes per game, but both his performance and playing time has dropped in the playoffs, as he is scoring just 2.9 points in 10.4 minutes.
With Igoudala on the mend, Young could see an increase in playing time early on in the series, but he will have to play smart and make the most of his time if he doesn't want to see his role reduced again
Verdict
James and Durant are two of the NBA's best players, and their presence alone makes their position groups elite. But the Cavaliers have the clear advantage in depth with Jeff Green and Igoudala's injury. Cleveland will need to capitalize on the Warriors' short-handedness and steal one of the first two games in San Francisco, and using their superior depth is the way to do that.