The Golden State Warriors are widely favored over the Cleveland Cavaliers in this year's NBA Finals, and there are plenty of reasons for that. But let's take a closer look at each position group and see how the two teams stack up against each other, beginning with the back-court.
Cavs starters
Cleveland runs George Hill and J.R. Smith at the beginning of games, and the same duo usually finishes. Neither player has been consistent this postseason, but Hill in particular is a good indicator of the Cavaliers' success.
In the 2017-2018 playoffs, Hill scored 10 or more points in eight games, with the Cavs winning seven of those. In Cleveland's game 7 victory over the Boston Celtics, Hill played 38 minutes but scored just six points, after going off for 20 in game 6. Hill is one of the Cavs' most important players, and he will be relied upon even more in the Finals, as Golden State's guards are better than Boston's.
After shooting 42% from beyond the arc in the regular season, Hill has gone just  9-35, or 26%, in the playoffs. The Cavaliers are going to need to shoot the three better if they hope to have a chance at winning, and Hill is a big part of that.
Perhaps Hill's biggest contribution will be defensively. He is a much better defender than Kyrie Irving ever was while he played for Cleveland. Whether or not this will make a big difference against Stephen Curry and Klay Thompson remains to be seen, but the upgrade should help. Houston's Chris Paul was able to have some defensive success in the Western Conference Finals, so hopefully Hill can replicate that.
J.R. Smith has undoubtedly been one of the most frustrating Cavaliers to watch this postseason. His three-point shooting ability has been well documented, but he has especially struggled this year. He shot 38% from deep in the regular season and is 33-95 (37%) thus far in the playoffs. For one of Cleveland's sharpshooters, this isn't good enough.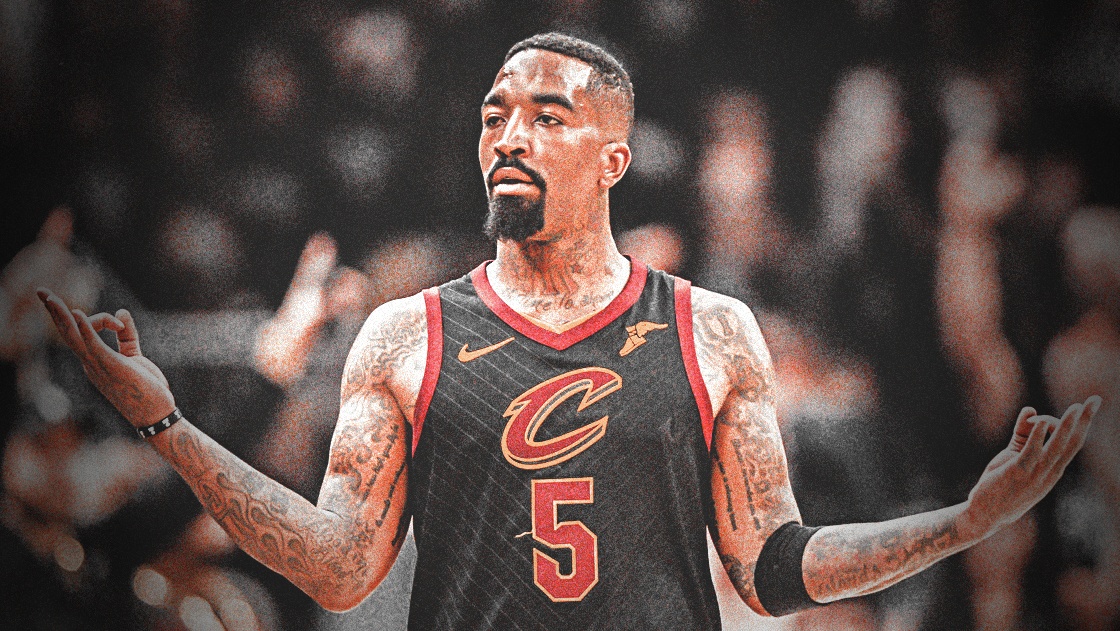 However, for the most part, what Smith has lacked offensively, he has made up for on defense. He was given many difficult assignments against the Celtics, including Terry Rozier, Jaylen Brown, and Jayson Tatum, and performed well. He will need to be completely focused and avoid unnecessary fouls, two things which he has struggled with against the Warriors in years past.
Smith has to shoot the ball better in order for Cleveland to have success. The Cavs need any consistency they can get out of him, in addition to his solid defense.
Cavs bench
The Cavaliers' back-court reserves consist of two point guards and two shooting guards. Just two of the four players have seen any semblance of consistent playing time in the playoffs, and it's unlikely that that will change.
Jordan Clarkson was brought over from the Los Angeles Lakers to provide the Cavs with a bench scorer who could lead the second unit. Instead, Clarkson has been an inefficient black hole on offense. This postseason, he has gone 34-110, or 31% from the field.
Clarkson is also not known for his defense. Against the Warriors screens to free up shooters as well as their pick-and-rolls, Clarkson could struggle immensely. His playing time should drop to around 10 minutes, rather than the 15-18 he was getting before.
Jose Calderon has been a good locker room presence, but has not seen the floor much, especially in the playoffs. This won't change unless there is an injury to either Hill or Clarkson.
Cleveland's premier shooter, Kyle Korver, shot 44% from three-point range in the regular season, and that number has increased to 45% this postseason. Korver will need to be more reliable than he was in last year's Finals, when he shot 5-16 from deep in total.
Korver's playing time will most likely decrease, as he will become a situational player due to his defensive shortcomings. The Cavs can't afford to play him for extended periods of time because they will inevitably give up more points. Korver has to make the most of his opportunities from now on.
The Final bench guard is Rodney Hood. A versatile defender who can create his own shot on offense, Hood was one of the Cavs' biggest trade deadline acquisitions. At first, he seemed like the perfect player to add to a rotation against Golden State. However, his playing time has plummeted in the posteason, due to poor performance and attitude issues.
The Cavaliers' coaching staff should do everything in their power to get Hood motivated and back in the rotation, as he can give the team things that other players simply can't. The Warriors have a limited rotation of players, so Cleveland should try and expand its collection of playable guys. Hood could be an x-factor if he plays.
Warriors starters
By now, many Cleveland fans are growing tired of hearing about the Warriors' seemingly endless supply of All-Star players. That list begins with their two starting guards, Curry and Thompson.
Despite battling injuries, Curry put up another brilliant season, and that has continued throughout the playoffs. He has scored more than 20 points in eight of the 10 playoff games he has played in, although he is shooting just 35% from beyond the arc.
The Cavs obviously hope he continues to shoot around that clip, but Curry is one of the most dangerous players in the NBA, and can take over a game at any time.
Thompson has been the Warriors' unsung hero on their championship teams, and with his playoff performance this year, he has all but guaranteed himself a max contract if he decides to leave Golden State. He has gone an impressive 55-129 (43%) from deep this postseason, but what is scary is that he has been heating up recently. In his last three games, he has made 16 of his 28 attempts.
Thompson thrives on the fast break, where he gets many open looks at the three-point line. His defense is also crucial to how the Warriors as a team defend. He has the quickness to guard Hill and Smith, along with the size to switch onto LeBron James or Jeff Green. Thompson, like Hill, is usually playing well when Golden State is winning.
Warriors bench
If Hood is able to play, one area where the Cavs could have an advantage is their back-court depth. The Warriors have three backups, and only one plays in close games.
Former Canton Charge guard Quinn Cook has been a solid bench player for Golden State, but hasn't played much in competitive games this postseason. He's a solid scorer, but not much of a three-point threat. If he plays more than seven or eight minutes, there has either been an injury to one of the Warriors' key players, or the game is a blowout.
The same goes for Patrick McCaw, who missed extensive time after suffering a spinal injury late in the season.
Shaun Livingston is the Warriors' primary backup guard. He is a skilled scorer with a deadly mid-range game due to his 6-foot-7  frame. His defense is also solid, as he defended James Harden about as well as anyone can. Livingston and Hill or Clarkson should be a very interesting matchup and could have some major implications late in quarters.
Verdict
Golden State starts two of the deadliest shooters in NBA history.Cleveland is not going to be able to compete with that. However, if Rodney Hood gets his stuff together, the Cavs would have the bench advantage, and with injuries, foul trouble, and fatigue, that could be huge.
Winner: Warriors