Video: Trevor Booker plays a fast one on Tyronn Lue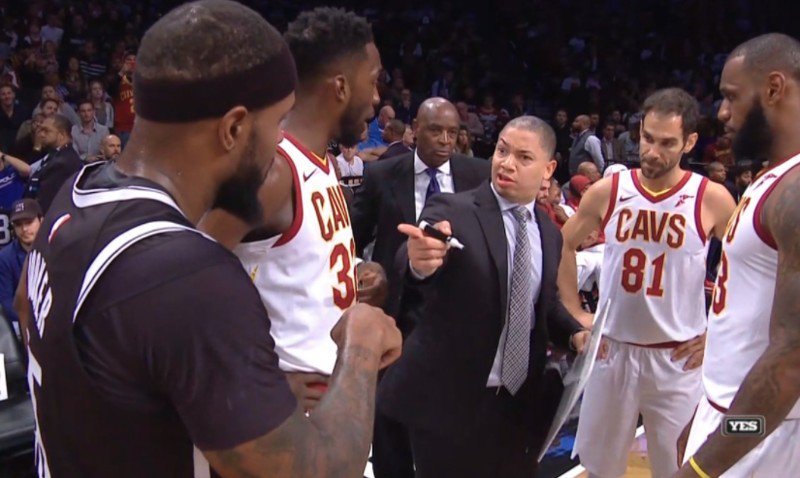 On Wednesday night, the Cleveland Cavaliers wrapped up their second back-to-back set of this young season with a matchup against the Brooklyn Nets inside the Barclays Center. Despite a valiant come-back effort in the fourth quarter, the Cavs, who were led by LeBron James' 29 points, 13 assists, 10 rebounds, and four steals, fell in 112-107 fashion, marking their second loss of the 2017-18 campaign.
During a timeout in Wednesday night's game, Nets forward Trevor Booker, who finished with six points, eight rebounds, and four assists, decided to mosey over to the Cleveland sideline for a spot of eaves dropping. At first, Booker went unnoticed. However, Cavs head coach Tyronn Lue, who was busy drawing up a play on his clipboard, finally saw the former Clemson Tiger standout. Coach Lue looked, took a double-take, then sent Booker on his way with a laugh.
wyd Booker 😂 pic.twitter.com/z9zBjWqTRE

— ESPN (@espn) October 26, 2017
Booker, now 29 years of age, posted some of the best statistical figures of his career last season. In his 71 games played for the Nets during their 2016-17 run, the former 23rd overall pick in the 2010 Draft (Minnesota Timberwolves) averaged 10 points on 52 percent shooting from the field, 8.0 rebounds (career-high), 1.9 assists (career-high), and 1.1 steals (career-high) in 24.7 minutes per outing.
Clearly, there was no ill-intent. And besides, it was nice to see coach Lue having a laugh at Booker's sneaky antics.