Video: LeBron James' clutch block on Victor Oladipo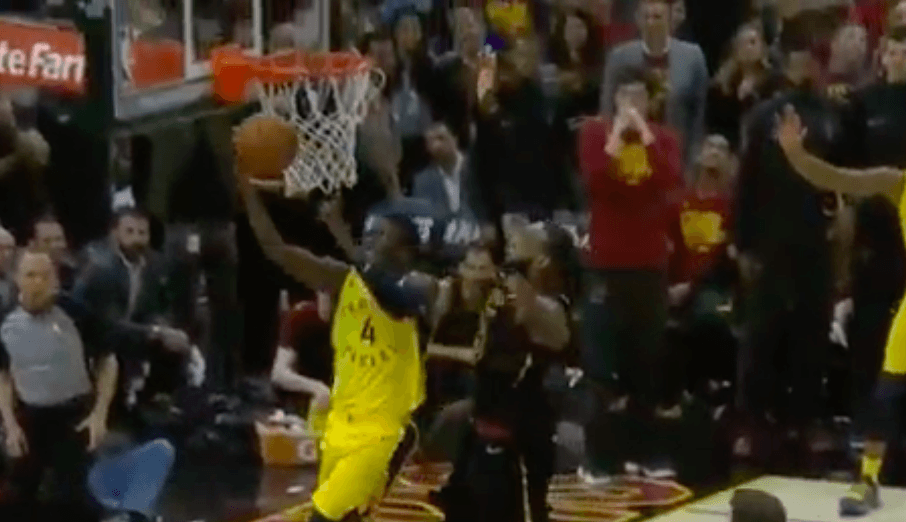 With less than 10 seconds to go in the fourth quarter with the score tied at 95 between the Indiana Pacers and the Cleveland Cavaliers. Victor Oladipo had a chance to win the game until Cavs superstar LeBron James unleashed his vintage form to block the shot.
The block was reminiscent of the many big-time chase-down blocks that James has had over his impressive career. The one that stands out the most is definitely James' block on Andre Iguodala during the 2016 NBA Finals.
Below is the clip of James' rejection of Oladipo:
THE SWAT! pic.twitter.com/FkVbiDxD0K

— NBA (@NBA) April 26, 2018
As observed, Oladipo made a simple in-and-out move which seemingly had James beat. But James did not give up on the play. Though Oladipo had a clear path to the ring, James still stalked his prey. He timed his jump perfectly and extended his right hand to swat the layup.
The block led to a buzzer-beating 3-pointer by James to win the game for the Cavs.
Time and time again, James has proven that he is the best all-around player that we have today. In highlight videos, rarely do we see defensive plays making the list.
James not only has the power and athleticism on the offensive end. He also has the tenacity, timing, and willpower to chase down layups on the defensive end.
This is just the first round of the playoffs. The Cavs' alpha has definitely more in store in the next few rounds.