Video: Dwyane Wade on what makes Kyle Korver all-time great shooter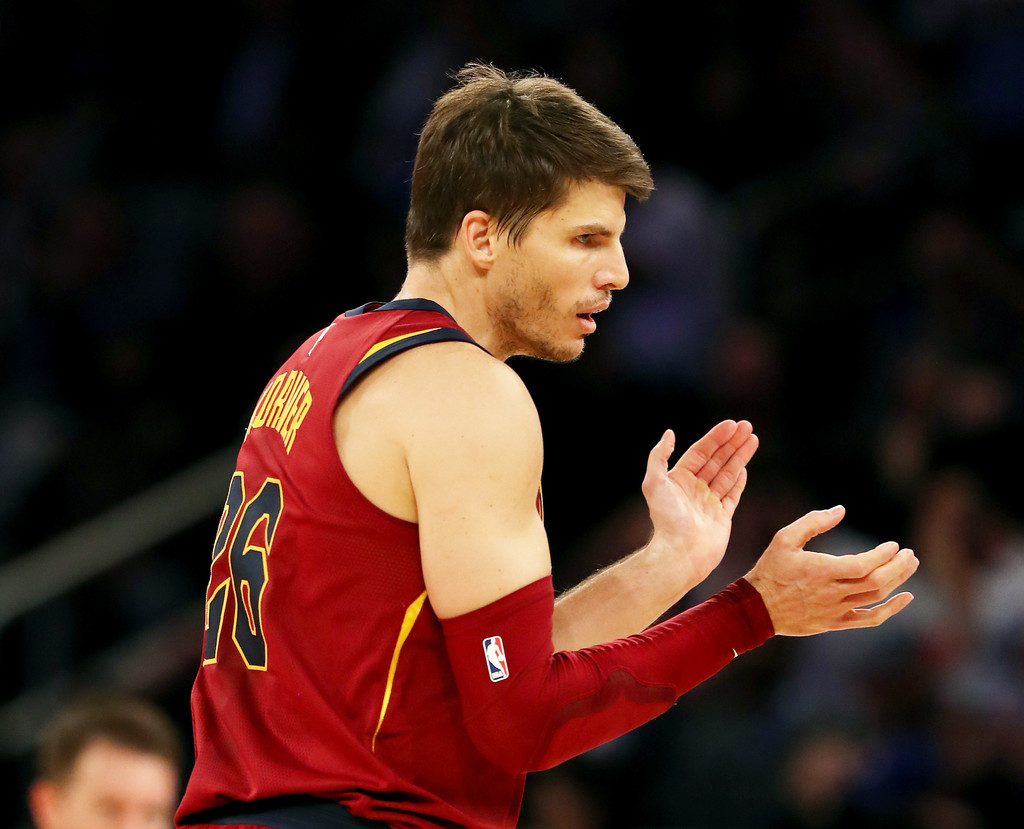 Prior to Friday night's 106-102 loss to the Indiana Pacers inside Bakers Life Fieldhouse, Cleveland Cavaliers guard Dwyane Wade spoke to reporters with regards to Kyle Korver's great shooting.
"What makes Korver different from other people?, a reporter asked Wade during Friday morning's shoot-around."

"The way he moves," Wade replied with conviction. "You know, I think another guy I've played with who's a phenomenal shooter is Ray Allen — Hall of Famer. But the way that Kyle moves — constantly. He's always putting pressure on the defense. Whether he's 5-for-5 (from the field) or 0-for-5, the defense is always aware of him. He never stops moving, and his ability to shoot on the move is the best I've seen. It's amazing. With the shooters that we've played with, he's definitely up there. Ray Allen and him are definitely amazing shooters."
Wade is right on the money when he says Korver is one of the best shooters the game has ever seen. As of today, the former Creighton Blue Jays stand-out ranks 5th on the NBA's all-time three-pointers made list (2,113). He needs 30 more treys to pass Paul Pierce (2,143) for the No. 4 spot. Allen is currently ranked first with 2,973 made trifectas.
In his 26 games played for the Cavs this season, Korver, now 36 years of age, has turned in averages of 10.2 points on 46.8 percent shooting from the field (43.0 percent from beyond the arc) and 2.2 rebounds — all while knocking down 84.8 percent of his free-throws.
Without question, Korver has been an excellent addition to Cleveland's rotation. Time and time again, his accuracy at range has led the Cavs to victory. Opposing sides know they can't leave him open on the perimeter, lest they pay the price in rapid-release buckets. His impact on the team goes deeper than just shooting, though. Several members of the squad look to him for advice. In fact, LeBron James took some free-throw lessons from Korver earlier this year.
Korver's shooting instructions seem to have worked well for James, who is having one of the best statistical seasons of his career. In his 26 appearances with the Cavs this season, James has turned in averages of 28.2 points on 58.5 percent shooting from the field (42.1 percent from downtown), 8.5 assists, and 8.1 rebounds per game.
"Yo, my man has worked his way into becoming a real shooter," Korver recently said of James. "Like, for real. He can really shoot. His fundamentals, he has worked on it in this last year that I've been here. I just think his shot is really good."
Korver and the Cavs will be back in action on Saturday night when they host the Philadelphia 76ers inside Quicken Loans Arena. Tip-off is scheduled for 8:00 p.m. with Fox Sports Ohio having live broadcast coverage.