Cavs rumors: LeBron James wouldn't commit long-term despite Paul George trade on the table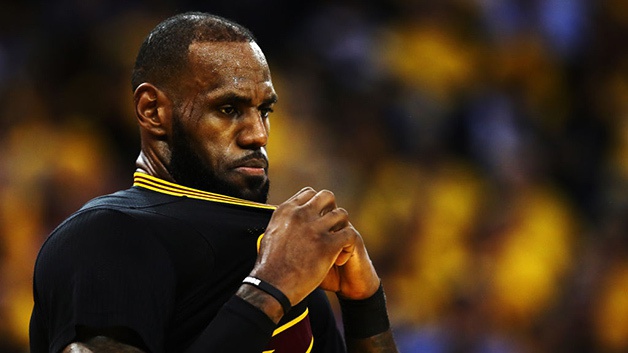 With no clear signs of LeBron James' willingness to commit to staying with the Cleveland Cavaliers long-term despite last week's trade with the Boston Celtics, there's a feeling that his time with the organization is ticking as this offseason gets underway.
Fox Sports 1's Chris Broussard noted during The HoopsHype Podcast with Alex Kennedy that the King was unwilling to sign long-term even with a potential trade that would have landed Eric Bledsoe from the Phoenix Suns and Paul George from the Indiana Pacers, a machination of former general manager David Griffin that ultimately disintegrated when he got the boot from owner Dan Gilbert.
Broussard still thinks James and many around the organization believe he will stay in Cleveland, but the signs (or lack thereof) from this recent trade and the potential one from a month ago just send out some "red flags."
"However, there is reason to believe that he would leave. Heading into the draft, we know that Cleveland had a deal on the table where they could've gotten Eric Bledsoe and Paul George for Kyrie Irving in a three-team deal [with the Phoenix Suns and Indiana Pacers]. Dan Gilbert went to LeBron and wanted him to sign long-term. He said, 'I'll do the deal if you sign long-term.' And I'm told that Paul George was willing to [opt-in] to the final year of his contract. He wasn't ready to commit long-term, but he told Cleveland, 'Look, if you do this, I'll pick up my option,' so he would've been there for two years. And LeBron, still, did not commit long-term. Now, again, I'm not saying this means he is definitely gone, but it's certainly a red-flag. If you're getting Paul George for two years and you're getting Eric Bledsoe, that's a great deal for Cleveland. As good as Kyrie Irving is, that's a deal that would've put Cleveland right there with Golden State. I'd probably still favor Golden State, but Cleveland would be right there. I think that would've been a very competitive NBA Finals and Cleveland would've been capable of winning. Yet LeBron still didn't want to do it, so there is reason to believe that he may be leaving."
The Cavs front office has been utterly aggressive in pursuing a trade to ship out Kyrie Irving and give James a team that can address last season's woes, but aside from some cordial greetings to the newcomers, there hasn't been any indication of his commitment to the franchise, and while he could very well weigh the success of this season by the results at the end of the postseason, it doesn't bode well for those in hopes to retain his services.