Cavs rumors: Kyrie Irving thought LeBron James wanted him traded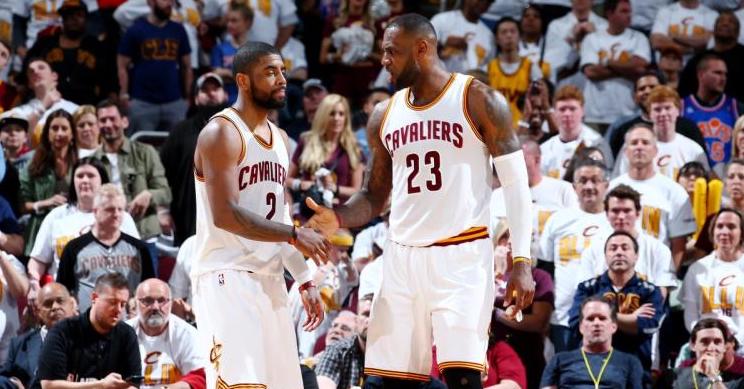 There may be a new wrinkle in the story surrounding Kyrie Irving's request for a trade, according to Fox Sports 1 NBA analyst Chris Broussard. On Friday, Broussard joined Colin Cowherd on an episode of The Herd to explain what may have been a misunderstanding between Irving and his teammate, LeBron James.
As most hoops fans know by now, Irving's plea for a trade came in a July meeting with Cavs owner Dan Gilbert and newly-appointed general manager Koby Altman. Since then, all forms of media have been following this story with a keen eye, waiting to see what will become of the situation.
Whether or not Gilbert will acquiesce to Irving's request can only be speculated at this point. However, in Altman's introductory press conference last month, Gilbert mentioned that he expects to see his star point guard in uniform at the start of training camp.
As many as 20 teams have called with inquiries regarding Irving's availability, but as of now, he remains on the Cavs' roster. There were times, however, when Gilbert and the Cavs were indeed close to trading him. In fact, the Phoenix Suns were reportedly willing to send Eric Bledsoe and their No. 4 pick in the recently-held 2017 NBA Draft to the Cavs in return for Irving.
In his interview on FS1, Broussard explained why "Uncle Drew," as Irving has come to be known, might be feeling a little bit put off as of late. It seems as though the crafty ball-handler may have thought James was involved in the Cavs' trade discussions with the Suns.
Via Ryne Nelson of SlamOnline.com:
"The final straw as to why [Kyrie] wants out of Cleveland… I'm told that the Cavaliers had a deal done heading into the draft." […]

"Cleveland would send Kyrie to Phoenix, which does want Kyrie. (Suns owner) Robert Sarver wants Kyrie Irving. […] Phoenix would send Eric Bledsoe and the No. 4 pick back to the Cavaliers.

"The Cavaliers would send the No. 4 pick to Indiana for Paul George. So you're getting Eric Bledsoe and Paul George for Kyrie Irving. Now, that was going to happen.

"Dan Gilbert goes to LeBron and goes, 'Look, we've got this deal on the table. I'll do it if you commit long-term to stay in Cleveland.'" […]

"But [LeBron] would not commit, so Dan Gilbert would not do the deal.

"Now, Kyrie Irving finds out about the deal. […] And he rightly assumed that there's no way the Cavaliers are doing this unless LeBron gives consent.

"That's why he got mad with LeBron. He thought LeBron was in on it.

"LeBron's take was more, Look, I'm not trying to trade Kyrie Irving. He's great. But that's a heck of a deal—Eric Bledsoe and Paul George. So if you do it, hey, that's a great deal.

"But Kyrie took it as LeBron wanted him out of there."
It's probably safe to say that Cavs management at least ran this trade scenario by James, but that doesn't mean he said "trade him." An old fashioned sit-down between these two superstars is in order. For now, hoops fans will just have to wait for a final decision.