Report: Cavs would 'consider' Tristan Thompson for DeAndre Jordan trade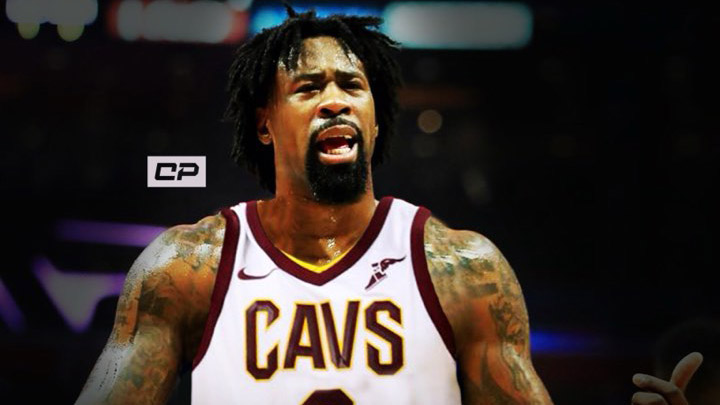 Would the Cavs consider trading Tristan Thompson for L.A. Clippers big man DeAndre Jordan? Perhaps, according to a report from Joe Vardon of Cleveland.com.
One interested hoops fan, Twitter user @jeneraljosh, proposed that very question to Vardon in his weekly mailbag segment, 'Hey,Joe!'
"Hey, @jeneraljosh: DeAndre Jordan's numbers are down this season. He's averaging 10.4 points and shooting .664 from the field (he only shoots twos). Even his blocks — 1.2 per game — are down from the 1.7 he averaged a year ago. Also, Jordan, 29, has a $24.1 million player's option in his contract for next season. So, he could essentially be a rental. That said, you're right, he'd thrive playing alongside LeBron James and Isaiah Thomas. Tristan Thompson was great against the Warriors in the Finals two seasons ago, and struggled mightily last year. A league source believes this move, Jordan for Thompson, is one the Cavs would consider. How the Brooklyn pick figured in remains to be seen (Cleveland also has its own No. 1 pick), but if the Cavs felt Jordan was the only piece missing for them to take down the Warriors they'd have to consider this."
Whether or not this deal will come to fruition remains to be seen, but there are a few things worth pointing out. Most of the basketball-loving universe knows that Cleveland's first-round pick is valuable. In fact, it could end up being a lottery selection, depending on how well the Brooklyn Nets perform this season. The Clippers may not want just Thompson — they'd likely ask for more if this deal were to come to fruition.
Thompson, now 26 years of age, does have ties to L.A. (Khloe Kardashian), but that doesn't exactly solidify this rumor.
In his eight appearances with the Cavs this season, "Double T," as he's came to be known, has turned in averages of 4.4 points on 57.7 percent shooting from the field and 6.4 rebounds per game.
Jordan, a newly-dubbed All-Star, is viewed as one of the best centers in today's NBA. He's flat-out physically gifted, and he'll dunk on anyone. However, like Thompson, he struggles at the free throw line.
Maybe we'll see DeAndre in a Cavs uniform — maybe not. Stay tuned to Cavs Nation for more updates on this topic as they become available.