Report: Cavs expected to hold onto Nets pick at trade deadline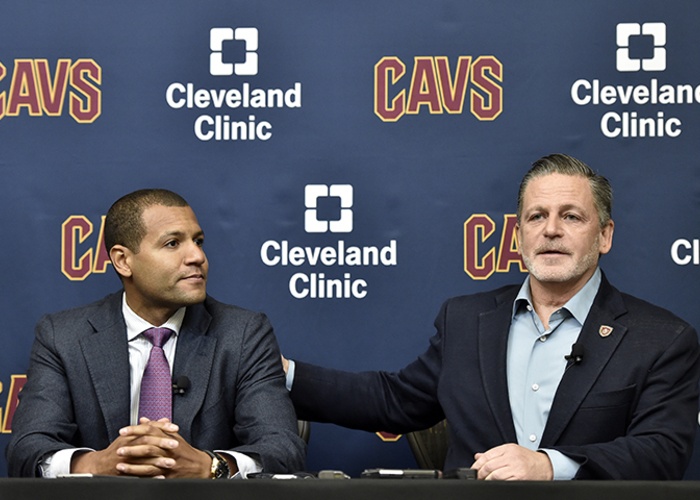 The Cleveland Cavaliers might not be able to retool their roster before February's trading deadline if they aren't including the Brooklyn Nets pick in trade discussions. According to TNT Analyst David Aldridge who wrote on NBA.com, the Cavs are looking to keep the pick since there's not a player in the market that could possibly make LeBron James commit long-term to Cleveland this summer.
"The current consensus among many executives around the league is that Cavs owner Dan Gilbert and Altman will, ultimately, hold onto the Brooklyn pick. The likelihood of Cleveland ever getting a potential top-10 pick again in the James era is Who in Whoville size.

'I don't think there is a player on the market that justifies it unless LeBron targets someone and makes it a condition of his return,' one executive texted Sunday.

But who could that be? And what else does Cleveland have that other teams would want?"
It's easy to understand the Cavs organization's stand regarding the Nets pick. Many teams have found new life after drafting a player with the first pick in the lottery. They drafted both James and Kyrie Irving as number one picks in 2003 and 2011, respectively.
But the lottery isn't a guarantee for success either. The Cavs again had the number one pick in 2013 and took Anthony Bennett who turned out to be a bust. There are scores of similar "horror stories" of high draft picks that just weren't good enough for the NBA.
And with Brooklyn playing better than expected (18-29, third-worst in the East but tied in wins with two other teams), they might not even get a number one pick out of it eventually.
What the Cavs do with the pick is part of the ongoing drama that has surrounded the team ever since No. 23 returned to Cleveland in the summer of 2014. That's par for the course when you have the best player in the game on your team. Should the team keep the pick and James re-signs this summer, the team's future could look brighter than expected.
The question is, can the Cavs compete for a championship this season without dealing their most prized asset?