Ever since LeBron James returned to the Cleveland Cavaliers in 2014 and Andrew Wiggins was traded for Kevin Love, young and talented players have been few and far between for the Cavs. At the trade deadline during the 2017-2018 season, Cleveland was able to add a dynamic scoring wing in Rodney Hood, much to the surprise of the NBA fanbase.
In a three-team trade, the Cavaliers changed the foundation of their rotation by acquiring George Hill and Rodney Hood.
Cleveland received: PG George Hill, SG Rodney Hood, C Arturas Gudaitis
Utah received: PG Derrick Rose, SF Jae Crowder, CLE 2024 2nd-round draft pick
Sacramento received: SG Iman Shumpert, SG Joe Johnson, C Dimitrios Agravanis, $2.1 million, $1.1 million, CLE 2020 2nd-round draft pick
On paper, the Cavs made out like bandits here. Rose was a solid player for Cleveland, but he struggled with injuries. Crowder was a major disappointment, and Shumpert was not playing due to an injury. In return, they added a very good defensive point guard who was leading the league in three-point percentage, along with a versatile scorer who was only 25 years old.
In 39 games with the Jazz last season, Hood averaged 16.8 point per game on 42 percent shooting, including 38 percent from beyond the arc. The fourth-year guard had been Utah's sixth man and primary bench scorer. His defense was not stellar, but at 6-foot-8, Hood had the size to guard taller forwards, and the athleticism and lateral quickness to cover smaller guards.
In his 21 regular season contests with the Cavaliers, Hood's role naturally changed. Because he was playing with LeBron James and Kevin Love, his attempts per game dropped by 4.7. He averaged 10.8 points on 44 percent shooting, although his efficiency from deep fell to 35 percent.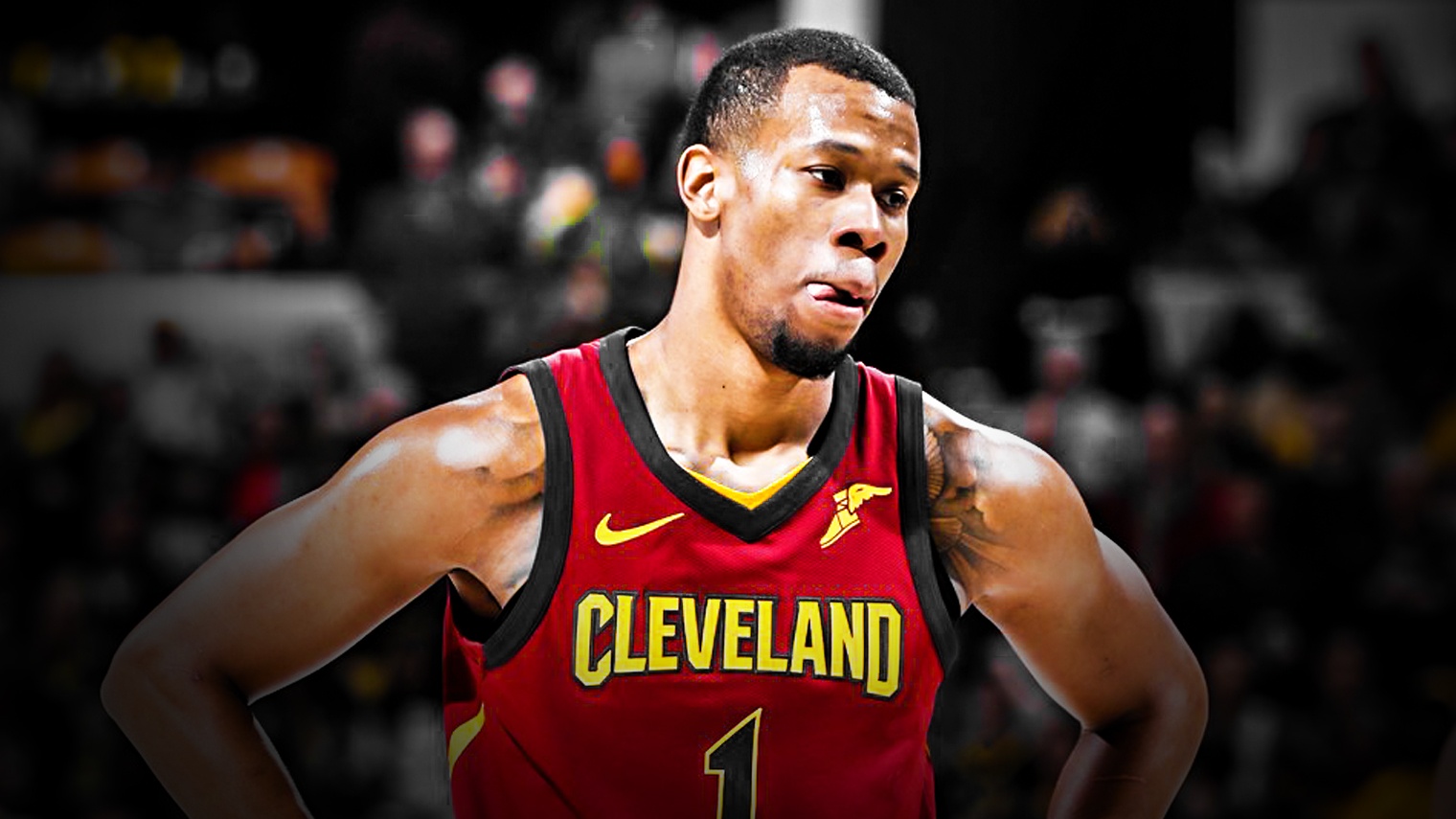 In Hood's first game with Cleveland, he scored 15 points off the bench in a 22-point domination of the Boston Celtics. He scored at least 10 points in 13 of his 21 games with the Cavs. However, once the playoffs began, it appeared as if the pressure got to Hood.
Overall during the postseason he averaged 5.4 points per game on 42 percent shooting, with an abysmal 17 percent clip from distance. His minutes per game dropped from 25.3 during the regular season to 15.3 in the playoffs. In 2016-2017 with the Jazz, Hood hit a similar wall. In the regular season, he scored 12.7 points on 41 percent shooting and 37 percent from three-point range, but in the postseason, those numbers fell to 8.9 points on 35 percent from the field and 26 percent from deep.
Nerves are something that Hood has struggled with throughout his entire basketball career. For example, in college, he would often get so nervous before games that he would throw up or "have gastrointestinal issues"
That would help explain his drop in performance as soon as the postseason began. Hood played more than 14 minutes in the first six games against the Indiana Pacers, but logged just seven in the rubbermatch. He played 18 and then 11 minutes in the first two games against Boston, and then rode the bench for four of the next five, and in the one anomaly he played fewer than three minutes in garbage time.
He was on the court for just three seconds in Game 1 of the NBA Finals, and then four minutes of garbage time in Game 2. After that, head coach Ty Lue was done with Jordan Clarkson's abysmal performance and inserted Hood back into the rotation. Hood responded by going 7-for-11 from the field, scoring 15 points, adding six rebounds and a block. Hood brought energy and effort to both ends of the floor, and had the responsibility of guarding Stephen Curry for almost the entirety of his playing time. Although Curry hit some late shots to help put the game out of reach, he went 3-for-16 from the field on the night.
However, one thing that has plaguged Hood during his time in the NBA has been a lack of consistency, and it showed in Game 4. He went just 4-for-14 from the field, although he did grab eight rebounds, and added two assists, two steals, and a block.
RECOMMENDED
Despite a tumultuous first half-season in Cleveland, Hood's future is very bright. His is extremely athletic, and can beat pretty much any player off the dribble. He is one of the few Cavaliers capable of creating his own shot and scoring in isolation. His defensive technique needs quite a bit of work but he has the potential to be a very good defender. It's all going to be about consistency for him.
Hood is currently a restricted free agent. this means that, if the Cavs extend to him a qualifying offer (which they are expected to do), they can match any contract that Hood signs with a different team. Despite his poor postseason, Hood will most likely get interest from other teams. Tall, athletic scorers like him are in high demand in today's NBA, and they are in short supply.
If LeBron James leaves in free agency, Hood is a player that Cleveland can attempt to rebuild around. He will not turn 26 until October, so he has many years of quality play ahead of him, and with proper coaching and development, perhaps he will eventually reach his immense ceiling.
If James stays with the Cavaliers, bringing back Hood is a no-brainer. Cleveland is going to need a solid bench, and Hood can go a long way to help with that. And if J.R. Smith is included in a trade to get another established star, Hood could find himself starting next to James. A full offseason of learning the system and gelling with his teammates should help Hood quite a bit. The more comfortable he feels with the team, the better he will play.
The Cavaliers are in a rare position; they acquired a young scorer with loads of potential, and now they have the ability to lock him up long-term. For a couple of disgruntled and expensive veterans, they did pretty well at the deadline with this particular trade. Whether James is on a new team next year or not, Rodney Hood should be in Cleveland for a very long time.