Report: Tristan Thompson to replace Jae Crowder in Cavs' starting lineup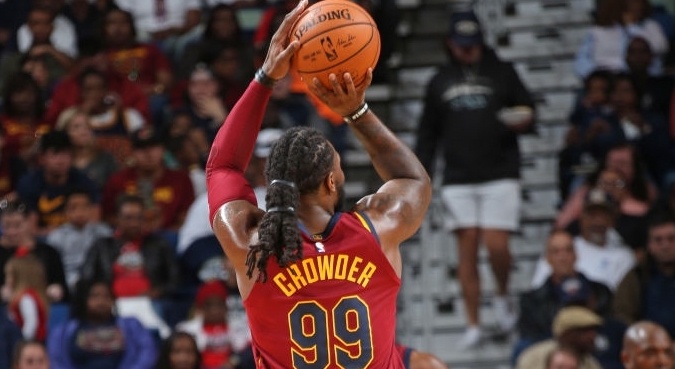 Cleveland Cavaliers center Tristan Thompson will replace forward Jae Crowder in the lineup, according to ESPN's Dave McMenamin. Crowder was spotted wearing a white practice shirt during today's practice, according to Joe Vardon of Cleveland.com — potentially revealing Tyronn Lue's promised change in the lineup after racking up yet another loss against the San Antonio Spurs on Tuesday. The loss marked the team's sixth in the last seven games.
Thompson's integration into the lineup would allow Kevin Love to move back to his natural power forward position after playing at center for the majority of this 2017-18 campaign.
The Cavs have been on a downward spiral in their last 10 games, losers of six of their last 10, which called for a change in structure. Cleveland has been ranked as the second-worst defensive team in the league, as made obvious by allowing a season-high 148 points in a 24-point loss to the Oklahoma City Thunder earlier this week and a 114-102 loss to the Kawhi Leonard-less Spurs on Tuesday.
Cleveland's defense with Love at center showed plenty of woes, despite the offensive advantages of having a premier three-point shooter at the five-spot that can spread the floor. Thompson's arrival should enhance the rebounding and rim-protection, while still getting the benefits of Love's three-point shooting and playmaking abilities from the post.
This change should also bring more familiarity for the core of this three-year build, in hopes of turning this season around and fighting for home-court advantage — still six-and-a-half games below the East-leading Boston Celtics.