Cavs news: Spurs, Celtics interested in Kyrie Irving; Irving willing to commit to extension with Spurs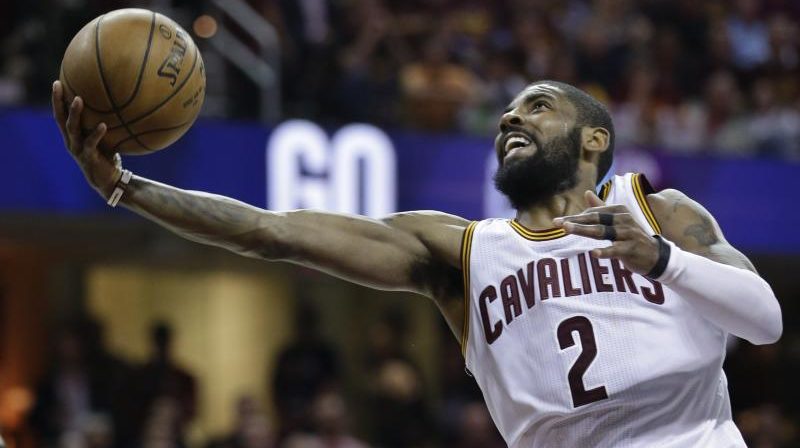 Now that Cleveland Cavaliers All-Star point guard Kyrie Irving has requested a trade, several teams around the association are calling team owner Dan Gilbert and newly-appointed general manager Koby Altman with inquiries about the crafty ball-handler's availability, including the New York Knicks, San Antonio Spurs, and Boston Celtics.
In fact, as many as 20 teams are (or were) said to be interested in Irving's services. However, as of now, the Cavs have yet to find a trading partner that tickles their fancy. Obviously, Gilbert and Altman aren't going to move Irving for nothing, and the uncertainty surrounding LeBron James' future with the team isn't helping the situation.
According to ESPN's Adrian Wojnarowski, the Spurs and Irving have expressed mutual interest. The only question would be: what might San Antonio be willing to offer in return?
"The Spurs have interest in Irving, league sources say, and Irving's willingness to commit to an extension with the Spurs makes for legitimate win-now deal possibilities for Cleveland," Wojnarowski writes in his recent article. "Without James beyond next season, though, the likes of LaMarcus Aldridge, Tony Parker and Danny Green hold no appeal."
As for the Celtics, Woj reports they too have expressed interest in Irving, but who might they be willing to give up in a deal?
"Boston has expressed interest in Irving and could offer the best combination of short-term (Isaiah Thomas and Jae Crowder) and long-term (Jaylen Brown, Jayson Tatum, picks) assets," Wojnarowski continues. "The Celtics have made no formal offer, and it is against Boston's front-office DNA to push out front with the most generous offer. Boston knows that Cleveland is mostly intrigued with Tatum, but the sides have not formally discussed that deal, league sources said."
In his 72 games played for the Cavs last season, "Uncle Drew," as he is known, racked up averages of 25.2 points (career-high) on 47% shooting from the field (career-high), 5.8 assists, 3.2 rebounds, and 1.2 steals in 35.1 minutes per game. Needless to say, the former Duke Blue Devil has played a significant role in Cleveland's recent success.
Whether or not Irving will indeed be traded can only be speculated at this point. However, Gilbert did mention that he expects to see Irving in uniform at the start of training camp. For now, it seems this saga will play on a bit longer.