Skip Bayless went bananas on Twitter after hearing about LeBron James' first ejection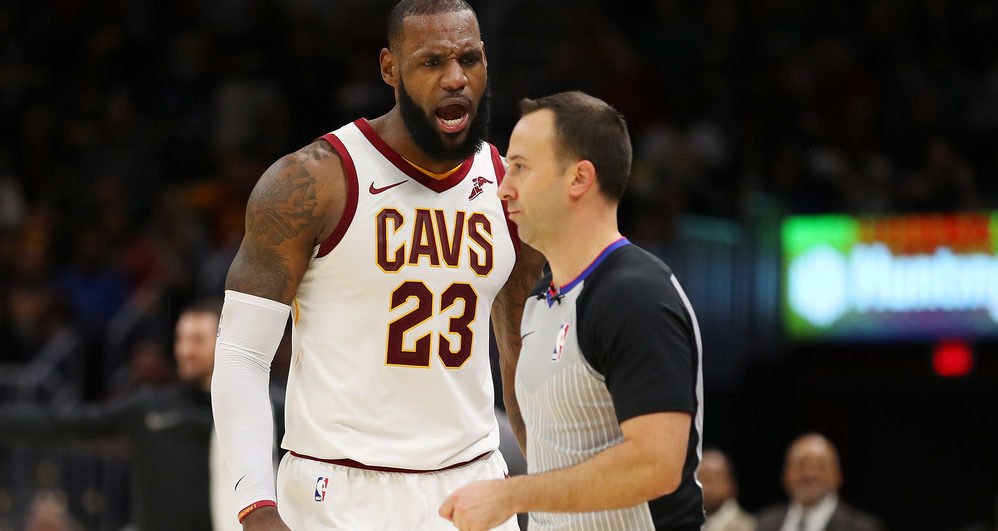 Nothing makes Skip Bayless lose his mind than the subject of LeBron James. Whatever James does or says, expect Bayless to come up with a scathing comment attacking the four-time MVP right after.
On Tuesday, Bayless once again saw an opportunity to criticize James, as he absolutely went scorched earth on Twitter, metaphorically screaming at the top of his lungs on social media over the Cleveland Cavaliers superstar's ejection during a game against the Miami Heat.
Just got distracted for a second by a phone call. LEBRON GOT THROWN OUT FOR THE 1ST TIME IN HIS CAREER FOR USING FOUL LANGUAGE COMPLAINING ABOUT A CALL??? IN THE 4TH Q OF A BLOWOUT WIN??? WHY WOULD HE EVEN CARE AT THAT POINT??? STAT-PADDING???

— Skip Bayless (@RealSkipBayless) November 29, 2017
LeBron leads the NBA in 4th quarter points, as he has twice before in his career. Of course, he now plays high 4th q minutes whether the Cavs are way ahead or way behind. Many of those points have little or no impact and just serve to stuff the stat sheet.

— Skip Bayless (@RealSkipBayless) November 29, 2017
In recent games, LeBron missed a walk-off shot at home vs Clips – a running LEFT-handed shot, obviously shying from the FT line. And he missed a clinching 3 vs Charlotte at home, giving Hornets two chances to win. THOSE are clutch 4th-quarter points, not just empty calories.

— Skip Bayless (@RealSkipBayless) November 29, 2017
Skip Bayless, however, forgot to verify his facts, as James wasn't ejected in the fourth quarter. Rather, he was thrown out in the third.
The "Skip and Shannon: Undisputed" show host also accused LeBron James of trying to pad his stats even when games are headed for a blowout finish. The problem with what Bayless was saying is that even if James made it a point not to be overly aggressive in the second half, Bayless would certainly find a way to dress down the former No. 1 overall pick for not being clutch enough. Essentially speaking, Bayless is trying to put James in a Catch-22 situation, though the latter certainly doesn't care about the former's opinion.
For those who didn't catch it, LeBron James gave referee Kane Fitzgerald a little too much lip service after not getting a foul call in a driving play against the Heat, forcing Fitzgerald to send James out of the game. It was James' first ejection in his NBA career.