Nick Wright explains why LeBron James is right to complain to refs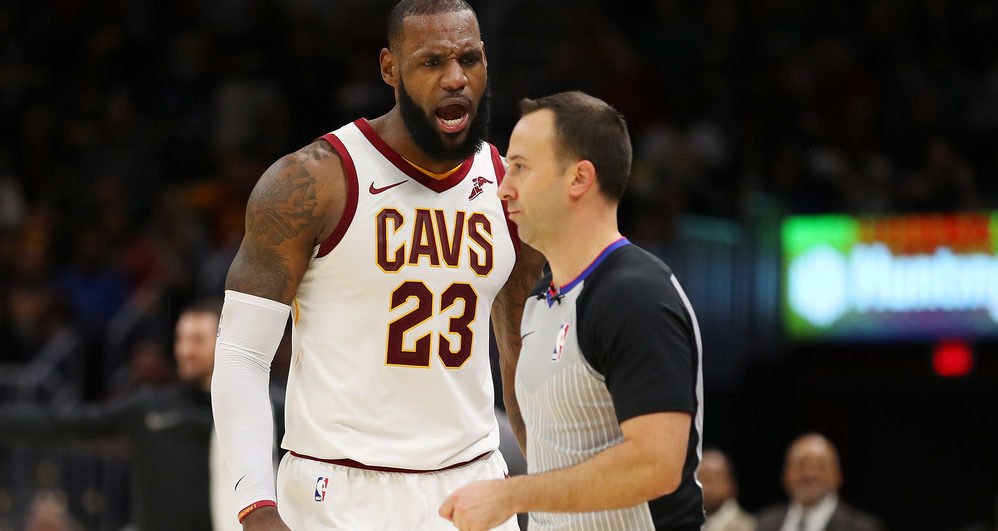 Well-known LeBron James supporter and First Things First on FS1 host Nick Wright has plenty of things to say in reaction to the Cleveland Cavaliers forward's ejection during last Tuesday's 108-97 win by the Cavs over the Miami Heat.
Wright questioned referee Kane Fitzgerald's thought process in sending James to the showers early, saying that the four-time MVP's actions, while aggressive in nature, were not enough to warrant him getting an ejection, which was James' first in his decorated career.
That, however, was just the preface for the crux of Nick Wright's commentary, which was the idea that LeBron James is not getting enough calls from the game officials.
LeBron James is absolutely correct that he's officiated unfairly, I don't blame him for being frustrated.via First Things First on FS1

Posted by Nick Wright on Wednesday, November 29, 2017
"LeBron is second in the league in shots within three feet of the basket, second in the league in points in the paint. The guy is behind Giannis, he's averaging over nine free throws a game. LeBron is second in the league in points in the paint and 20th in the league in free throw attempts. LeBron is correct that he is officiated unfairly. I know we focused on that he gets away with travels as he and James Harden and a lot of superstars do, but he is also dealing with some of the Shaq Rules that he has dealt with his whole career. This year, it's actually affected his ability to get to the line, so I don't blame him for being surprised about it."
Although Wright has been oft-criticized by many for being an overzealous supporter of the Cavs star, he's always made intelligible points backed with hard evidence such as this one.
To add to Wright's point, it might be a bit surprising to learn that LeBron James doesn't even lead his own team in free throw attempts per game. That distinction currently owned by Kevin Love.
Whether he gets the calls or not, however, James is expected to perform at the highest level on an almost nightly basis for the Cavs. He just hopes that the referees do the same.