Cavs news: New LeBron James banner unveiled outside Quicken Loans Arena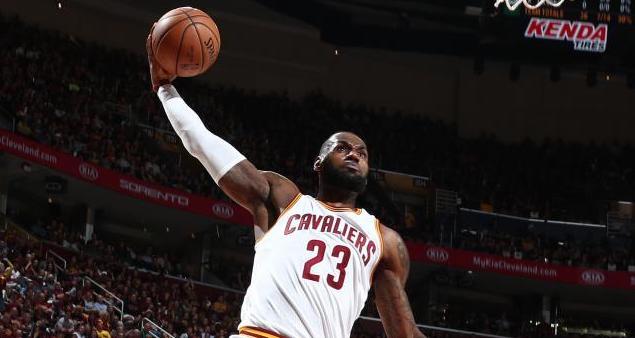 On Tuesday morning., the Cleveland Cavaliers unveiled a new LeBron James banner outside of Quicken Loans Arena. The new sign, which features James high-fiving fans as he walks towards the locker room, has a direct message written in its center: "Cleveland wants it all." Other notable features of the image include Nike's famous swoosh, as well as the Cavs' new uniform.
New additions. #NIKExNBA pic.twitter.com/FZVezmRz4r

— Scott @ WFNY (@WFNYScott) October 10, 2017
As it turns out, former Cavs point guard Kyrie Irving had a banner on the exact same wall in honor of his shot over Steph Curry of the Golden State Warriors in Game 7 of the 2016 NBA Finals. As most hoops fans know, Irving was traded to the Boston Celtics in one of the bigger deals of the 2017 NBA offseason.
New Kyrie Irving banner going up in downtown Cleveland — game winning shot against GSW!! #NeverForget 🏆 pic.twitter.com/E21HqGPtV7

— Austin Boyer (@ATTA_BOYER) October 31, 2016
If anyone deserves a second banner in Cleveland, it's LeBron James. In his 74 games played for the Cavs last season, the former No. 1 overall selection in the 2003 Draft posted some of the best statistical numbers of his career, averaging 26.4 points on 55 percent shooting from the field, 8.7 assists (career-high), 8.6 rebounds (career-high), and 1.2 steals in 37.8 minutes per outing. And let's not forget the financial impact he has on all of Northeast Ohio.
Now, with several new faces aboard their metaphorical ship, the Cavs are making their mission for this season known in a big way. Will James claim his fourth NBA title? Only time will tell. For now, let's just enjoy the ride.