LeBron James, Tristan Thompson troll Jae Crowder during interview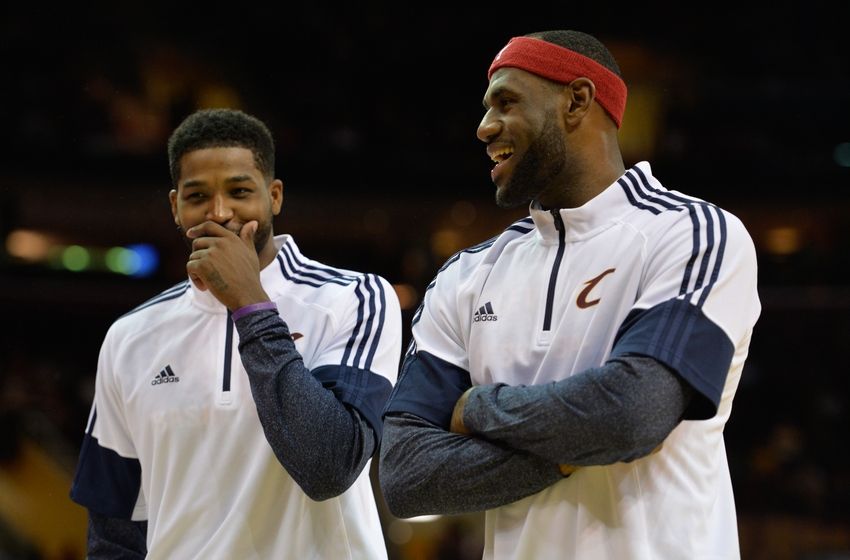 Cleveland Cavaliers teammates LeBron James and Tristan Thompson decided to give Jae Crowder a hard time during Saturday morning's shoot-around at Cleveland Clinic Courts.
The Cavs, winners in 16 of their last 17 games (ten consecutive home wins), are one of the funnier squads in the NBA. They're always ripping on each other, and Saturday was no different. James and Thompson spent most of the morning belting out encouraging words to Crowder — even during his media availability.
"I see you, boy!!," James and Thompson continuously yelled in Crowder's direction during Saturday's practice.
Jae Crowder is doing a private interview at shootaround. LeBron James and Tristan Thompson just keep screaming "I SEE YOU JAE CROWDER BOIII" to mess with him. Kevin Love tried it too, but didn't get many laughs 😂

— Nikki Goel (@NikkiGoelCavs) December 16, 2017
Jae Crowder, attempting to be the subject of a 1-on-1 with @LaurenBrill5, having to dodge basketballs and heckling as the rest of his teammates but his balls through the entire thing. pic.twitter.com/lUDKaFt3jO

— Scott @ WFNY (@WFNYScott) December 16, 2017
We see you working @CJC9BOSS pic.twitter.com/KG4zpv1drD

— Cleveland Cavaliers (@cavs) December 16, 2017
As most hoops fans know, Crowder, now 27 years of age, was acquired by the Cavs in one of the bigger trade deals of the 2017 off-season — a deal that sent Kyrie Irving to the Boston Celtics. In his 29 games played for Cleveland this season, the former Marquette Golden Eagles stand-out has turned in averages of 8.7 points on 39 percent shooting from the field (31.3 percent from beyond the arc), 3.0 rebounds, and 1.1 assists.
Crowder will be looking to continue his solid play after posting 11 points and two assists in Friday's 121-112 victory over the Lakers.
The Cavs will wrap up their four-game home stand on Saturday night with a match-up against the Utah Jazz at 7:30 p.m. EST. Fox Sports Ohio will have live broadcast coverage.