Lakers star LeBron James goes all-in on Cavs champions' reunion
LeBron James recently stirred reunion talks with his Cleveland Cavaliers peers, but it's not going to be in the form of another homecoming.
The Los Angeles Lakers superstar signed off on a tweet by former NFL linebacker Emmanuel Acho, who called for a rekindling involving James and his ex-Cavs teammates Richard Jefferson, J.R. Smith, and Dancing with the Stars champion Iman Shumpert.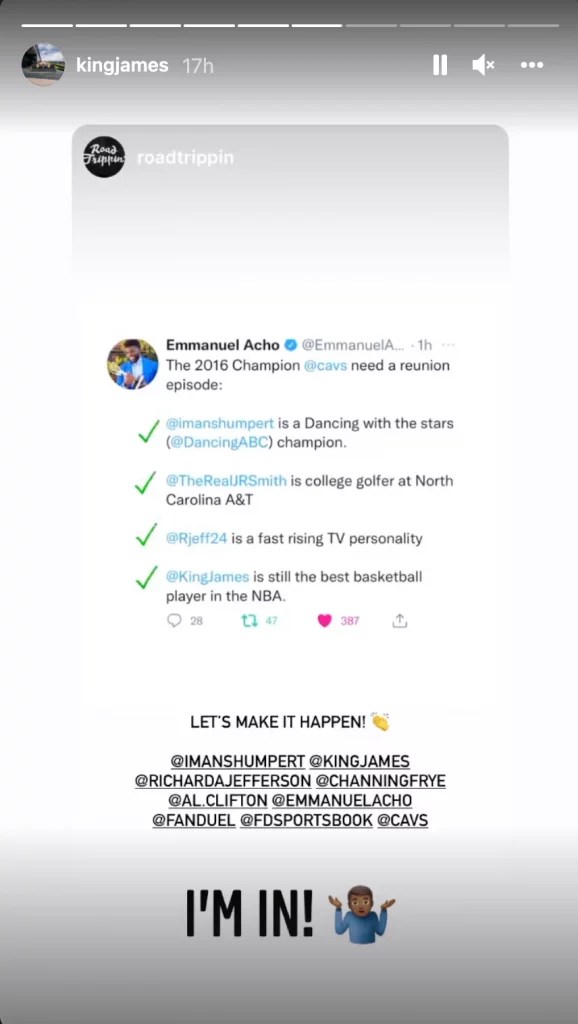 Jefferson, Channing Frye, and Allie Clifton host the "Road Trippin' Show" that had already guested LeBron James in the past. It's a popular podcast, especially among Cavs fans, as the hosts display perfect chemistry whether they're having a lighthearted or serious conversation.
As it stands, Shumpert is enjoying the aftershock of his latest TV success, Jefferson has his broadcast commitments, Smith is busy with college, and James has his focus on the Lakers' season. Whenever they decide to come together, it's going to be one helluva episode that everyone will enjoy.
The Cavs' 2016 championship run made a lasting bond between LeBron James and his former teammates. The future Hall of Famer's "I'm in!" comment has a special ring to it as well. To recall, the Cavs' slogan during their magical campaign was "ALL in 216," mixing Cleveland's area code with the idea of giving their all to win 16 games in the postseason.
Unlike other NBA championships, the 2016 Cavs' title was made even sweeter by the fact that it ended the city's 52-year title drought after doing the improbable against the 73-win Golden State Warriors.