Cavs news: League executive considers LeBron James leaving Cleveland a 'foregone conclusion'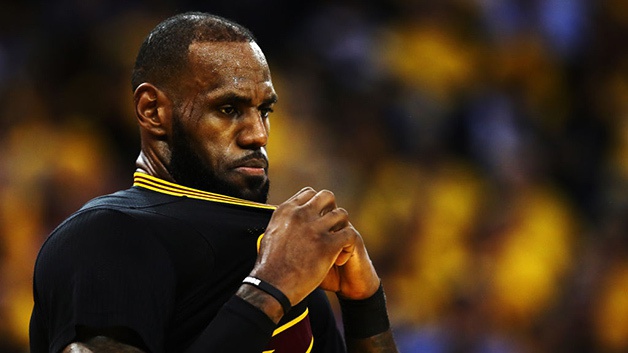 Despite making a big-time move acquiring Isaiah Thomas, Jae Crowder, Ante Zizic, and a top-10 protected first-round draft pick in return for estranged star Kyrie Irving, a Cleveland Cavaliers future without LeBron James seems inevitable for many NBA executives.
Bleacher Report's Ric Bucher talked to a few suits from around the league, inquiring about the probability of James choosing to exercise his player-option at the end of this upcoming season.
"He's out," a Western Conference scout said.
"Foregone conclusion," one Eastern Conference general manager added.
"I don't see him staying in Cleveland," another offered.
While new general manager Koby Altman and the rest of the Cavs' brass has shaken every possible tree in hopes of netting a return for Irving, and could potentially change things even more with the imminent exit of Iman Shumpert and his $10.3 million contract — it still could not prove enough to keep the King in his hometown.
Executives around the league have not only shut down any chance of James remaining in Cleveland, but also penciled in his ultimate destination — the Los Angeles Lakers, a source told Bucher.
His top three reasons for landing in the purple-and-gold are the following, per Bucher's report.
• Setting up his post-playing career in TV and movie production.

• Attempting the unique feat of leading three different teams to a championship.

• Creating a path to an ownership stake in the Lakers.
According to that very source, James has abandoned his quest of surpassing Michael Jordan's six rings and embarked in another to create his own legacy, by winning a championship with three different franchises — a feat that could set him apart from other legends of the sport.
"That was once his obsession," the source told Bucher. "But even if LeBron thinks he has five good years left, he's not thinking he's going to beat Golden State four out of the next five years. I don't think he's making it about that anymore. When he said, 'I don't have anything left to prove' during the Finals, that's where that came from."
James would become the only lead player to have won a ring with three different franchises, as Robert Horry and John Salley are the only other two players to have achieved said feat — both of them considered role players.
"LeBron did what he came to do [in Cleveland]," a scout said. "He needs to prove he can do it somewhere else now. Three different teams will make him more unique."

"He doesn't care if he has to beat the Warriors in the Western Conference Finals or the Finals," the source said. "He knows he has to go through them at some point, and it doesn't matter when. Winning another Eastern Conference banner doesn't mean anything to him."
James has been the owner of a home in the Los Angeles area, and his longtime friends and business associates Rich Paul and Maverick Carter have followed suit within the past two years, putting the chips in place for the 14-year veteran to finish his career at the Staples Center and start his next one there, without the need to take any further steps.