Kyrie Irving comments on Collin Sexton wearing his No. 2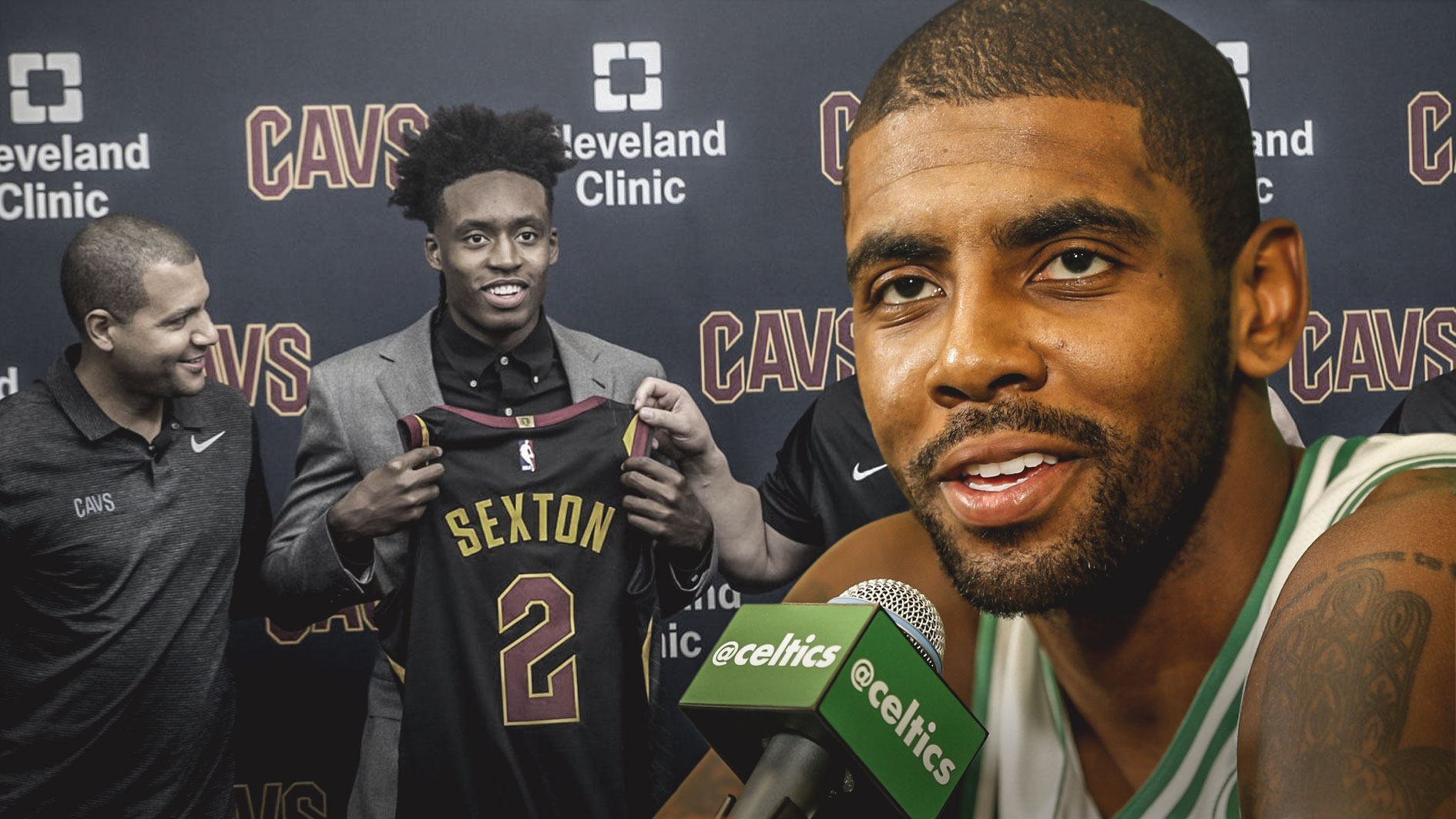 With the No. 8 overall pick in the 2018 NBA Draft, the Cleveland Cavaliers selected Collin Sexton — a 19-year-old point guard out of the University of Alabama. Shortly after the Draft, the Cavs announced that Sexton will wear the number two on his jersey, which seems to have ruffled a few feathers, as they say.
As most hoops fans know, the last person to wear the number two for the Cavs was Kyrie Irving, who was traded to the Boston Celtics last offseason. Giving Sexton this number struck a chord with some fans of the team, but it sounds like Irving is just fine with the designation.
In a recent interview with Stefan Bondy of the New York Daily News, Irving was asked about Sexton wearing the number two for the Cavs. Irving says he's heard the chatter, but feels that the history has "already been captured."
Q: A lot of news about your jersey number in Cleveland (his No. 2 was given to Collin Sexton and fans were upset), did you pay attention to that at all?

KI: Yeah, I did. See. It's just in my face. It's just in my face.

Q: Have a feeling about whether they should give away No. 2?

KI: No. Go ahead, do what you do. He wanted to wear the number, let him wear the number. It doesn't matter.

Q: People are saying you can't give away Kyrie's number so soon.

KI: I appreciate that. The history, it's already captured, man. I was on one of the best teams in NBA history, in my opinion, just accomplishing something that was that much bigger than ourselves. A feat that's — we're one of no other teams. We're one of one, in history. So for me, I think the biggest thing is giving that jersey to my dad. If that's where the No. 2 legacy ends, then cool. Then I'm starting up a new one. No pressure for anyone else.

Q: People say you can't retire a number until a guy's been there like 15 years. You were there half that time, so that just shows how much people recognize what you accomplished.

KI: I appreciate that. I gave a lot of commitment and sacrifice to being there from Day 1. So to have that six-year span of doing some unbelievable things, I'm definitely happy about it. Never shy away from that in terms of Cleveland giving me an opportunity to be a 19-year-old kid wearing No. 2. It's just the transition in the league. It happens all the time. The story is probably going to the number. But I'm more excited about who (Sexton) is as a player in the league. The number thing is like, just chalk that up to the game. It's cool. It's no hard feelings from my end. He just has to start at the chopping block just like everyone else did. So I'm excited for him.
Without a doubt, Irving was a huge piece of the Cavs' championship run in 2016. Cleveland defied the odds to overcome a 3-1 deficit against the Golden State Warriors in the NBA Finals, winning their first championship in franchise history and ending a 52-year drought in the city.
Simply put, it's good to hear that Irving harbors no bad will towards Sexton's choice of number. In fact, as he said himself, he's excited for the young star.