Cavs news: Kyrie Irving addresses why he left Cleveland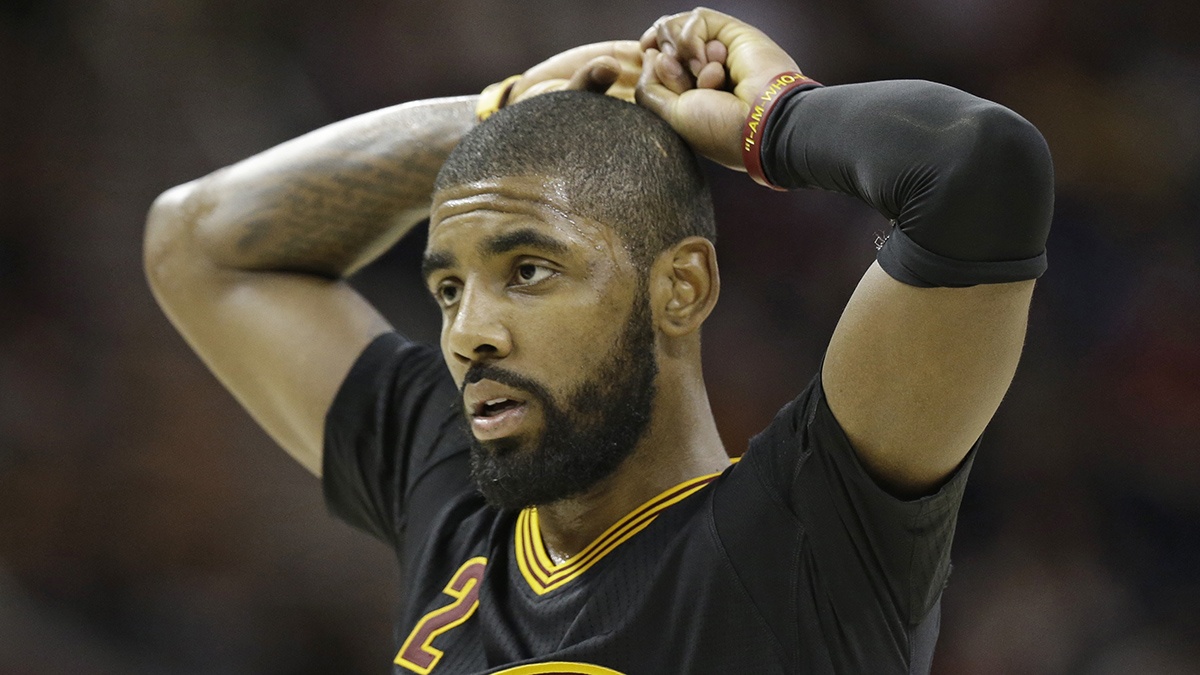 As most hoops fans know, Kyrie Irving requested a trade from Cavaliers team owner Dan Gilbert and newly-appointed general manager Koby Altman in a private meeting shortly after the conclusion of the 2016-17 NBA season. This news came as a surprise to many, including some of Irving's Cavs teammates.
Irving, who is now a four-time All Star and NBA champion at the young age of 25, had a short list of teams that he preferred to play for in the event of a trade, including the San Antonio Spurs, New York Knicks, and Miami Heat (to name a few). After several weeks of posturing and deliberations, "Uncle Drew," as he has came to be known, was traded to the Boston Celtics, which came as a bit of a surprise to most NBA experts and analysts.
On Monday, Irving joined Molly Qerim and Stephen A. Smith on ESPN's popular debate show, First Take, to address his reason for leaving the Cavs.
"So why was it time to make the move?," Qerim asked Irving at the beginning of the interview.

"Well, it was an interesting (x2) six years, when you think about how the journey transcended my career," Irving said as he began his response. "From starting the first three years — that was a picture in itself — and then the last three years. You think about those finite moments that have defined you as a player and as a man. You're very appreciative of it. Getting a chance to play with some unbelievable teammates. I had the chance to be with some unbelievable coaches as well. I got a chance to develop and evolve as a man. And I just felt it was best, for my intentions, to leave."
After thanking Irving for joining the show, Smith pushed the topic a bit further, asking: "What happened, man?"
"I was just very patient in my approach," Irving replied. "You know, understanding what the magnitude of the moment was. I wasn't going to allow anything else to get of our team's success. So I was just very diligent, very professional, in terms of this whole entire process. And the request came at a time where i felt it deemed right for me."

"As a 25-year-old evolving man, coming in to perfect my craft every single day, I just wanted to be in an environment where I felt like I could be taught every single day," Irving continued. "And have that demand from my coaching staff. Have that demand from a franchise that would propel me to exceed in my potential — seeing how far I can go."
An inquisitive Smith then asked Irving if his trade request was "something that had been percolating for a while."
"You knew that you were approaching this moment," Smith said to Irving. "You just didn't want to be a distraction to the team."

"Absolutely (x2)," Irving quickly replied. "Like I said, I was just very patient within those moments because I knew that the importance wasn't in my ego, or anything that existed from the reasons on why I would come in to work every single day and not give 100 percent and not give my teammates everything that I had. From that standpoint, that was the way I was raised. I was raised on being in a professional environment, being in a work place, and making sure it's conducive for everybody. So having those relationships and developing those every single day, and then on top of that, still wanting to be as successful on the court and still try to figure out myself off the court. I had to balance those two.

"I felt like, when I was coming into that environment, there were times when my energy was just a little off, and I just had to figure that out," Irving said. "There were times after games when I would go out and shoot. You know, as any professional athlete or any person knows, in your work place, when you have those tough days, there are questions that you ask yourself: 'Is this the right thing for me, right now?' And I answered that question myself."
There is no doubt that Irving played a huge role in Cleveland's recent success. However, now that he's officially been dealt to Boston, the former No. 1 overall pick in the 2011 Draft will look to cut his own path.