Kyle Korver says Cavs are back to having fun after comeback win over Knicks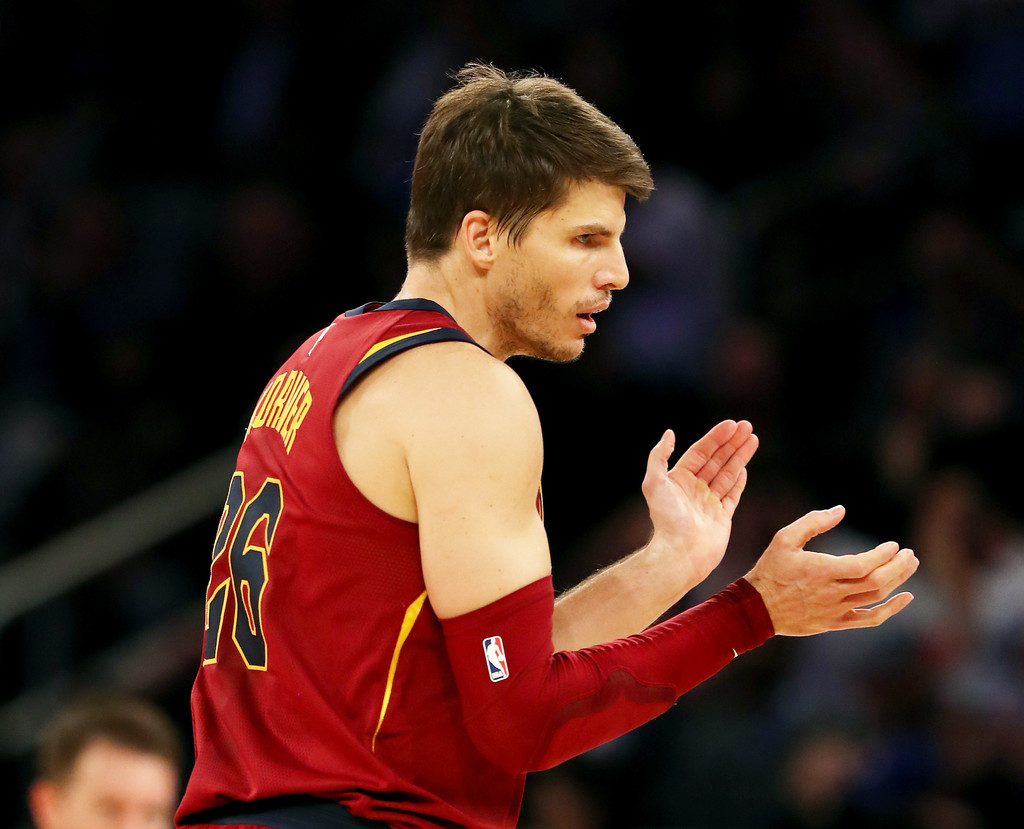 When Kyle Korver decides to hang up his basketball shoes, he'll go down as one the greatest shooters in NBA history. And in the Cavs' 104-101 road win over the New York Knicks on Monday night, the former Creighton Blue Jays standout showed us why.
The Cavs, now third in the Central Division with a 7-7 record, fell behind by as many as 23 points in the second half of Monday night's game. However, thanks in large part to Korver's white-hot hand, Cleveland managed to slowly chip away at New York's lead in the fourth quarter.
With just under 10 minutes remaining in the game and his team trailing by 15 points, Kyle Korver knocked down the first of his five fourth quarter 3-point buckets. Earlier in the game, Korver struggled to find a rhythm. Once he got hot in the final frame, though, the momentum began to shift.
The Cavs, who shot 9-17 from downtown in the fourth quarter, went on to outscore the Knicks 43-25 in the final 12 minutes of play.
During his postgame media availability, Cavs sharpshooter J.R. Smith spoke to members of the media with regards to Korver's impressive fourth quarter performance.
"When Kyle got hot, that was impressive," Smith said of Korver.

"I love it, man," Smith continued. "Especially when you see someone like Kyle, who works on his shot all of the time. You just enjoy watching greatness. He's probably the most consistent guy we have, other than LeBron (James)."
Directly after the game, Fox Sports Ohio's Allie Clifton caught up with Korver to ask him how the Cavs were able to climb from the depths of a 23-point deficit.
"We found some energy in the fourth quarter," Korver said. "I think, really, we just started hitting some shots. I don't know how many three's we hit in the first three quarters, but it felt like we couldn't make anything. And then everyone kind of stepped up there in the fourth. We made some shots, we got some stops, and we just had fun again.

"You know, for us, it's been just been kind of drag-it-out basketball for a while," Korver continued. "Tonight, in the fourth quarter at least, we had a lot of energy, and we were able to pull it out."
"We just had fun again."@KyleKorver tells @FSOAllieOop how the @cavs were able to mount a monster comeback in New York. #AllForOne pic.twitter.com/UyJQzm97Yt

— FOX Sports Ohio (@FOXSportsOH) November 14, 2017
In his 29 minutes of playing time against the Knickerbockers, "Mr. 4th Korver," as Fox Sports Ohio's Fred McLeod would say, turned in 21 points on 5-of-12 shooting from beyond the arc, five rebounds, one assist, and one steal.
The Cavs will be back in action on Wednesday night, when they travel to Charlotte for a match-up against the Hornets. Tip-off is scheduled for 8:00 p.m. EST with ESPN and Fox Sports Ohio having live broadcast coverage. Until then, have a go at Korver's fourth quarter highlights.