With the start of the 2017-18 NBA's regular season now less than two weeks away, teams around the Association are locking in, preparing for the upcoming battle. There will be several talking points throughout the 82-game grind, including favorites to win the championship, as well as league MVP. Cavs' forward Kevin Love is already thinking LeBron James, and he isn't the only one.
Recently, GM's from all across the NBA landscape were asked to vote on their front-runners for MVP. When the tallies came in, James sat atop their lists by quite a wide margin.
Via John Schuhmann of NBA.com:
Who will win the 2017-18 MVP?
1. LeBron James, Cleveland – 50%
2. Kevin Durant, Golden State –29%
3. Kawhi Leonard, San Antonio – 11%
4. James Harden, Houston – 7%
5. Stephen Curry, Golden State – 4%
It seems as though Love, James' friend and teammate, agrees with the assessment that the GM's put forth. After Wednesday's shootaround at Cleveland Clinic Courts, "K-Love," as he's known, touched on a few of the reasons why James should always be in consideration for the MVP award every year.
"I know from year's past, I'd never pick LeBron James to win MVP," Love said with a smile. "No, every year, (LeBron) is the guy that you'd look at and say he's at the top. Best player, best athlete in the world. He's going to come and do the same thing: lead this team with a bunch of new guys and new faces. At the end of the day, that won't change how he goes about his business. But like every year – especially this year, the way he looks, how he feels – he definitely has a great shot. That's not ground-breaking. He's going to come out and be LeBron James."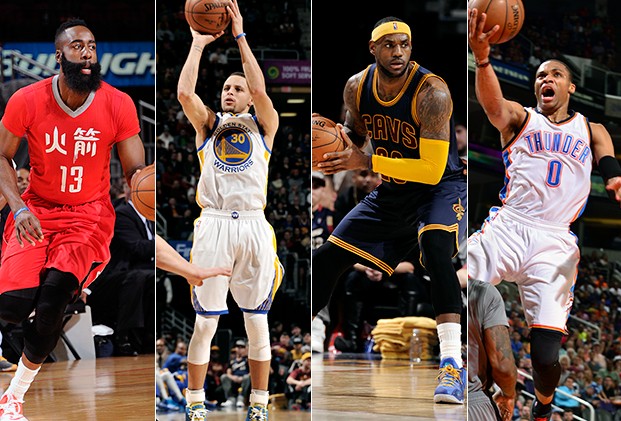 James, now 32 years of age and entering his 15th season in the NBA, is showing no signs of slowing down. In fact, it's just the opposite. In his 74 games played for the Cavs last season, the former No. 1 overall pick in the 2003 Draft turned in some of the best statistical numbers of his career, averaging 26.4 points on 55 percent shooting from the field, 8.7 assists (career-high), 8.6 rebounds (career-high), and 1.2 steals in 37.8 minutes per outing.
Whether James will indeed win the NBA's 2018 MVP award remains to be seen. For now, let's just enjoy the upcoming ride. Besides, it's probably safe to say that he would rather have a fourth Larry O'Brien trophy to his credit.