Cavs news: Kevin Durant is betting on LeBron James ending his career with Cavs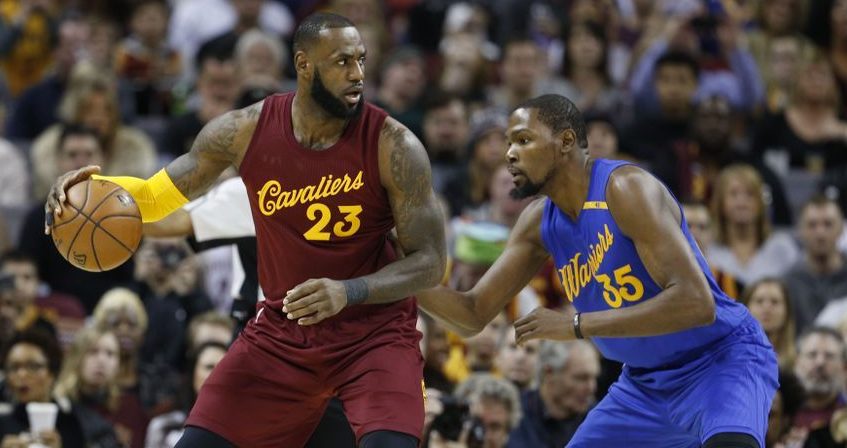 Will he stay, or will he go? That's the question most Cleveland Cavaliers fans have with regards to LeBron James' future with the team. Will James, who can indeed become a free agent next summer, take his talents elsewhere (again), or will he ride off into a wine and gold sunset? It's a topic that has been discussed at length for quite some time now.
The truth is: there is no expert or analyst who knows the King's true intentions. However, Golden State Warriors superstar Kevin Durant is betting on the three-time champion staying with the Cavs. In a recent episode of "The Bill Simmons Podcast," Durant discussed his opinions of James' future in Cleveland.
"I personally always said he was staying," Durant said during his guest appearance on Simmons' show. "I told him this. That's me. I feel like he's going to end it in Cleveland. That's his crib now. He run it and he gonna turn it into something mega when he's done. He's going to do something."
Simmons took a different approach with his assessment of James' looming free agency. Like many others, Simmons believes LeBron is heading to L.A. after completion of the 2017-18 season.
"I'm betting L.A.," Simmons said during his podcast. "I think the Lakers thing makes a lot of sense."
According to Tom Roddy of Newsweek.com, Durant and Simmons have placed a wager on the outcome of James' decision. The loser of the bet is to buy a combo meal from Fat Sal's Deli for the winner.
While it's true that James owns a home in Los Angeles, that doesn't exactly mean he's ready to pack up his family and move across the country. For now, let's just try to enjoy the ride.