Jae Crowder says personal challenges took away entire gravity of Cavs-Celtics trade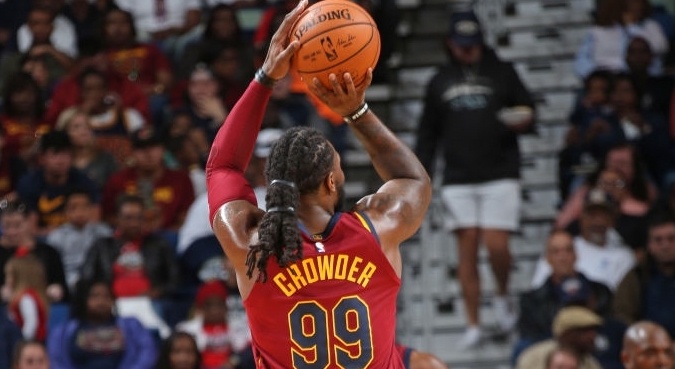 After two and a half years of service with the Boston Celtics, Jae Crowder found himself included in one of the bigger trades of the 2017 NBA offseason — the same deal that sent Kyrie Irving to Beantown.
Being traded can be tough for players, it's true. However, Crowder says he had loads of other emotions running through his mind at that time.
If you follow Crowder's career closely, you'll know that his mother, Helen Thompson, was dealing with cancer when the Cavs and Celtics first initiated trade talks. The two teams completed their deal on Aug. 22.
Just before her passing in Atlanta, GA, Crowder was able to tell his mother that he'd been traded to the Cavs. The former Marquette Golden Eagles stand-out says he simply didn't have the energy to be mad at the Celtics for trading him.
"That's why the trade didn't even hit me like it should have," Crowder recently told the Boston Globe. "My mind, my soul, and my body was somewhere else. But I can say the trade didn't hit me like everyone thinks it did because I was going through some other situations, personal situations."
Without a doubt, Crowder, now 27 years of age, played a big role in Boston's success last season. In his 72 games played during their 2016-17 campaign, the former Big East Player of the Year (2012) recorded averages of 13.9 points on a career-high .463 percent shooting from the field (career-high .398 from beyond the arc), 5.8 rebounds (career-high), and 2.2 assists (also a career-high).
Crowder says the loss of his mother still bothers him at times.
"I have my days, I ain't going to lie to you," he said. "I have days where I don't want to do [expletive]. I just want to sit there and think about her all day. I take a minute to myself here and there, as I should. I think about her every day. But I think it's set up to be a special year because a lot of stuff has been going on. I feel like I put a lot of time into my work and hopefully it pays off for me.

"I know she would want me to do that," Crowder added. "Whenever I get down on myself or get down on life, I just try to revert to my work and ask myself, 'What would she want me to do?' Because she was my biggest supporter. I would talk to her after every game. It's tough not to have her here. It's a challenge but I've taken it on. I have my father, who's still in my life. These guys [teammates] are my extended family and done a great job of me weathering the storm."
Though his role is a bit different in Cleveland (three fewer shots and six fewer minutes per game), Crowder says he is remaining focused on the ultimate goal.
"I want to do whatever it takes to win a championship," Crowder said. "I never have been a me guy. All I worry about is winning the ballgame. You know that from Boston."