Cavs news: Dwyane Wade leaning heavily toward joining Cleveland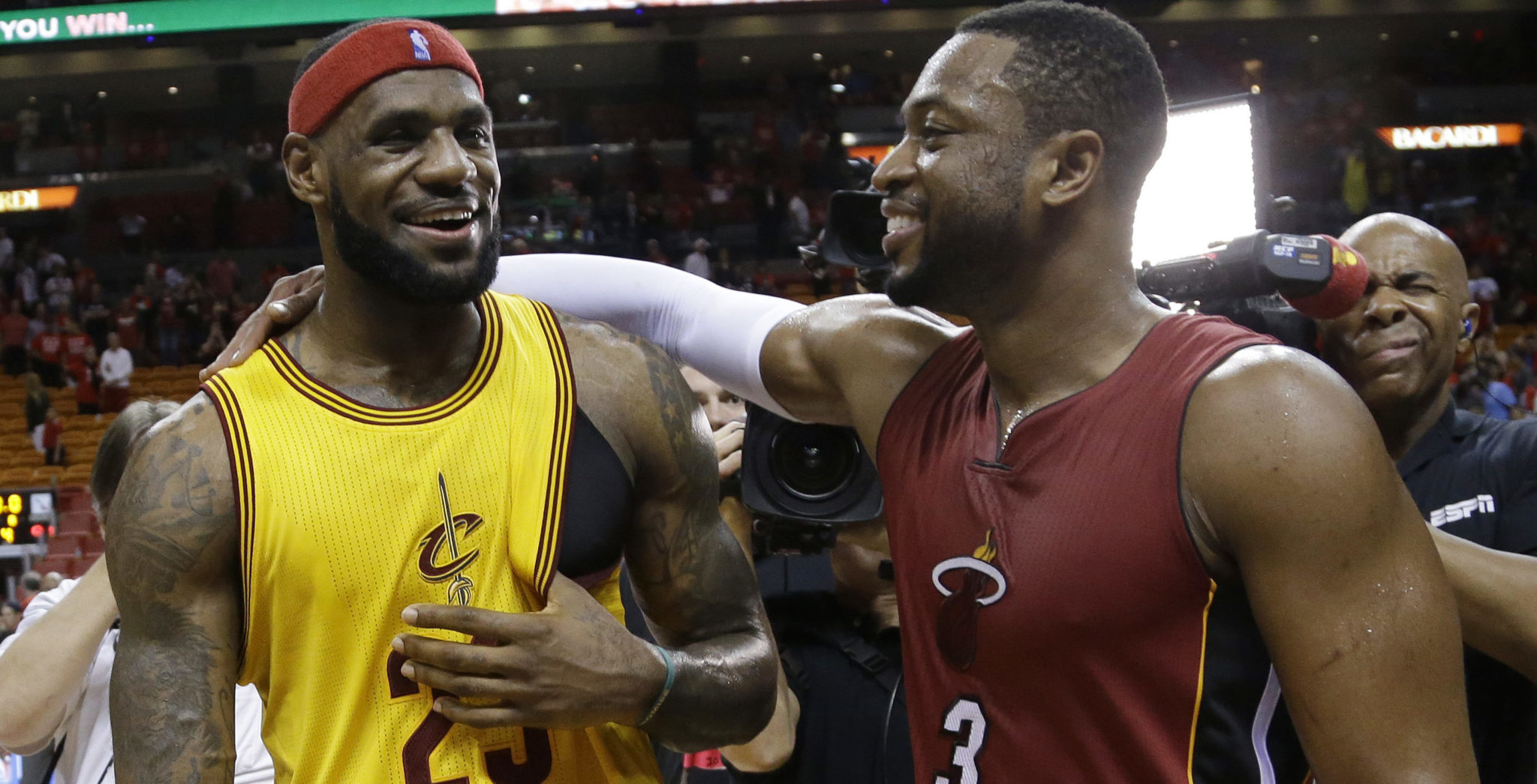 Sunday, three-time NBA champion Dwyane Wade reached a buyout agreement with the Chicago Bulls. Since then, several teams around the association have been hot on his trail, including the Eastern Conference champion Cleveland Cavaliers. In fact, the Cavs are believed to be among Wade's favored destinations.
Whether or not Wade will indeed land in Cleveland to join LeBron James, his former teammate with the Miami Heat, is yet to be seen. However, according to a pair of reports from Brian Windhorst of ESPN Cleveland, the possibility is real.
Windy on Wade to Cavs: "It sounds like it's going to happen…"

— ESPN Cleveland (@ESPNCleveland) September 26, 2017
More Windy on impact of Wade in CLE: "They may have to cut somebody…Richard Jefferson or Jose Calderon…"

— ESPN Cleveland (@ESPNCleveland) September 26, 2017
The imminent deal could be finished as soon as Wednesday, according to ESPN's Adrian Wojnarowski.
There is no doubt that Wade, now 35 years of age, would be a blockbuster addition to the Cavs' rotation. In his 60 games played for the Bulls last season, the former Marquette Golden Eagle averaged 18.3 points on 43% shooting from the field, 4.5 rebounds, 3.8 assists, and 1.4 steals in 29.9 minutes per contest.
Joe Vardon of cleveland.com reports a similar Wade-James reunion in his recent article.
"Dwyane Wade is leaning heavily toward the Cavaliers as his new team once he clears waivers and may have already decided on a reunion with LeBron James, league sources with knowledge of Wade's thinking told cleveland.com.

"Wade, 35, a 12-time All-Star and close friend to LeBron James, is expected to clear waivers Wednesday, when he is free to sign with any team. He accepted an approximately $16 million buyout of his $23.8 million contract from the Chicago Bulls on Sunday night.

"Wade has given no indication publicly what he will do, and at least three teams — the Oklahoma City Thunder, San Antonio Spurs, and his old team the Miami Heat — are interested in him. His agent is taking calls from those teams and others, and Wade told the Associated Press he would do his due diligence as well.

"But a prominent league source outside of James' circle with knowledge of Wade's thinking told cleveland.com that Wade "has no intention of going anywhere else." Sources close to James have long believed he would come to Cleveland in the event of a buyout."
Sources: Dwyane Wade leaning heavily toward Cavs, may have already picked LeBron reunion @clevelanddotcom https://t.co/NLFm6mma6o

— Joe Vardon (@joevardon) September 26, 2017
The Cavs, who already have 15 men under contract on their roster, would be forced to pay a hefty sum in luxury-tax penalties if they were to waive a player instead of trading one. There might be a way, however, to clear a spot for Wade — if that is indeed the team's goal. If they need to, the Cavs could tack on a second-round pick in a trade to deal a player away.
What might the Cavs, who are currently $18.6 million over the NBA's $119.3 million luxury tax, be able to offer Wade for his services, you ask? Well, not much. Wade could accept the veteran's minimum, which would be roughly $2.3 million in his case. That's likely the Cavs' best option.
Will Wade and James truly be reunited? For now, it is uncertain. Be sure to keep your browsers locked on Cavs Nation for more updates on this topic as they become available.