After reaching what appeared to be a ceiling with the team, the Utah Jazz recently chose to trade Donovan Mitchen to the Cleveland Cavaliers. In return, the Western Conference team received Collin Sexton, Lauri Markkanen, rookie Ochai Agbaji, three unprotected first-round picks, and two pick swaps.  Of course, this recent development not only left an impact on both teams, but also had a good effect on Spida's stock in the NBA card market.
After languishing both in the hobby and in recent playoffs, the new Cavs' star is enjoying renewed interest amongst basketball fans and collectors. We take a look below at how those Donovan Mitchell rookie cards are doing and how his recent trade has affected this value.
The impact of Donovan Mitchell on the Cleveland Cavaliers
When talking about the NBA's best young shooting guards, Mitchell's name is certainly included in the conversation. Even in his rookie year, he managed to drag the Jazz back to the playoffs even when a lot of fans thought they were starting to rebuild after trading Gordon Hayward away. Since then, Spida has been the key to Utah's offense and a potent key to their success in returning to the West's upper echelon of teams.
Remember when Hayward bolted, everybody and their dog thought the Jazz were destined for the lottery.
A rookie named Donovan Mitchell not only carried that team into the playoffs but a PHENOEMENAL playoff series win!
I'll never forget that, nor ever stop being a Spida fan pic.twitter.com/SVyAxRk2XL

— Calvy J (@CJRealHoops1) September 2, 2022
This is clearly seen in the numbers Mitchell posted in the five seasons he played for the Jazz. Starting in 2017-18, the then-rookie averaged 20.5, 3.7 rebounds, 3.7 assists, and 1.5 steals per game. His stellar showing during that regular season continued in his first playoffs where he elevated his game to 24.4 points, 5.9 rebounds, 4.2 assists, and 1.5 steals in 11 games. And after eliminating the Oklahoma City Thunder, with Russell Westbrook and Paul George in it, a lot of fans started to believe that Mitchell is a legit star to look out for.
His impressive performance mostly carried on to the succeeding seasons. Over the course of this five-year stint in Utah, Spida averaged 23.9 points, 4.2 rebounds, 4.5 assists, and 1.3 steals per game. He also managed to make 44% of his field goals, 36% from beyond the arc, and 83% from the free-throw lane during that time.
We got to watch you light up the league as a rookie and cheer you on as you became a perennial All-Star.

We witnessed you embrace and serve our community while standing for what's right and uniting Jazz fans everywhere.

Thank you for all the good you did here @spidadmitchell 🖤 pic.twitter.com/EhNAneb3z3

— Utah Jazz (@utahjazz) September 3, 2022
Unfortunately, the Jazz never reached the conference finals during those five years with Mitchell. With the way their roster was constructed and the salaries that came along with it, they would only make it so far and unexpectedly fall to the likes of the Los Angeles Clippers, Denver Nuggets, and Dallas Mavericks in the playoffs.
The inability to crack the postseason left many in doubt about Mitchell's future with the Jazz. Those doubts were finally laid to rest as Utah's front office decided to jump the gun by trading their All-Star guard to Cleveland in exchange for a package headlined by Sexton. Of course, this instantly elevates the Cavs from a fringe playoff team to one that can go far in the postseason. The addition of Mitchell's offense pairs well with Darius Garland manning the point guard position. And even with their questionable defense, the presence of Jarrett Allen and Evan Mobley still makes Cleveland a formidable force on paper.
The new-look Cleveland Cavs🔥

Starters: Bench:
Darius Garland Ricky Rubio
Donovan Mitchell Caris LeVert
Isaac Okoro Cedi Osman
Evan Mobley Kevin Love
Jarrett Allen Robin Lopez pic.twitter.com/RhX8QqANIb

— ClutchPoints (@ClutchPointsApp) September 1, 2022
Of course, it remains to be seen whether Mitchell is the missing piece Cleveland needs to make it back to the Finals years after LeBron James left for the Los Angeles Lakers. What's certain, though, is that this version of the Cavs is looking to be more dangerous than ever. If they manage to meet everyone's expectations, those Donovan Mitchell rookie cards in the market will surely be a good stock to invest in.
The state of Donovan Mitchell rookie cards
Even before his trade to the Cavaliers, Mitchell has always been among the elite offensive guards in the NBA. His ability to rack up buckets while drawing defenses to him will surely elevate Cleveland's performance in the upcoming season. His rookie cards, meanwhile, are starting to show signs of promise for his imminent debut with the Cavs.
This promise is reflected in Mitchell's PSA 10 2017 Prizm Silver rookie card, which started at around $402 towards the end of June. From that point, Spida's stock reached a bottom of $355 and a high of $595 before the trade. Once the announcement had been made, the figure jumped to $700. That's a 298% increase from its starting point last June, which is impressive by all means. It remains to be seen whether that price will be sustained during the first few weeks of the upcoming season or it will go down from there.
The verdict on Donovan Mitchell cards
Mitchell's trade to the Cavaliers makes both him and the team a formidable presence in the NBA card market and the Eastern Conference respectively. While the first move to make is to hoard those Donovan Mitchell rookie cards, that temptation must be tempered as there's no indication yet whether the magic that spurred Kevin Garnet, Ray Allen, and Paul Pierce to win a ring can happen again here or not. If it doesn't, the peak prices of Mitchell's cards will certainly leave those early buyers hanging.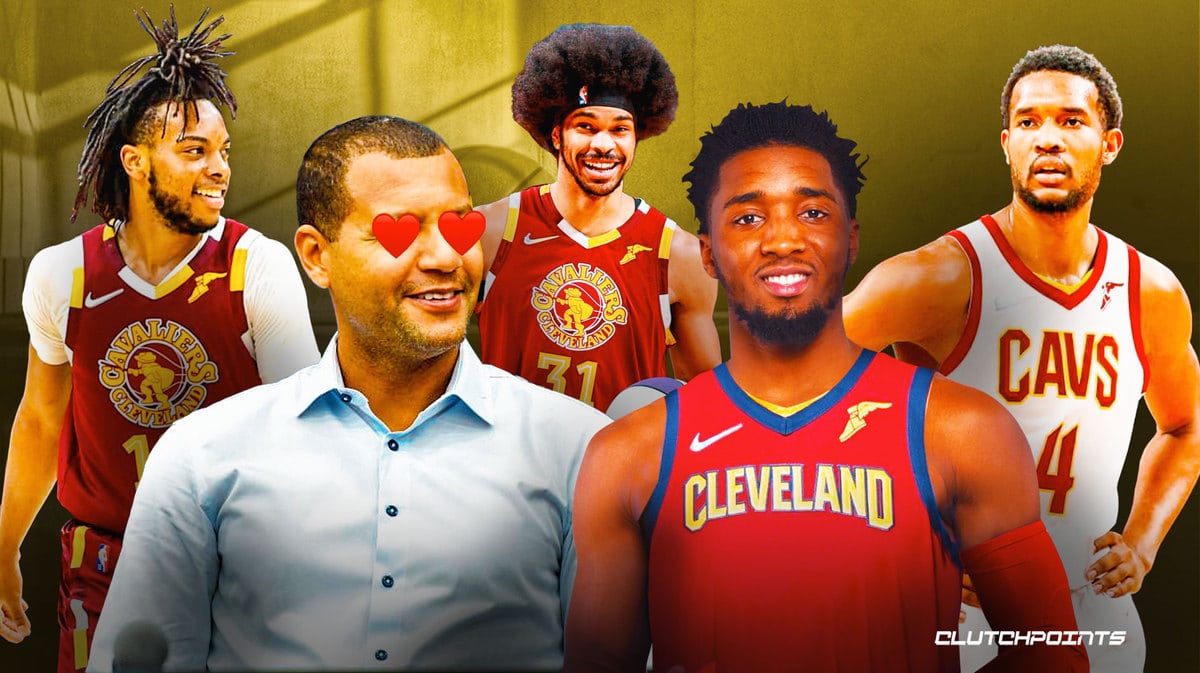 It's better to get one or two of Mitchell's cards to test the waters and act as a guarantee if he does succeed in Cleveland. This will also help protect your capital if his stint in a Wine and Gold uniform isn't a game-changing one. In any case, it's always best to look for the best deal on Spida's rookie cards so you can sell them at their peak when the time comes.