Cleveland Cavs seriously considering getting a service dog
In lieu of their recent success with Remington in attendance, the Cleveland Cavaliers are seriously considering making room for a service dog on their staff, according to a report from Joe Vardon of Cleveland.com.
Who is Remington, you ask? Remington is a golden retriever who serves a therapy dog with the University of North Carolina's baseball team. He was first introduced to the Cavs prior to a regular season game in Charlotte.
Cavs sharpshooter J.R. Smith, an owner of two dogs, instantly fell in love with Remington.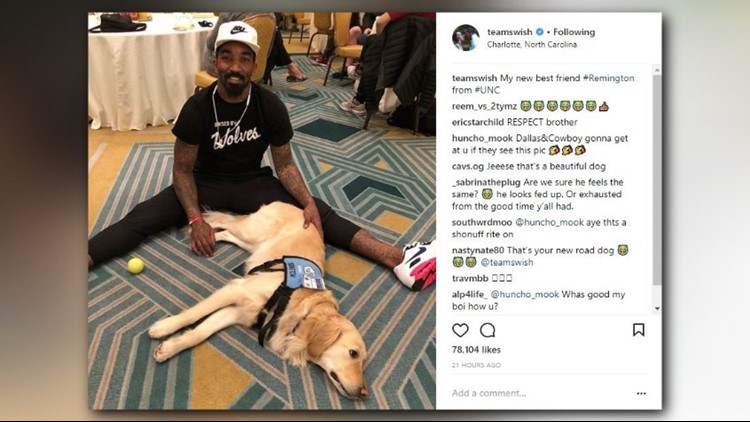 "Every time I see him, I smile," Smith told Lauren Brill of News 5 in Cleveland. "Just playing with him and understanding, I don't know. It is different."
For the record, Smith racked up 19 points off the bench on 8-of-9 shooting after meeting Remington for the first time. He was 3-of-6 shooting from downtown in Monday night's Game 4 matchup against the Boston Celtics — a game in which Remington paid a visit.
Via Joe Vardon of Cleveland.com:
When the Cavs want to see Remington, they book a commercial flight (Delta, Frontier one time) for him and his master, UNC baseball trainer Terri Jo Rucinski. The dog is of course highly trained with more than 100 commands and doesn't make a peep on the flights.
Dogs have several endearing traits, including an unconditional love and the ability to put our minds at ease.
"We were talking about getting one as a team," Smith said earlier this month. "I think it's very beneficial and brings a smile to a lot of people's faces."
Remington will not be the Cavs' service dog, as his duties lie with UNC. However, the Cavs could have a dog of their own as early as next season, though there will need to be some considerations made before that thought comes to fruition.